The Next Avocado Toast Is Here—Are You Brave Enough To Try it?

Contributing Food Editor
By Liz Moody
Contributing Food Editor
Liz Moody is a food editor, recipe developer and green smoothie enthusiast. She received her creative writing and psychology degree from The University of California, Berkeley. Moody is the author of two cookbooks: Healthier Together and Glow Pops and the host of the Healthier Together podcast.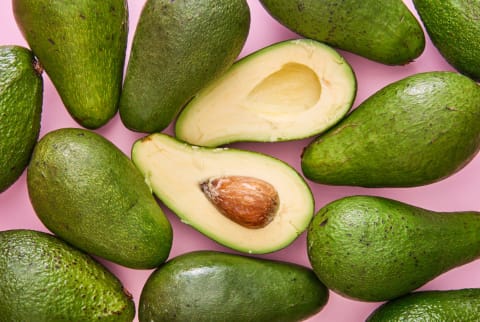 Photo by Darren Muir / Stocksy
December 7, 2018
If you're looking for a new way to incorporate the myriad health benefits of avocado into your life, look no further than the avocado burger, one of the most popular menu items at the buzzy Brooklyn restaurant Avocaderia. The avocado "bun" uses the famous fruit in lieu of traditional carbs or lettuce wraps to make a mitochondria-nourishing, keto-friendly meal. While the founders, Alessandro Biggi, Francesco Brachetti, and Alberto Gramigni, admit that the avocado burger was designed first for photos and second for consumption, the creamy, neutral flavor of avocado pairs perfectly with a variety of fillings, and the burger is a fun alternative to staples like avocado egg boats or avocado toast (not to mention a great option for gluten-free folks).
In this recipe, excerpted from the Avocaderia cookbook, they pair the bun with a creamy, herbaceous dressing, umami-packed smoked salmon, and a zesty lime drizzle. With crunchy radish layered in, it's shockingly satisfying. A word of advice: "Use the better-looking avocado half as the top 'bun,'" say the founders and cookbook authors. "To make the bottom 'bun' more stable when plated, just cut a thin slice from the rounded side so it sits flat. We recommend tackling this with a fork and knife, but if you're feeling brave, go at it with your hands—and don't forget to take plenty of pictures!"
Avocado Burger
2 avocados, pitted and peeled
¼ cup Yogurt & Fresh Herbs dressing (see below)
1 cup loosely packed arugula, plus more for serving
3 ounces smoked salmon
A few thin slices watermelon radish (or other radish)
2 teaspoons Lime Citronette dressing (see below)
Olive oil, for drizzling
Black sesame seeds, for sprinkling
Place an avocado half, cut-side up, on each of two serving plates, and fill the cavity in each with the yogurt dressing.
Top with the arugula, salmon, and radish. Drizzle with the citronette dressing and top with the remaining avocado halves.
Drizzle with olive oil and sprinkle with sesame seeds.
Yogurt and Fresh Herbs
We use this simple, rich yogurt mixture as a spread or dressing on our salads and in soups and main dishes. If you want a more salad-dressing-like consistency, just add water, 1 tablespoon at a time. For a tzatziki-style flavor, stir in some grated cucumbers and garlic.
1 cup plus 2 tablespoons plain Greek yogurt, or nondairy yogurt of choice
2½ tablespoons infused olive oil from Olive Oil & Herb dressing (see below)
2 teaspoons salt
In a bowl, combine the yogurt, dressing, salt, and ¼ cup water, and whisk until combined. Store in a resealable container in the refrigerator for up to 5 days.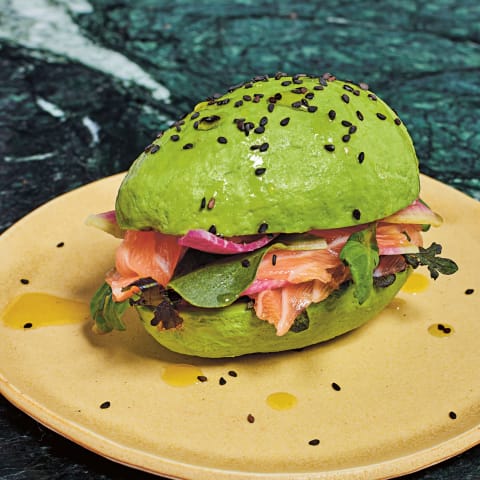 Photo by Henry Hargreaves / Contributor
Olive Oil & Herb Dressing
Infusing warm olive oil with herbs is easy and is a great flavor booster. We use it in our Yogurt & Fresh Herbs dressing (above), and it's perfect as a replacement for plain olive oil in most recipes, like roasted vegetables and meats.
2 cups olive oil
2 tablespoons fresh mint leaves
2 tablespoons fresh thyme leaves
2 tablespoons fresh rosemary
In a large pot, heat the olive oil over medium heat until hot but not smoking. Remove from the heat and submerge the mint, thyme, and rosemary in the oil; let cool to room temperature.
Using an immersion blender, blend the oil and herbs for 15 to 20 seconds, then strain out the herbs and store the infused oil in a resealable container in the refrigerator for up to 1 week.
Lime Citronette
It's true that the ratio for salad dressing is typically 3 parts oil to 1 part acid, but we tweak ours closer to 4 parts oil to 1 part acid for a less acidic, more balanced flavor. Adding xanthan gum—a natural food additive that can be found in the baking section of most grocery stores or online—helps stabilize the emulsion of olive oil and lime juice, giving the dressing its light, velvety texture (but it's optional if you don't have it on hand).
¼ cup fresh lime juice (from about 10 limes)
1 tablespoon salt
⅛ teaspoon xanthan gum (optional)
1 cup olive oil
In a blender, combine the lime juice, salt, xanthan gum (if using), and ¼ cup water, and blend on high speed until combined, about 20 seconds.
With the motor running, stream in the olive oil until combined, about 20 seconds.
Store the dressing in resealable containers in the refrigerator for up to 1 week.
Based on excerpts from Avocaderia by Alessandro Biggi, Francesco Brachetti, and Alberto Gramigni, with the permission of Houghton Mifflin Harcourt. Copyright © 2018.