7 Things You Need To Know Today (April 18, 2018)

mbg Sustainability + Health Director
By Emma Loewe
mbg Sustainability + Health Director
Emma Loewe is the Senior Sustainability Editor at mindbodygreen and the author of "Return to Nature: The New Science of How Natural Landscapes Restore Us."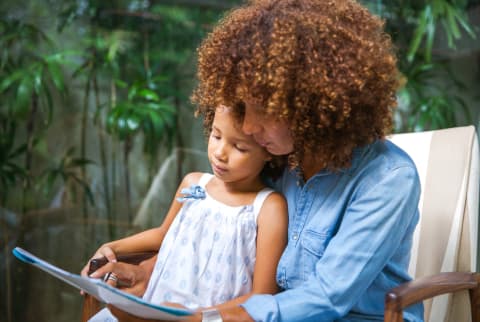 April 18, 2018
1. Reading to your child is even more beneficial than you probably thought.
According to a new study, kids whose parents read to them regularly experience a myriad of benefits, from lowered aggression and hyperactivity to increased attention. "We think of reading in lots of different ways, but I don't know that we think of reading this way," said Dr. Alan Mendelsohn, a principal investigator of the study. (NYT)
2. Hawaii is reeling after a massive flood event.
On Sunday, the North Shore of Hawaii was hit with 28 inches of rain in a 24-hour period in what's being dubbed the 100-year flood. The extent of the damage is not yet known, but dozens of homes on the island have been destroyed—a handful of them torn from their foundations. (mindbodygreen)
3. Meet the vending machine that dispenses short stories.
You can now get your fiction fix on the go. A company called Short Edition sets up vending machines that dispense short stories—a concept Francis Ford Coppola likes so much that he set one up at a cafe he owns in San Francisco. Users can select from a one-, three-, or five-minute tale, and they're all free. "I'd like to see the city of San Francisco put them everywhere so that while waiting for a bus, or marriage license, or lunch, you could get an artistic lift, free of charge," said Coppola. (NYT)
4. If you're a night owl, be a night owl.
Night owls have an increased risk for heart disease, diabetes, mental health issues, and gastrointestinal issues, just to name a few. Interestingly, researchers think this might not be because they are inherently more likely to fall ill but because they feel forced to live in an early-bird world. In other words, their biological clocks are at odds with the typical 9-to-5 workday. (Popular Science)
5. Kids are suing the government in Florida because of climate change.
Eight kids from Florida, ages 10 to 19, have filed a lawsuit against Governor Rick Scott to protect their state from climate change. These young climate advocates live on a coast threatened by sea-level rise, and they haven't seen enough legislative action to protect them from environmental threats. (Grist)
6. Kendrick Lamar is the first hip-hop artist to win a Pulitzer.
"A virtuosic song collection unified by its vernacular authenticity and rhythmic dynamism that offers affecting vignettes capturing the complexity of modern African-American life," the Pulitzer board wrote about his album, DAMN. He's the first hip-hop artist—in fact, the first artist who isn't classical or jazz—to win a Pulitzer. To qualify for an award, works must "challenge our conventional notions of creative expression and push us to consider and embrace new ideas and perspectives." For the full, impressive list, click through to NPR's website. (NPR)
7. Virtual reality now lets you tour imperiled cultural sites around the world.
CyArk, an Oakland-based nonprofit, uses laser scans and detailed photography to recreate historic sites in 3-D. Google has partnered with the nonprofit to launch Open Heritage, which uses CyArk's data to create VR tours of 27 cultural sites around the world, from the Buddhist temples of Bagan, Myanmar, to the cliff dwellings of Mesa Verde, Colorado. Check them out on the web, with VR viewers, or with Google's Arts&Culture app. (Fast Company)