17 Things You Need To Know Today (April 18)
mbg Sustainability + Health Director
By Emma Loewe
mbg Sustainability + Health Director
Emma Loewe is the Senior Sustainability Editor at mindbodygreen and the author of "Return to Nature: The New Science of How Natural Landscapes Restore Us."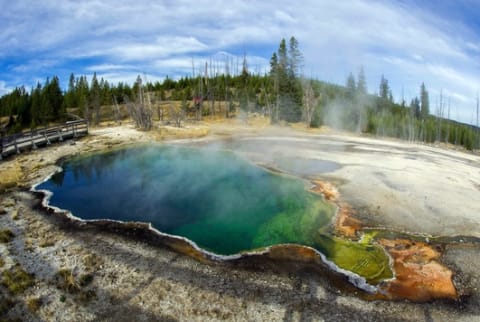 April 18, 2016
1. America's National Park Service turns 100 this year, and we're all invited to celebrate
Advertisement
This ad is displayed using third party content and we do not control its accessibility features.
To ring in this milestone, the bureau will make every national park in the country open to the public free of charge this week. Time to get exploring! (EcoWatch)
2. New rules have been put in place to combat environmental disasters
It's been six years since the Deepwater Horizon spill killed 11 workers and polluted thousands of miles of coastline along the Gulf of Mexico. In order to ensure that such a tragedy doesn't repeat itself, the Obama administration just finalized a new, more stringent set of regulations for the oil industry. (Grist)
Advertisement
This ad is displayed using third party content and we do not control its accessibility features.
3. The chemicals in sunscreen that filter out UV rays could decrease male fertility.
"The researchers tested 29 of the 31 UV filters approved for use in the United States and Europe by dissolving and applying them to sperm samples provided by healthy volunteers. Almost half of the filters tested were found to stop sperm from functioning properly." (CNN)
4. New research affirms what Leo Tolstoy said so well: "All happy families are alike; each unhappy family is unhappy in its own way."
The study from the Williams Institute at UCLA explains, "households with same-sex parents show no differences from those with different-sex parents with regard to spouse or partner relationships, parent-child relationships, or children's general health, emotional difficulties, coping and learning behavior." (Mic)
Advertisement
This ad is displayed using third party content and we do not control its accessibility features.
5. A British astronaut will run a marathon in space.
Timothy Peake says he'll run the London Marathon later this month on a treadmill at the International Space Station. He'll wear a harness to keep his feet on the ground. (CBS)
6. Trojan condoms is starting a campaign for consent.
The condom brand is partnering with a nonprofit called Advocates for Youth to advocate for consent in sexual relationships on college campuses. They'll be staging events, supplying educational posters, and asking students to sign a pledge to support a culture of consent. (Huffington Post)
Advertisement
This ad is displayed using third party content and we do not control its accessibility features.
7. Living near greenery may help you live longer.
A study found that women who lived near greenery had a 34% lower rate of deaths from respiratory illness as well as a 13% lower rate of dying from cancer than those who did not. The lead author, Peter James, attributes this to lower air pollution, more physical activity, more social engagement and better mental health in green areas. (NY Times)
8. Some popular medications have been linked to the risk of kidney failure.
A new study showed that taking one of the most-prescribed medications in the world (proton pump inhibitors) might dramatically increase a person's risk for kidney failure and kidney diseases. Doctors prescribe proton pump inhibitors, also known as PPIs, to help people who suffer from regular heart burn, ulcers, gastroesophageal reflux disease or acid reflux. They are sold under the names Prevacid, Prilosec, Nexium, Protonix, Aciphex and others. About 15 million Americans have prescriptions for them. (CNN)
Advertisement
This ad is displayed using third party content and we do not control its accessibility features.
9. NASA wants to grow potatoes on Mars.
Scientists at NASA are undertaking a study to figure out how to grow potatoes like Matt Damon's character in The Martian, using 65 varieties known for their hardiness on Earth. If all goes as planned, the Martian colonies will be munching on french fries one day. (WSJ)
10. FIFA advisor says World Cups should be pulled over human rights violations.
In response to concerns about the mistreatment of workers in Qatar, a Harvard professor hired by FIFA to advise on improvements to the organization's human rights approach has advised that World Cups should be taken away from countries who fail to end systematic abuses. (FIFA)
11. Men fake orgasms way more than we ever thought.
It's definitely not just women. In a new study, men admitted to faking an orgasm in about 30 percent of all sexual encounters—but for good reason usually: to protect their partner's self-esteem.
12. Australians are googling "vegan" more than any other country in the world.
According to Google Trends, Aussies are really into plant-based living lately. It's hard to pinpoint exactly why our friends down under are particularly interested in veganism, but it seems to be a combination of mainstream appeal, growing awareness about farming practices, and health concerns. (SBS)
13. Your pasta sauce may come with a warning label soon.
Mars Food is planning on labeling its Dolmio pasta sauces, mac and cheese, and other products with warnings that they should only be consumed once a week because of their high levels of salt, fat, and sugar content. While the labeling is somewhat useful, it highlights some of the big issues with processed foods in general. (NBC News)
14. Keurig coffee will now come in new, more eco-friendly packaging.
The notoriously wasteful single-serve K cups will soon be made using recyclable plastic. (NY Times)
15. This massage is perfect for heartbroken Tinder users.
Bliss Spa's "swipe right" massage is specifically for people who have "too much hand, arm, and neck stress due to smart phone dating." (Cosmopolitan)
16. Could bugs be the meat of the future?
A new study looked into the nutritional profiles of bugs like silkworms and crickets compared to more traditional sources of meat. Its findings show that, among other things, bugs have about as much protein and more calcium than pork. (TIME)
17. Soon, you'll be able to buy running shoes made of recycled ocean plastic.
The new, eco-friendly Adidas sneakers will hit shelves across the world later this year. The company is also in the process of banning plastic bags from its stores. (Racked)