This Stuffed Squash Is A Contender For A Plant-Based Thanksgiving Main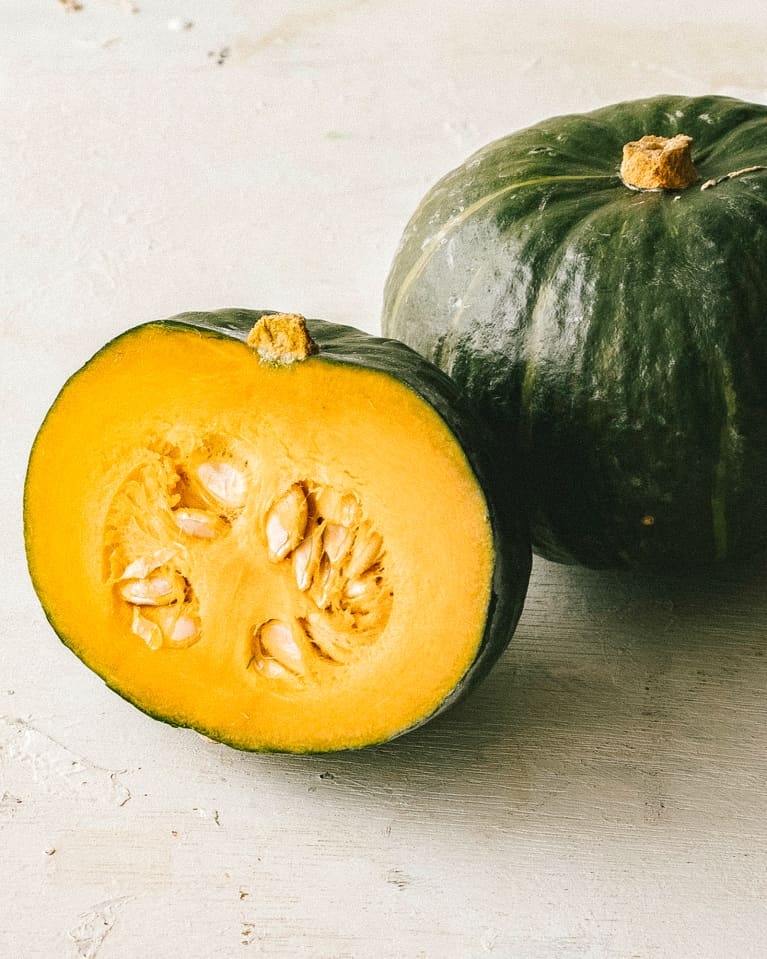 Our editors have independently chosen the products listed on this page. If you purchase something mentioned in this article, we may
earn a small commission
.
One of life's cold-weather pleasures is roasted chestnuts, usually available fresh in markets for only a short time each year. For more convenient year-round choices, shelled chestnuts can be found at well-stocked supermarkets and gourmet shops, but they can be quite expensive. If you live near an Asian market, look for shelled roasted chestnuts in shelf-stable bags—that's where I get mine for about a dollar a bag.
For the best results, the bread cubes should be dried before using them in the stuffing. To do this, preheat the oven to 225°F Spread the bread cubes in a single layer on baking pans, and bake for about 30 minutes, then set aside to cool. Alternatively, set the bread cubes out at room temperature for a day or two to dry out. Use gluten-free bread to make this recipe gluten-free.
Chestnut & Apple Stuffed Squash
1 large kabocha or buttercup squash
¼ cup water, or 2 teaspoons olive oil
1 large yellow onion, minced
1 celery rib, minced
1 teaspoon ground sage
½ teaspoon dried thyme
4 cups cubed bread, dried
1 large Granny Smith apple, peeled, cored, and chopped
1 cup coarsely chopped cooked chestnuts
3 tablespoons minced fresh flat-leaf parsley
1 teaspoon salt
¼ teaspoon freshly ground black pepper
1 cup (240 ml) vegetable broth, or as needed
If you can fit two squash halves in your slow cooker, cut the squash in half and scoop out the seeds. Use a sharp knife to make a flat bottom on the two halves so they sit evenly. If you can fit only the whole squash in your slow cooker, slice off the top of the squash and scrape out the seeds. Set aside.
Heat the water or oil in a large skillet over medium-high heat. Add the onion and celery and sauté for 5 minutes. Stir in the sage and thyme.
Transfer the onion mixture to a large bowl. Add the dried bread, apple, chestnuts, parsley, salt, and pepper. Stir in just enough broth to moisten and mix well.
Lightly pack the stuffing mixture into the squash and place the squash inside the slow cooker. If cooking the squash whole, place the top back on the squash. Pour hot water into the slow cooker to come about ½ inch (1 cm) up the sides of the squash.
Cover and cook on low until the squash is tender, 5 to 7 hours. Serve hot.
How To Prepare Fresh Chestnuts
Pierce the flat side of the chestnut shells with a sharp knife and make an "x."
Boil the chestnuts or arrange them in a single layer in a baking dish and roast them at 350°F until the shells curl back. For easier peeling, remove the outer shell and inner skin with a sharp paring knife while the chestnuts are still hot.
The chestnuts are now ready to eat or use in recipes.