This Is The Skin Care Step You Should Be Doing But Probably Aren't

Contributing Wellness & Beauty Editor
By Lindsay Kellner
Contributing Wellness & Beauty Editor
Lindsay is a freelance writer and certified yoga instructor based in Brooklyn, NY. She holds a journalism and psychology degree from New York University. Kellner is the co-author of "The Spirit Almanac: A Modern Guide to Ancient Self Care," with mbg Sustainability Editor Emma Loewe.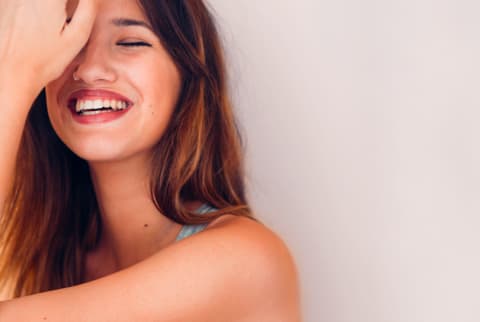 November 22, 2017
Holistic dermatologist Cybele Fishman, M.D., who sees New York City (cue pollution) patients every day, thinks it is. "Pollution increases inflammatory markers in the skin, changes sebum and squalene levels, and increases blood vessel formation—which play a role in some skin diseases, especially rosacea," she said. A recent study published in the journal Nature1 measured indoor air pollution of 30 households in China and found that exposure to indoor particulate matter, a phrase to describe pollutants such as nitrogen dioxide that are less than 2.5 microns in diameter, adversely affected the skin by expediting aging.
Danuta Mieloch, a holistic esthetician and owner of the buzzy beauty industry favorite Rescue Spa, who sees patients in New York and Philadelphia, agrees. "Pollution and the environment are changing our skin daily. Our faces are exposed to the elements, pollution, smog, and more," she said. "The weather doesn't help—changing from hot to cold and dry to moist can wreak havoc on your complexion," she added.
Of course, you're more at risk of pollution-based aging, irritation, and skin disease if you live in a city. Dr. Fishman said one of the best things you could do is give your skin a break and leave, but country living doesn't solve all our pollution woes. The best line of defense is a good ritual.
What should be in an antipollution routine? Dr. Fishman and Mieloch agreed on three key elements:
1. Antioxidants, both oral and topical.
"I like to use vitamins A, C, E, and peptides to repair the skin. Most products these days contain these known antioxidants to fight free radicals," Mieloch said, citing the luxe Biologique Recherche VIP O2 range. For a more budget-friendly antioxidant boost, try Acure Organics' Seriously Glowing Facial Serum. Get your oral antioxidants through a good multi, or enlist separate, targeted antioxidants like glutathione and astaxanthin for example. Be sure to discuss adding any new supplements to your regimen with your health care professional.
2. Skin barrier strengtheners.
"Make sure the skin barrier is intact, and use ingredients that strengthen skin barrier," Dr. Fishman said, citing certain oils, ceramides, colloidal oatmeal, and shea butter. This cream, aptly named Atmosphere Protection Cream, is a good, natural option that helps strengthen skin's natural barrier and includes avocado oil, shea butter, and organic algae. If you prefer an evening treatment, try Skin Fix's Calm & Repair Sleeping Mask.
3. Maintaining proper skin pH.
"It's important to cleanse in the evening in order to remove all the grime and buildup that you acquire from the day," said Mieloch. When looking for a good antipollution cleanser, avoid using alkaline products, which disrupt the skin's natural acidic pH according to Dr. Fishman. This Rosehip Cleanser by Indie Lee packs an antioxidant punch and doesn't change the natural pH of the skin.
If you're wondering what kind of pollution you're up against, this interactive map designed by the World Health Organization (WHO) shows the concentration of air pollution throughout the world—but know that everyone, regardless of pollution levels, can benefit from smarter skin protection.
Want to dive deeper? Here are the reasons antioxidants are so nourishing to our skin.