A Recipe For The 'Avocado Toast Of The Future' Just Dropped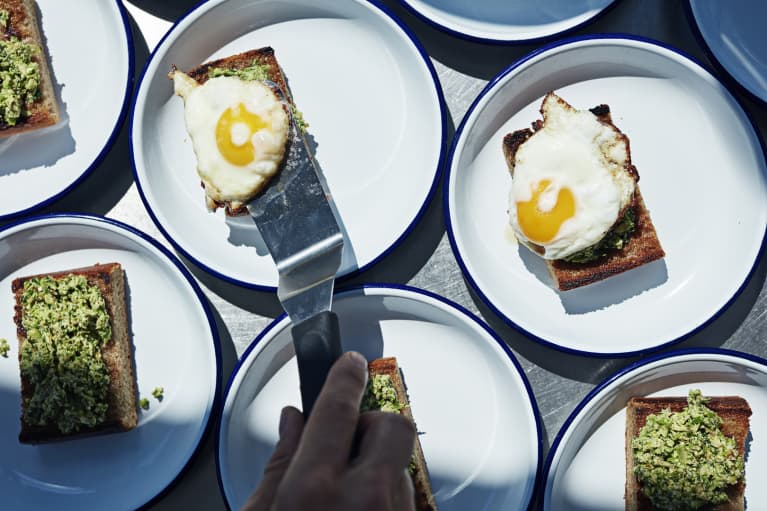 Our editors have independently chosen the products listed on this page. If you purchase something mentioned in this article, we may
earn a small commission
.
Space10 is a Copenhagen-based research lab designing solutions for a more sustainable future. A tall order, for sure, but so far the group—which is funded by IKEA—has come up with some pretty incredible innovations: from a prototype community where neighbors can easily trade solar power to a vertical farm that can fit on a city sidewalk.
Its latest project is Future Food Today, a cookbook full of "future-proof" recipes that invite home chefs to experiment with new ingredients in the kitchen. Part of the reason that certain popular ingredients are extra taxing on the environment (looking at you, avocados) is that the demand for them is too high for farmers to keep up with in a sustainable way. Packed with adventurous recipes like verbena kombucha and hot dog buns made out of spirulina, Future Food Today provides plenty of inspiration on how we can all mix up our plant-based meals for the sake of the planet.
Here's the book's earth-friendly and not-at-all basic version of avocado toast two ways.
Space10's Non-Avocado Toasts
We don't want to go into all the reasons that avocados aren't the best choice for the planet. We want to get you cooking instead! So we present you with sustainable and delicious alternatives to your favorite Instagram dish.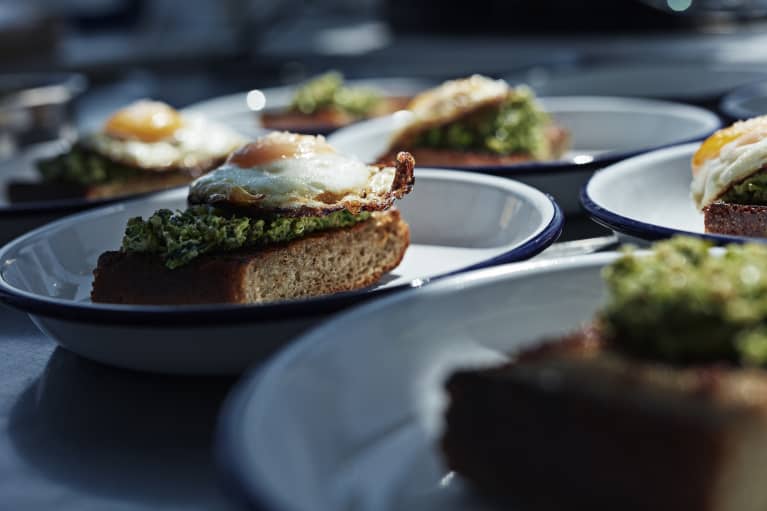 1 cup walnuts
4 cups water
2 tablespoons salt
2 cups green asparagus
½ cup baby spinach
1 tablespoon fresh lemon juice
1 pinch cayenne pepper
Bread of choice
Fried egg
Roast the walnuts in a hot, dry pan until they smell toasted. Take care not to burn them.
Heat the water in a pot and dissolve the salt in it. Once it reaches a boil, drop in the asparagus and baby spinach and blanch for 1 minute. Drain and immediately transfer the vegetables into very cold water.
In a food processor, pulse the asparagus, spinach, and walnuts into a rough mix. Season with lemon juice, cayenne pepper, and salt and pepper.
Spread on a piece of crispy toast. Top with a fried egg.
Chlorella Spread & Burnt Baby Romaine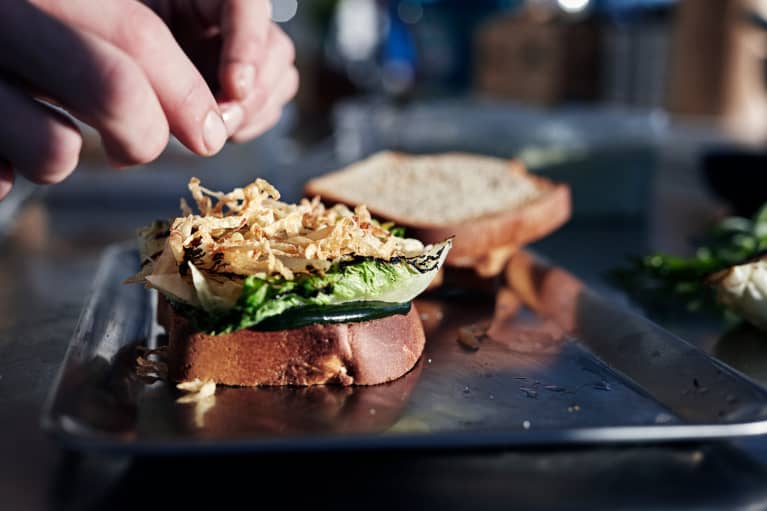 1 teaspoon water
8 grams powdered chlorella
1¾ cup vegetable oil
¼ cup fresh parsley
¾ cup fresh tarragon
3 to 4 tablespoons vinegar
Bread of choice
Crispy potatoes
In a medium pot, use a handheld blender to blend the parsley and tarragon with the oil. Do this while heating it up to 60°C (140°F) and keep blending for approximately 10 minutes.
Strain the oil through a cheesecloth. You should see a dark green oil coming out. If it's not dark green, blend and heat it some more.
Whisk the water and chlorella in a bowl until it starts to thicken a bit. Slowly add the tarragon oil while whisking. It should start to take on the consistency of a thick mayo. If it's clumpy or the consistency seems off, gradually add a little bit of water until it's thick and smooth. Season with salt and vinegar to taste.
For the burnt lettuce, remove any damaged leaves from the romaine. Halve each head lengthwise.
Heat a dry pan on the stove. When it starts to smoke, place your romaine halves on the pan, cut side down. Once they've taken a bit of color, remove from the pan and set aside until you're ready to use them.
To assemble, take a slice of bread and spread a thick layer of the tarragon and chlorella spread on top. Place a piece of the burnt romaine in the middle. Sprinkle some crispy potato on top, finish off with some salt and pepper, and enjoy.