paid content
 for

Add These Under-the-Radar Destinations In The State Of Washington To Your 2022 Travel List
By Ashley Mateo
mbg Contributor
shley Mateo is a freelance writer and editor in NYC. She recieved her B.S. in journalism from Boston University and has written for Self, Women's Health, Runner's World and more.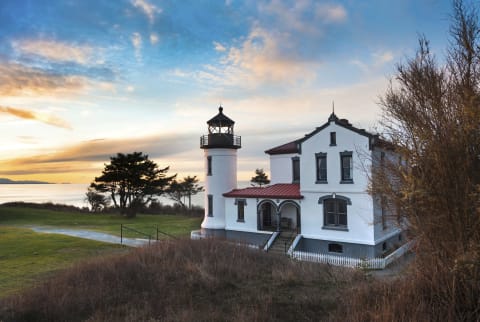 February 3, 2022
Advertisement
This ad is displayed using third party content and we do not control its accessibility features.
In the State of Washington, Seattle tends to get all the love—completely understandable, but for every trip to the Emerald City, there's another road less traveled. This beautiful Pacific Northwest state is home to so many more under-the-radar towns that are worth exploring and experiencing. Whether you'd prefer spending a weekend shopping for antiques in waterfront Poulsbo, getting outdoorsy on Whidbey Island, or enjoying the pioneer charm of Republic, there's a getaway-worthy destination for everyone.
A tiny old Western town in the Methow Valley, an area that extends from the sunny foothills of the eastern Cascades to the crest of the North Cascades, Winthrop was first settled in the late 1800s by those seeking gold. Cattle drives, medicine shows, and pack trains are still part of life here, thanks to residents' dedication to preserving the spirit of the valley. Now, those drawn to the area are adventurers—Winthrop is almost completely surrounded by national forest, state game ranges, and wilderness areas. Try your hand at snowmobiling, heli and backcountry skiing, fat biking, climbing, trail running, horseback riding, hot air ballooning, and more in the pristine outdoors.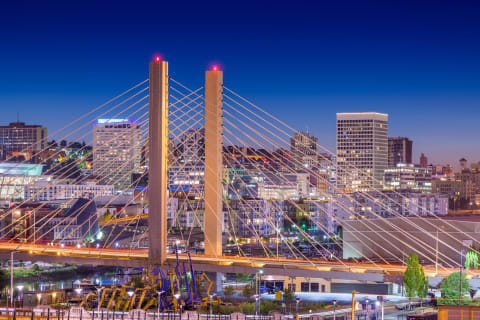 Advertisement
This ad is displayed using third party content and we do not control its accessibility features.
If visiting Mount Rainier National Park is on your bucket list, make Tacoma, set on the edge of the Puget Sound, your base camp. Not only is this the closest urban area to the park's 369 square miles—which are full of wildflower meadows in the summer and ski and snowshoe trails in the winter—but you can visit the 640-acre Point Defiance Park, with its aquarium, zoo, gardens, old-growth forest, boardwalk, and ferry dock, right within city limits. It's also a cultural destination in its own right: Tacoma is renowned for its glass art (you can watch glass-blowing demonstrations at the Museum of Glass), historical architecture, and eclectic mix of restaurants, boutiques, and music venues. You won't want to leave without a souvenir.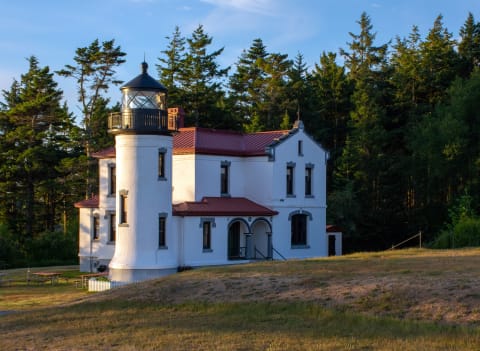 Advertisement
This ad is displayed using third party content and we do not control its accessibility features.
Just across the Puget Sound from Seattle is Whidbey Island, an outdoorsy weekend escape for city dwellers. After a mere 20-minute ferry ride or hourlong drive (crossing the iconic Deception Pass Bridge), you'll trade urban streets for pebbly beaches, New England–inspired architecture, and freshly stocked farmers' markets. Visit the historic town of Coupeville, which dates back to the 1850s and sits within Ebey's Landing National Historical Reserve, or dine on oysters in Langley, aka the "Village by the Sea." But save most of your time for exploring the nearly 4,000 acres of old-growth forest and miles of salt- and freshwater shorelines in Deception Pass State Park—the state of Washington's most-visited state park.
Advertisement
This ad is displayed using third party content and we do not control its accessibility features.
This waterfront town on the Kitsap Peninsula, an hour-and-a-half ferry ride from Seattle, has a distinctly old-world feel. The snow-capped Olympic Mountains to the west reminded Scandinavian settlers so much of the Norwegian fjords that the town became known as Little Norway. Since then, residents have leaned into their roots: There's a Viking Festival in May and Midsommer Festival in June, the architecture is distinctly European, and family-owned businesses serve up fresh Danish pastries, Nordic gift items, and award-winning beers. A popular boating destination—thanks to its picturesque downtown marina—Poulsbo also draws hordes of art gallery enthusiasts and antique hunters.
Advertisement
This ad is displayed using third party content and we do not control its accessibility features.
This artsy city, situated on the north end of the Olympic Peninsula, is known for its unique boutiques, gourmet markets, and indie bookstores. It also serves as a great entryway to the 1-million-acre Olympic National Park, which has three major ecosystems: sub-alpine, coastal, and forest (lowland forest and temperate rain forest). That means you can hike past some of the world's largest trees, beachcomb across sandy shorelines, and ogle glacier-capped mountains all within the same park. Plenty of opportunities for exploring abound if you don't leave the city limits: walk, run, or bike along the paved Olympic Discovery Trail from downtown, or paddleboard, scuba dive, surf, and kayak at the Strait of Juan de Fuca.
Image by WikiMedia Commons
Take a trip back to the early 1900s with a visit to Republic in north central Washington (it's about a two-hour drive from Spokane, and just south of the Canadian border). The pioneer town was founded after a local gold rush, and old Western facades still line the streets. Now, however, you'll find an organic bakery, family-owned brewpub, and a karaoke bar within those historic buildings. Dig for fossils at the renowned Stonerose Interpretive Center and Eocene Fossil Site, or go panning for gold in the nearby Sanpoil River, Granite Creek, and Eureka Creek. In warmer weather, explore Curlew Lake State Park, where you can picnic, camp, hike, bike, boat, fish, and swim.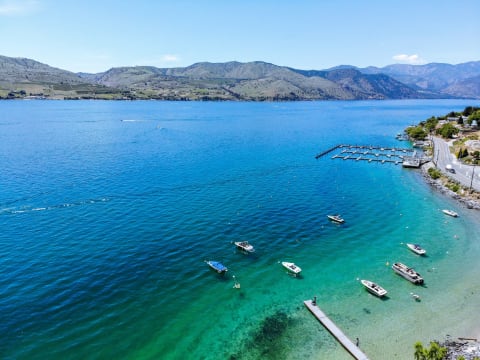 Just east of the Cascade Mountains and perched on the southern end of the State of Washington's largest natural lake, Chelan is a water lover's playground for those far from the coast. The area is known for fishing (people have been known to hook 20-pound salmon and trout in the lake) as well as water-skiing, jet-skiing, parasailing, kayaking, canoeing, rowing, tubing, windsurfing, and sailing. In the winter, skiers and snowboarders can shred 70 acres of terrain at Echo Valley Family Ski Area or trek across 25 miles of groomed cross-country skiing and snowshoe trails at Echo Ridge Nordic Ski Area. No matter the season, finish off a day of adventure with a toast at one (or more!) of the 30 wineries on the lakeshore.