This Acupressure Point Eliminates Bloat — STAT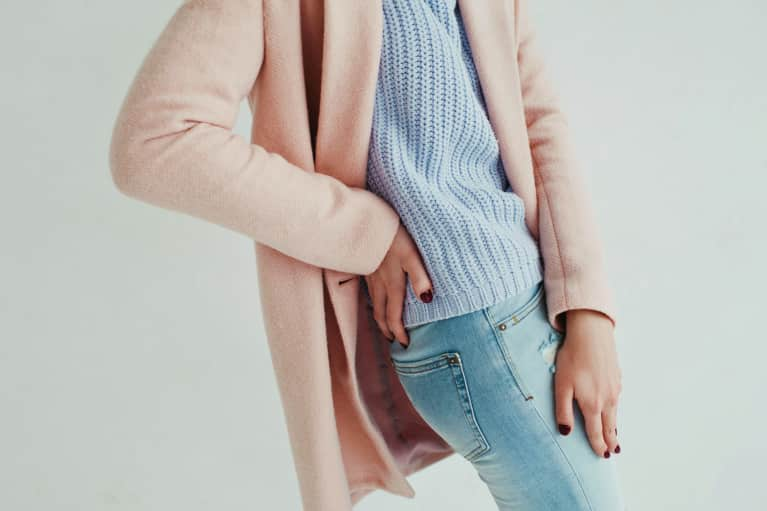 It's Thanksgiving! And that means friends, family, and most likely a whole lot of food that you wouldn't normally consume, in quantities your belly is probably not used to. At mbg, we think indulging every once in a while is a good thing. That being said, that second slice of pumpkin pie or those mashed potatoes can leave us feeling bloated and uncomfortable. Luckily, acupressure is here to save the day.
If you're wondering what acupressure is, you're not alone. It's actually one of the lesser-known alternative therapies. Essentially, it's an alternative medicine healing modality that has been used in China, as part of traditional Chinese medicine, for centuries. It's similar to acupuncture in that it's also based on the idea that there is a life force or "qi" ("chi) that flows through meridians in the body. Both acupuncture and acupressure aim to get that life force flowing steadily and address any blockages or stagnation. In some ways, acupressure is acupuncture without the needles, which means you can perform it on yourself anytime, anywhere.
So how can we use acupuncture to eliminate bloat? We asked Bob Doto, author of the upcoming book Press Here! Acupressure for Beginners exactly what we can do to alleviate holiday indigestion—fast. Surprisingly, he directed us to a spot on the inside of the leg below the knee, explaining that "Although found on the leg, the acupoint known as Stomach 36 (or "Leg Three Miles") is one of the most popular points used for clearing digestive issues. Known for tonifying qi and blood, this point is said to help relieve abdominal pain as well as local leg pain, while at the same time reducing general fatigue and calming the mind."
That sounds pretty good to us, but how exactly do we do it? "ST 36 is found on the front side of the lower leg [you can see an illustration of the exact spot here], roughly four fingers below the lower edge of the kneecap, in the depression just to the outside of the shin bone. To activate this point apply firm but comfortable pressure while making small circles with either your thumb or finger. Apply pressure for anywhere from three deep breaths to 90 seconds to when any tenderness begins to subside. Repeat as necessary, though one to three times is often enough. Pressure may be applied to both legs. If there is more tenderness in either leg, that leg can be the focus," said Doto. Sounds simple enough, right?
If you feel surprisingly sensitive in this area, according to Doto, that's nothing to worry about: "Don't be surprised if you feel a relieving tenderness in the muscles of this area." Much like acupuncture, this can actually indicate that you've found the right spot.
I don't know about you, but I think I'll be having my turkey with a side of ST 36 this year.