mbg Sustainability + Health Director
By Emma Loewe
mbg Sustainability + Health Director
Emma Loewe is the Senior Sustainability Editor at mindbodygreen and the author of "Return to Nature: The New Science of How Natural Landscapes Restore Us."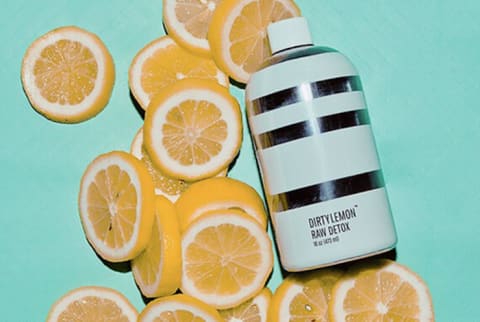 October 8, 2015
Since my time at mindbodygreen began, I've munched on cricket flower protein bars, sampled a brew of apple cider vinegar and maple syrup, and drunk my weight in kale juice — all in the name of wellness.
But this just might be the most bizarre functional food I've encountered yet.
Advertisement
This ad is displayed using third party content and we do not control its accessibility features.
Dirty Lemon combines water, lemon juice, dandelion, ginger root and activated charcoal into a raw detox beverage that promises to leave drinkers feeling cleansed and invigorated.
According to the Dirty Lemon website, the activated charcoal (sourced from coconut shells) is there to absorb toxins, while the lemon juice acts as an alkalizer to neutralize body acidity. Taken together, these ingredients are supposed to combat even the most gluttonous of cheat meals. With the catchphrase "#yestomore," Dirty Lemon is branded as a detox that doesn't require dieting.
"Our formula will help to calm the stomach, flush out the kidneys and trap impurities before they can be absorbed by the body," its website reads.
Dirty Lemon is supposedly most effective at nixing toxins when consumed right before bedtime, but our editorial team couldn't wait to find out what activated charcoal tastes like so we sampled a few bottles during a recent morning meeting.
The unique packaging caught our attention right away, with bold white stripes that contrasted the drink's deep grey color.
Most of us immediately compared the first sip to sucking on a lemon. We all had trouble tasting the charcoal, which was probably a good thing. As we kept going, the strong acidity got a lot more manageable, and gave us all a quick jolt of energy.
"I wonder if this could replace my morning coffee?" one editor wondered while reaching for a refill.
The Bottom Line
Though none of us will be stocking our kitchens with activated charcoal anytime soon, this dark drink has its bright spots. It brings a bold flavor with some refreshing kick ... all that and no burned after taste.
Image courtesy of Instagram/ DirtyLemonDetox.
Advertisement
This ad is displayed using third party content and we do not control its accessibility features.