3 Actions You Can Take To Relieve COVID-19 Money Stress
mbg Financial Contributor
By Brianna Firestone
mbg Financial Contributor
Brianna Firestone is a Financial Education Instructor certified by the National Financial Educators Council. Her expert advice has been featured in Money.com, Real Simple, and Business Insider. Firestone received her bachelor's in theatre from Stephens College and lives in Denver, Colorado.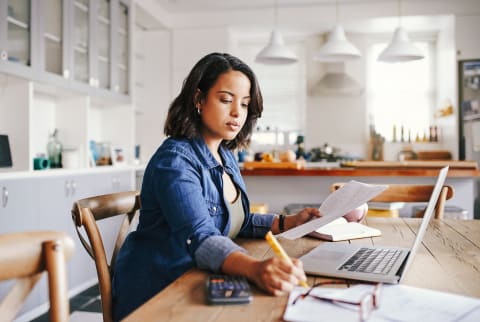 April 16, 2020
Let's be honest, this moment in our lives is trying and bizarre and has many of us navigating overwhelm among other things. The reality is not everyone is cozy at home making sourdough and conquering puzzles. For many, this period of time has been tough. We are all truly in survival mode, and if you are experiencing a shift in your financial circumstances, you might be experiencing even more stress.
The priority for everyone right now is to ensure you are safe, secure, and able to provide yourself food and shelter. Even in these uncertain times, there are simple money actions you can take to feel more grounded and help you move forward:
1.
Identify what money is coming in.
Being laid off, on an unpaid leave, or simply wondering how long you will have your job can cause concern understandably. At any of those points you may consider looking at your numbers. We know that worry doesn't help us solve our problems, so how can we move through stress into action? First: Our brains love detail. When we simply tell ourselves, "I don't have enough money," we go right down the worry highway.
What is more effective, however, is to know exactly what you need: If you know you need to find an extra $300 per month in income or by cutting expenses for the next three months, you are setting yourself up to take the most effective actions. But how do you come to an exact number? Here's an outline. This simple action is one that can be done at any time.
Here's how you can find your cash flow in 4 easy steps:
Add up your survival expenses. These are things you need to stay safe, healthy, and as whole as possible. Remember, you get to define what these expenses are. That might include your virtual therapy sessions or the online yoga class. No judgment, you get to decide.
Add up your minimum debt payments. If we can, we want to stay good on our debt. It might not be possible depending on your circumstances, but we can make every effort. Making your minimum debt payments on time is 35% of your credit score.
Add up your variable expenses. Are there other "nice to have" expenses that you currently have? Odds are high that many of these expenses are no longer an option in quarantine.
Subtract your three total expense buckets from the income you have coming in to get your quick cash flow. This number is either going to be negative, zero, or a positive number. Whatever it is, it's going to be OK. Believe it or not, actually seeing this number will help provide a sense of calm as a lot of our worry is created in the "not knowing." If you have a negative number, you know exactly what you need in order to survive and can take the appropriate actions.
2.
Identify your stimulus opportunities.
The stimulus package can help provide some relief in certain situations. You owe it to yourself to know what is available so you can take advantage of it if needed.
If you have already been laid off or furloughed, you probably know this number and have applied. If you haven't, knowing this number can help ease some worry you might have should you lose your job. Many states have an unemployment benefit estimator that can give you a ballpark idea of how much you are eligible for in unemployment each week. Add $600 on top of that weekly estimate as you will most likely qualify for the federal stimulus unemployment benefit. For many, this additional money will make a huge difference.
Do you have qualifying federal student loans? If yes, you can take advantage of the 0% interest and no payments until September 30, 2020. If your loans qualify, this can greatly help with your monthly cash flow. If your loans don't qualify or are private, don't hesitate to check in with your lender to see what programs might be available. They likely won't be without interest, but they could possibly provide some cash flow relief for a few months.
3.
Emergency cash and credit
If you have an emergency fund, consider this the emergency. Because you know what your income and expenses are, you can estimate how long this emergency fund might last you. If you don't have an emergency fund, any leftover money you might have at the end of the month should go into your savings account to help you float if needed, because cash is queen right now. Also look at how much available credit you have on your credit cards. As a last resort, we can use credit cards to purchase food, gas, etc. Is it ideal? No, but nothing about this situation is ideal. Right now, we simply need to know what we have available to us for survival.
This period of time is filled with many "firsts" for individuals: first time being laid off, first time worrying about money or needing to file for unemployment. It's OK. Most of us are going through firsts. The sooner we can accept that, the sooner we can take action. You owe it to yourself to pick up the phone and ask if there are any programs available to you. Yes, the stimulus package can help, but don't be afraid to call the mortgage company, cable company, your phone provider, etc. Creating as much cash flow as possible right now is the goal. At the end of the day, if we ask ourselves "Did I try everything I knew to try?" and the answer is yes, we will feel some relief.