paid content
 for

A Pair Of Hangry Athletes Wrote A Cookbook & We Want To Make Everything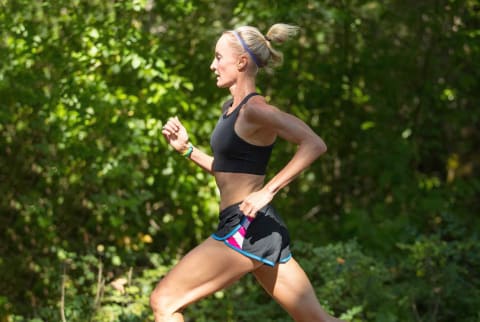 August 29, 2018
Shalane Flanagan and Elyse Kopecky have a few things in common: They love running, and they love food. And with their first cookbook in 2016—Run Fast. East Slow., which landed on the New York Times best-seller list—they've made it their mission to celebrate both. Their message is an important one, especially as athletes who've both experienced what it's like to have a restrictive and undernourishing relationship with food in the past, a prevalent trend among female athletes in particular.
Since the success of their first book, they've been busy: Elyse with a new chapter of motherhood, and Shalane with racing and training. And if Shalane's name sounds familiar, you might recall her historic win at the New York City Marathon in 2017 as the first American woman to win the race in 40 years, what she calls her "dream-come-true moment." (And she just announced that she'll be returning to the race to defend her title this fall at age 37.)
Now they're back for round two with Run Fast, Cook Fast, Eat Slow, this time to prove that quick and nourishing aren't mutually exclusive when it comes to eating what your body's craving. They've filled their new book with recipes that show how easy (and delicious) it can be to get healthy meals on the table every day—and yes, they're the same recipes that fueled Shalane while training, which, we have to say, turned out pretty well. Here's one of our favorite inflammation-fighting recipes from the book!
Thai Quinoa Salad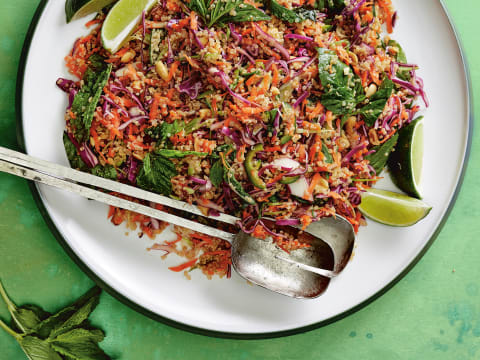 1 cup quinoa, rinsed and drained
2 cups grated carrots (about 2 large)
2 cups thinly sliced purple cabbage
3 scallions, white and green parts sliced
1 cup packed mint leaves, chopped (cilantro works, too)
1 cup packed basil leaves, chopped
1 jalapeño or serrano pepper, seeds removed, minced (optional)
½ cup roasted peanuts, chopped
¼ cup extra-virgin olive oil
⅓ cup fresh lime juice (2 to 3 limes)
2 tablespoons soy sauce or tamari
2 tablespoons honey (or maple syrup)
1 tablespoon fish sauce (optional)
Here is a foolproof method to cook quinoa: In a medium saucepan over high heat, bring to a boil 1½ cups water and the quinoa. Reduce the heat to low and simmer, covered, for 15 minutes or until all the water has been absorbed. Transfer to a large salad bowl, fluff with a fork, and set aside to cool.
Meanwhile, put the olive oil, lime juice, soy sauce or tamari, honey, and fish sauce (if using) in a glass jar or bowl and stir to combine.
Once the quinoa is cool, add the carrots, cabbage, onion, mint, basil, and pepper (if using) to the bowl and toss to combine. Add the dressing and toss again. Taste and, if needed, add more fish sauce or soy sauce.
Top with the peanuts. Chill in the fridge for at least 1 hour or until ready to serve.
This salad will stay fresh in airtight glass containers in the fridge for up to 5 days.
Run Fast, Cook Fast, Eat Slow by Shalane Flanagan & Elyse Kopecky is available for purchase now.