Have you ever walked into a room and felt the tug of someone else's magnetic energy? You know right away that this person is special in some way, the type of person you want to be around, whether it's their look, charisma, way of explaining things, or accomplishments—the energy is contagious.
In most cases, magnetic people look after themselves and they do it well. They know exactly what they need and when they need it; they take it! Self-care is a simple equation, but we often deny ourselves the pleasure of feeling good. The reasons we do this are numerous: too expensive, not enough time, too much to do, it won't help, etc. We're here to tell you that self-care doesn't have to be extravagant—but if you care for your body, it will respond.
If you're in a self-care rut or just can't stand the idea of staying in to do another face mask, we've compiled a list of unconventional ways to treat yourself.
1. Take 10. Or maybe a whole hour.
Next time you find yourself feeling really stressed, give yourself time and space. Retreat to a common area, the bathroom, or take a walk outside for a bit. Reconnecting with your breath is one of the nicest things we can do for ourselves. During those 10 minutes, spritz rosewater or another space-clearing scent, do a body scan, and check in with yourself. It might be a good idea to book a yoga class, meditation, or massage, too. Find out if there's one in your area and book instantly on the MINDBODY app. You deserve it.
2. Let yourself sleep in.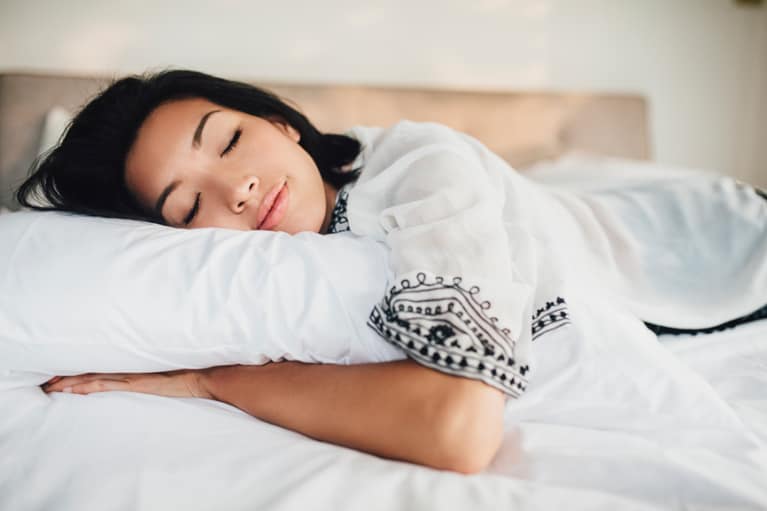 It's the little things—truly. Letting yourself catch up on some shut-eye is one of the best gifts you can give to your body. Sleep is absolutely essential to feeling good and is just as important as nutrition, exercise, and mindfulness. Cancel your plans one weekend morning and try doing absolutely nothing. Read the paper! Make coffee at home! Leave your phone in your bedroom! Be with your kid! You've got this.
We know, we know, massages are amazing. But why not try something new? 'Tis the season. The MINDBODY app has an incredibly helpful "explore" section, kind of like a concierge for beauty and alt wellness, with options like meditation, acupuncture, qigong, chakras, and more.
4. Plan mini "me moments" all month long.
In between the work functions, friend outings, and family stuff, be sure to reserve some time for you. We recommend actually putting it on your calendar—reserving the space will ensure that your precious "me time" doesn't get deprioritized. It's fun to keep it open and decide what you need that week. If you're feeling sluggish, book an energizing activity like a group fitness class, or if you're feeling burned out, a facial or massage can work wonders. Or maybe you just need time with a friend, or with nature. Whatever it is, you'll have time for it if you plan!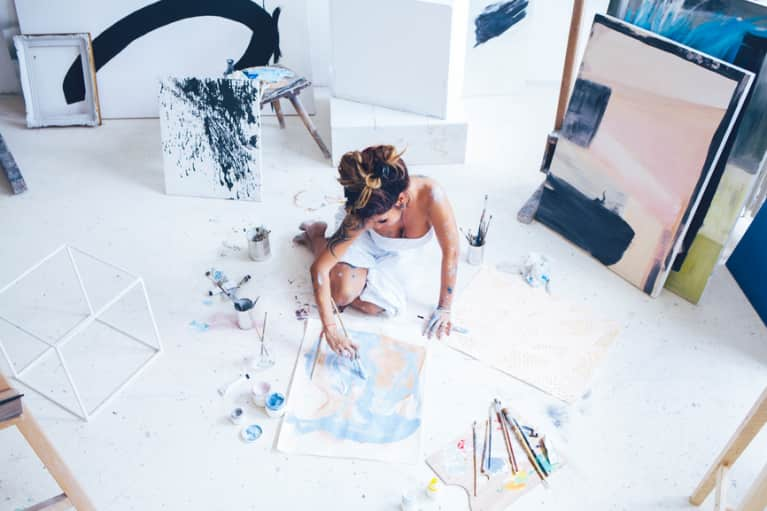 Working creatively with your hands turns on a different section of your brain than what you're used to, especially for those of us who are computer-bound. Try a ceramics class, figure drawing, or painting to switch to your flow zone. It doesn't matter if you've never done it before or aren't "good." Check your ego. Tapping into your inner artist can be deeply healing and a potent reminder to take time to do the things you love.
6. Declutter your beauty bag/drawer/cabinet.
First, put all of the things you use every day together and set them aside. Then, go through what's left. Is it expired? Does the color still work for you? Was there a reason you stopped using it? Be ruthless and don't kid yourself or rationalize keeping anything you don't really need. Toss any samples you don't intend to use in the next week and keep only what's remaining. Your morning routine will be much more streamlined—your future self will be grateful!
7. Plan a vacation or retreat.
With some prep and planning, this can be a very cost-effective way to shake up your routine, bond with friends and family, and spend time outdoors. Your retreat can even be a day or weekend trip within driving distance, but it's important to make time to connect with nature once in a while to stay grounded and disconnect from the buzz of technology for a period of time. Maybe it's as simple as watching the sunset somewhere pretty or getting up to see the sunrise before your day begins. If you can (or want to), go luxe and book a yoga retreat! If you're not into that, we recommend planning your own women's weekend, family trip, or solo adventure. As counterintuitive as it may seem, getting out of our routines is key to learning more about ourselves. And try something new while you're there! Use the MINDBODY app to find local yoga spots, wellness studios, group fitness classes, and salons or spas.
We love a good twice-weekly face mask, but this is all to say that there's more to self-care than that: It's exploration, real rest, and bringing yourself into a change of scenery. For many of us, being more magnetic requires looking after our energy. Whether that means getting out of a rut by trying something new or making sure you give yourself the me time you need, know that your energy is the essence of your magnetism. Happy experimenting!