Close Banner
Advertisement
This ad is displayed using third party content and we do not control its accessibility features.
paid content
 for

The Hidden Gem of Wellness: 7 Reasons You Should Be Sun Valley, Idaho Bound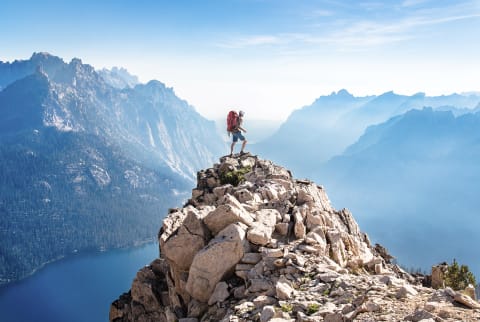 Image by Visit Sun Valley / Contributor
We don't play favorites when it comes to travel destinations. But there seems to be one common thread in our out-of-office agendas: We often find ourselves drawn to nature-filled vacations that help us recharge and head back into the daily grind energized and inspired.
That's exactly why Sun Valley, a laid-back resort town in Idaho enveloped by mountain peaks and national forests, is on our radar right now. Hot travel tip: For unexpected summer vacay inspiration, think winter. Ski destinations take on an entirely different vibe come summer, and Sun Valley still feels blissfully undiscovered.
True to its name, this place has lots of sunshine (250 days of consistent sun, for the record), and with its gorgeous trail runs and mountainous hikes, natural spa treatments, organic eats, and innovative studios that keep its fitness-loving locals active when they're not getting outside, Sun Valley is bound to become the next new wellness hot spot—it helps that it's only a short flight away from many major U.S. cities.
Ahead, seven reasons why we're clearing our summer schedules for some vitamin D in Sun Valley, Idaho.
1. It's the perfect long weekend escape. Thanks to daily nonstop flights from five major urban sprawls, city dwellers residing San Francisco, Los Angeles, Seattle, Denver, and Salt Lake City (plus Chicago come winter) can start their Sun Valley vacay in under two and a half hours. And since all you need is a few days to explore, there's really no excuse not to make it your next wellness destination. Keep reading for itinerary inspo.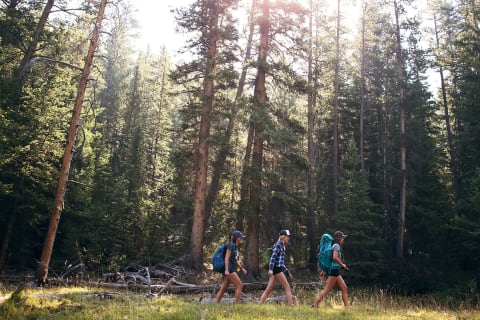 Image by Visit Sun Valley / Contributor
2. Getting around is part of the adventure. Sun Valley is a totally walkable mountain town (are you listening, New Yorkers?), so you can access the town's restaurants, sites, and activities mostly all on foot.
You can even forgo the car rental: The Mountain Rides bus service gets you around town for free, plus to and from the surrounding towns for about $3 each way. You've always got the Mountain Rides BikeShare program as a local transportation option, too.
3. The mountains are calling. In the winter, Sun Valley is a powder-packed playground for folks who crave high-altitude snow sports: heli-skiing, backcountry skiing, Nordic skiing, snowboarding, snowshoeing—you get the picture. But during the shoulder seasons from spring through fall, it's a playground for everyone.
Sun Valley's nestled between the Smoky, Boulder, and Pioneer Mountains, and it lies within an hour's drive from the nearby Sawtooth, White Cloud, and Lost River mountain ranges. It's every hiker's dream and a respite for city-dwelling nature lovers, especially during the spring and early summer, when the trails are full of blossoming wildflowers. No hiking boots? No problem: Many local trails can be explored on horseback or mountain bike.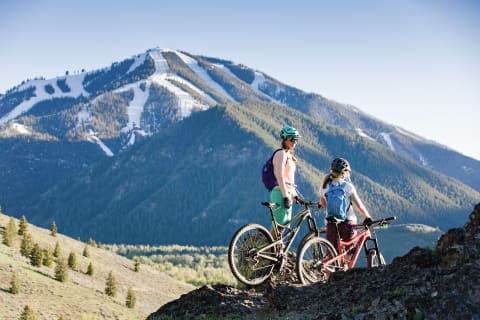 Image by Visit Sun Valley / Contributor
4. You can take your fitness to new heights. Picture epic trail runs starting at a beginner-friendly 3.5 miles that lead you to stunning lookouts and crystal-clear alpine lakes surrounded by jagged peaks. Sun Valley is undoubtedly one of the best places to get your heart rate (way) up, whether it's to train for an upcoming big race or run your first-ever trail race!
If studio fitness is more your speed, you've got some state-of-the-art options, including invigorating classes at The Mill SV: Think total-body interval training that mimics outdoor exercise, plus Woodley treadmills for the win. (FYI, the New York Times recently dubbed treadmill studios as spin's successor.)
5. It's an adventure-seeker's paradise. From the sky to the water, there are endless ways to feel alive out here: Try paragliding, rock climbing, and mountain biking if you're up for it, or dive into the nearby river sports in Stanley (about an hour's drive away from your base in Sun Valley) that range from relaxing to exhilarating. Choose from whitewater rafting, SUP expeditions, and flat-water kayaking, just to name a few.
6. Resetting and connecting body, mind, and spirit is easier than ever. If you'd rather dedicate your PTO to R&R, you're still in the right place. You'll find everything that a wellness getaway needs, from acupuncture sessions to community sunrise yoga flows and boutique yoga studios (we particularly love the class offerings at GATHER).
A weekend of mindfulness wouldn't be complete without a visit to one of Sun Valley's luxury health and wellness centers like Zenergy, where you can do everything from nap by the heated saltwater pool, book a spa or beauty treatment, and take a group Pilates class.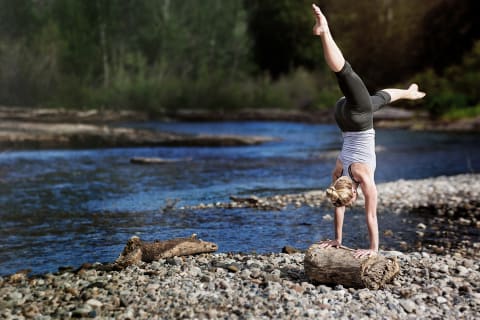 Image by Visit Sun Valley / Contributor
7. There's art, culture, and something delicious at every corner. The après-adventure itinerary is just as long. Among the nightlife options from live jazz to dancing under the stars, Sun Valley boasts over 50 restaurants, where you'll find fare that's organic, locally grown, and sustainable.
A rich arts scene also means that you can get tickets for a show or concert on any given night, after exploring museums and local artist galleries. We suggest swinging by the Sawtooth Botanical Garden where the Dalai Lama blessed a prayer wheel. But with something truly unique for everyone to experience in Sun Valley, our biggest piece of advice is to beat the inevitable wanderlust rush and go!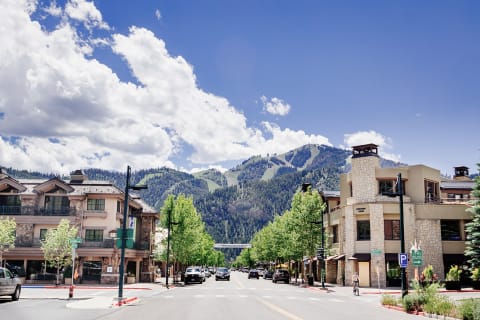 Image by Visit Sun Valley / Contributor
More On This Topic
more Movement
Advertisement
This ad is displayed using third party content and we do not control its accessibility features.
Advertisement
This ad is displayed using third party content and we do not control its accessibility features.