paid content
 for

7 Audiobooks To Boost Your Career & Put More Money In Your Pocket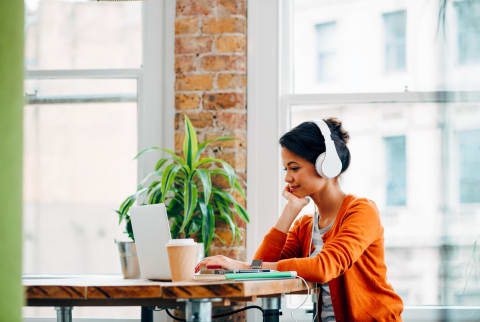 April 26, 2018
There's an audiobook for every type of listener, including a whole host of titles full of helpful advice. These types of audiobooks can make us more confident humans, more effective communicators, and more persuasive leaders. If you're looking to boost your career or just become a more fearless human, these seven audiobooks from some of the best minds in self-help and business are must-listens. Pop them on in the background as you're commuting, getting ready in the morning, or off building your empire.
1. How Luck Happens
Think luck is out of your control? Think again. In this audiobook, author Janice Kaplan dives into how we can create our own luck every day. By interviewing thought leaders, sharing case studies, and analyzing the science, Kaplan provides an action plan for anyone looking to welcome some more good fortune, stat.
2. Elastic
A lot of us have trouble accepting change, but this audiobook aims to teach us all to harness "elastic thinking" as a means of coping with an ever-shifting world. Give it a listen, and work some of the most incredible discoveries of neuroscience into your day-to-day routine.
3. You Need More Money
The title says it all: You Need More Money is a comprehensive primer on how to get your finances in check for good. Matt Manero, who went from being broke to a millionaire in a few short years, provides his road map for "accumulating real wealth, the kind that lets you live the life of your dreams and lasts for generations to come."
4. This Is the Year I Put My Financial Life in Order
This easy-to-understand guide to financial planning covers everything from investments to retirement and wills for wherever you may be in your financial journey.
5. The Way of Leadership
The Way of Leadership presents the ancient, timeless wisdom of Zen and Taoist masters into a digestible, entertaining audiobook. It's filled with stunning insights on everything from how to be an effective leader to how to hone a deeper spiritual practice.
6. Side Hustle
Think you might want to forge a new career path but aren't ready to quit your job and take the leap? Have a desk job that leaves you craving a creative outlet? Whatever your situation, you can probably benefit from starting a side hustle—a venture that fulfills you outside the office. This quick listen gives you a one-month action plan for conquering your own fulfilling, lucrative side hustle.
7. The Career Manifesto
So many people out there are not happy with their jobs, but they don't know how to make a change. This audiobook cuts through all the qualities you think you "should be looking for" to help you nail down the career that will actually leave you deeply fulfilled.
Penguin Random House Audio is giving away an audiobook FOR FREE to help you kick-start your motivational listening! Click here to download
Before Happiness
, a guide to the five hidden keys to achieving success, spreading happiness, and sustaining positive change, by Shawn Anchor, and check out other great listens to help improve your day-to-day life.