6 Marvelous Ways To Make The Most Of Your Matzo This Passover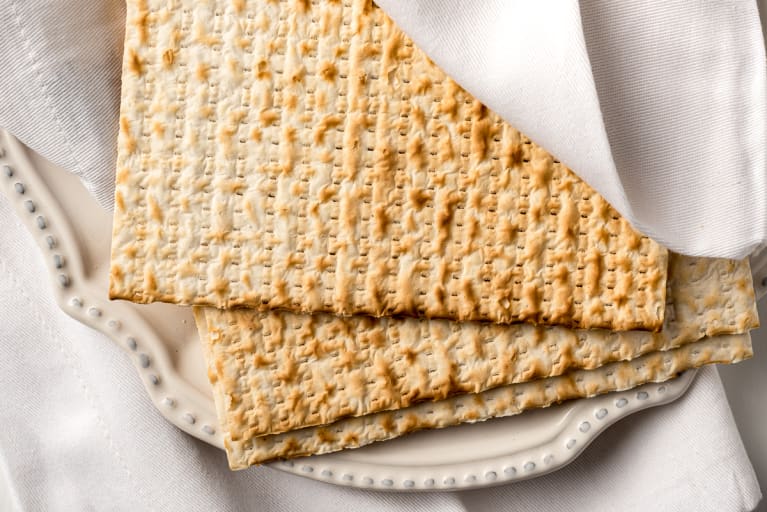 Our editors have independently chosen the products listed on this page. If you purchase something mentioned in this article, we may
earn a small commission
.
Last updated on April 4, 2021
Passover 2020 set new standards for Seders around the world. What is often a night full of feasting, singing, and reflecting on the 10 plagues, and the Exodus from Egypt that followed, has turned into something completely new. This year, we're starting to see the light at the end of the pandemic tunnel, but it still calls for a night of Seders-for-a-few via video chat or perhaps a small outside gathering. It's still different.
What hasn't changed, though? All of the matzo left over from the first two nights of Seders.
Following the first two days of Passover, there are still five or six more days (depending on your type of observance) where many Jews keep "kosher for Passover." This means we can't eat leavened bread—so the more matzo the merrier!
As you can imagine, there isn't much to look forward to when it comes to eating this cracker-like piece of "bread." But with the thousands of years of celebrating Passover under our belts, there have been some pretty delicious matzo creations.
So if you, like me, are already bored of just plain ol' matzo, these six recipes will help you make the most of your matzo leftovers this year. Get ready for a tasty matzo makeover!
While pizza crust isn't kosher for Passover, that doesn't mean you need to skip pizza night altogether. Just think of this matzo pizza recipe as a kosher, thin-crust Margherita.
This kosher twist on the classic avo toast will not disappoint. Swap the bread for matzo and mash a ripe avocado, like normal. Bonus: Add your favorite go-to toppings—like this egg and radish recipe here—for an extra-decadent kosher treat.
Missing your daily peanut butter and jelly lunchtime special? This quick and easy matzo "sandwich" will surely satisfy this common Passover craving. Just slather on your favorite peanut butter—crunchy or creamy—with whatever jelly you have on hand, and you're good to go!
This matzo classic is for sweet and savory lovers, alike. All you have to do is scramble eggs with matzo and add a (heavy) drizzle of maple syrup, or keep things savory with a little salt and pepper. This Classic Matzo Brei recipe is the perfect place to start. Pro tip: If you like things spicy, add your favorite hot sauce.
A truly delicious kosher-for-Passover breakfast can be tough to find. Most cereals are out of the running, pancakes and waffles definitely don't make the cut, and plain yogurt isn't always satisfying. Thankfully, this Maple Walnut Granola recipe will rival your go-to cereal and your staple yogurt topper. In fact, don't be too surprised if you want to whip up another batch after Passover ends!
6. Chocolate-Covered Matzo
While-chocolate covered anything is a win in my book; chocolate matzo is an all-time favorite. Not only does it make for a decadent dessert, but it's also the perfect afternoon snack when you want a little something sweet. The best part? You can top it with pretty much anything—dried fruit, nuts and seeds, coconut flakes...the options are endless! And this Chocolate-Covered Matzo With Toasted Nuts and Sea Salt recipe is the perfect example.