paid content
 for

6 Innovations That Set This Sustainable Mattress Apart From The Rest
Image by Avocado Green Mattress / Contributor
November 2, 2020
Now you may not know this, but typically, mattresses aren't that great for the environment—especially when they end up in landfills. They're typically filled with petroleum-based products and are constructed using toxic chemicals. What's worse? The U.S. disposes of 18.2 million mattresses annually but has only 56 facilities to help recycle them. This is despite more states pushing to have mattresses recycled rather than sent to landfills. The lesson? If you're buying a mattress, make sustainable your mantra.
The perfect mattress will do even more than support the planet: It will provide you with superior spine support; feel like a big, comfortable sanctuary; and last you more than a decade (seriously!), even under the weight of daily use.
That's a lot to ask of a mattress, we know—but there's one mattress ticking all these boxes while also helping to solve the landfill crisis: the new Avocado Latex Mattress. Here are six reasons it's one of the most innovative, comfortable, and sustainable out there:
1.
It's the first Avocado all-latex mattress.
At mindbodygreen, we've been fans of Avocado Green Mattress since the very beginning. Now, they've outdone themselves with their most sustainable product yet.
The Avocado Latex Mattress is propped up by 9 inches of 100% GOLS organic certified Dunlop latex. This latex is sourced directly from the Avocado Green organic farm in India to produce springy, firm, yet bouncy mattresses. The foam provides gentle, stable, motion-isolating support, guaranteed to redefine your idea of what makes a good night's rest.
Now, you might be wondering, why latex? First, latex mattresses are about as eco-friendly as a mattress can get. They are refined from the sap of a rubber tree in a process that preserves the tree and ensures it can continually produce sap for up to 30 years. Add this to the fact that latex mattresses are guaranteed to withstand pressure and maintain their natural shape after years of use (they can last for up to 20 years!) and you've got yourself a mattress that seriously puts the long in long-lasting.
2.
Its supporting players are organic and biodegradable.
In addition to organic latex, the Avocado Green Mattress is made up of GOTS organic certified wool and cotton, which act as support layers. Comprising all-natural latex, wool, and cotton, the mattress is made entirely of organic products. This makes it biodegradable and an easy choice for ensuring the preservation of the environment.
But don't take our word for it, the Avocado Green Mattress is Greenguard Gold and 100% GOTS Certified: This means it takes top marks in environmental and social responsibility, so you can rest easy knowing you're lying on a mattress that won't harm the planet you're living on.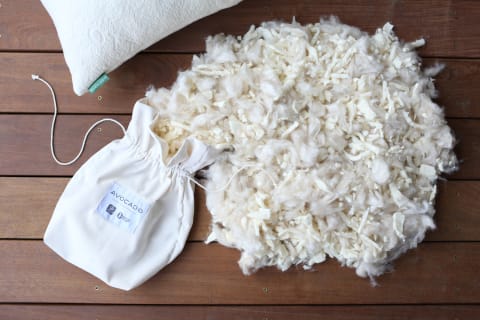 Image by Avocado Green Mattress / Contributor
3.
It offers new heights of support, approved by chiropractors.
Avocado Green put its back into engineering the Latex Mattress so you (and your back), can enjoy strain-free sleep.
The latex foam has a reimagined core courtesy of its convoluted latex. Using laser technology, the top of the foam is cut off into concave peaks along the bottom layer. This produces a zigzagging wave of organic latex. Now, you'll like this because this wave prevents motion transfer and creates three targeted zones that cushion your body's natural curves. It also keeps your spine aligned while reducing pressure on your shoulders and hips.
The support offered by the Latex Mattress is stellar; just ask the American Chiropractic Association, which gave its endorsement after vigorous testing.
4.
It's firm, without the chemicals.
If you like your mattresses nice and firm, you'll love Avocado Green's Latex Mattress.
Unlike regular mattresses that are propped up with dangerous chemicals and fire-retarding toxins, the latex mattress gives stable, cool support thanks to those 9 inches of organic latex.
The mattress scores an impressive 7.5 out of 10 on the firmness scale, the firmest mattress of the Avocado Green bunch.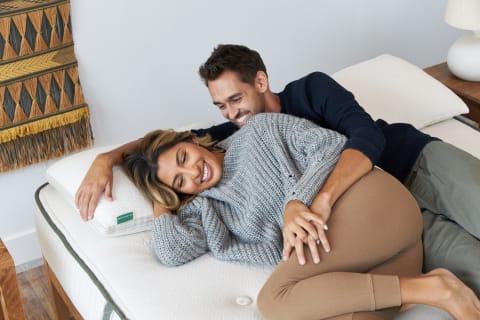 Image by Avocado Green Mattress / Contributor
5.
It's free from squeaky springs.
"I just love the squeak and constant motion of spring beds," said no one ever.
Thankfully, the Avocado mattress doesn't have springs. With its convoluted latex, you won't have to worry about excessive bouncing—its technology softens motion transfer and dampens the responsive foam layers. The organic cotton that offers support to the latex layers also prevents all that springiness through its added support.
6.
It is needle-tufted by hand.
Talk about dedication! Using pure white organic wool, the Avocado Latex Mattress employs needle tufting, crafted by hand, to bind its layers together. This prevents the use of icky adhesives or solvents. Plus, it's the ultimate sign of great quality and durability. The mattress also has heavy-duty handles that make it easy to adjust or rotate if you're prone to moving around.
The final word.
The Avocado Latex Mattress offers the best of both worlds: a firm, spine-supporting mattress that supports your well-being and provides comfort without the damage to the environment. Who doesn't love a win-win?

Elizabeth Plumptre
Elizabeth Plumptre is a health and wellness enthusiast with a love for murder-mystery novels. She specializes in daydreaming and when she's not doing that, she's creating content for companies. Find out more about her and her work by visiting bethwrotethat.com.