paid content
 for

6 Ingredients For Delicious Plant-Based Baking (Plus Recipe!)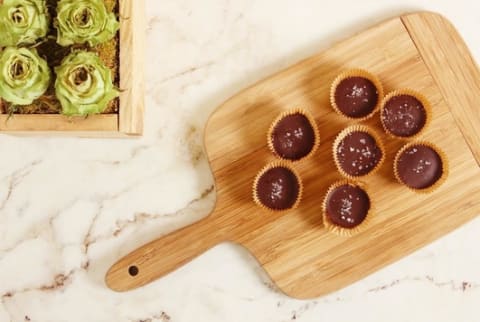 Photo by Chloe Bulipn | mbg Creative
March 24, 2016
Possibly the hardest thing about making the shift to a plant-based diet is learning how to bake. Since a lot of traditional baked goods are made from eggs and dairy (i.e., are not vegan-friendly), finding ingredients that make treats both tasty and nutritious can be a challenge.
We asked our food experts for their recommendations for plant-based baking substitutes and add-ins to deliver more flavor and goodness in every bite.
1. Chickpeas
Registered dietitian nutritionist Leah Silberman, of Tovita Nutrition in New York, says, "My go-to baking substitution is swapping white flour with chickpea flour made of simply dried, ground chickpeas. It's a good source of fiber, protein, folic acid, and other minerals while refined white flour is generally stripped of all nutrients."
2. Banana
"Try substituting raw sugar with bananas whenever you can," Silberman recommends. "Bananas are naturally high in sugar (the riper the banana, the higher the sugar content), and you get the added bonus of vitamins and minerals like potassium and vitamin C."
3. Nut butter
Peanut, almond, cashew, and hazelnut butters add protein, flavor, and creaminess to plant-based treats and baked goods. Check out our recipe for no-bake peanut butter cups below.
4. Sweet Potato
Certified holistic chef and writer Laura Lea Goldberg suggests sweet potato, beet, or carrot puree because they "can add moisture, antioxidants, and natural sweetness to vegan baked goods … as well as gorgeous color!"
5. Avocado
Goldberg also says when in doubt, go avocado. "What can't avocado do? Replacing butter in a one-to-one ratio with ripe avocado results in a rich vegan baked good. It also adds healthy fats; vitamins E, C, and K; and a host of other nutrients."
6. Oats and nuts
Registered dietitian and natural foods chef Miranda Hammer of Crunchy Radish says it's all about the oats: "Making a flour from oats is a great way to add fiber and a little protein to your baked goods. Also gently pulsing almonds, walnuts, or other nuts to make nut flours for baking is another way to add protein and healthy fats to whatever it is you're creating."
3-Ingredient Dark-Chocolate Peanut-Butter Cups
1. Place a pot of water to boil over high heat. Once boiling, reduce to a simmer and place a stainless-steel bowl over the pot (it should be resting above the boiling water).
2. Place chocolate in the bowl, stirring occasionally with a rubber spatula, until completely melted (about 2 to 3 minutes). Remove the pot from the heat but keep the bowl over the pot to stay warm.
3. Line a mini-muffin pan with baking paper liners. Using a spoon, place about 1 teaspoon of chocolate in each of the cups. Place in the freezer for 5 minutes.
3. Add about ½ to 1 teaspoon of peanut butter on top of the chocolate in each cup.
4. Use remaining chocolate to cover the peanut butter in each of the cups completely (1 to 2 teaspoons). Place in the freezer for another 5 minutes. Sprinkle with sea salt, then place in the fridge for 30 minutes.
Store in the fridge until you're ready to eat.