Close Banner
Advertisement
This ad is displayed using third party content and we do not control its accessibility features.
paid content
 for

5 Ways to Elevate the Flavor Of Your Weeknight Dinners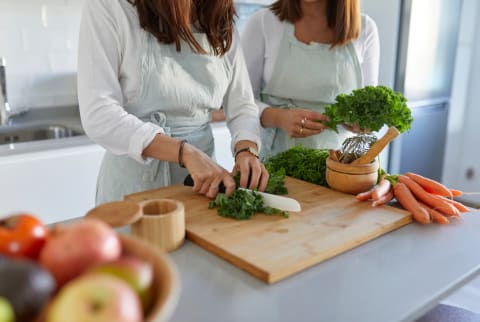 After a long day at work, it can be hard to summon the motivation to cook a quality, nourishing dinner—let alone find the time. It's no wonder a lot of us keep the same back-pocket dinners on repeat (chicken breasts, salmon), yet that sure can be a snooze. After all, this end-of-the-day meal is a time to connect with your people (or just show yourself some care) and reflect on the day, and you deserve to look forward to it. One way to love what's on the menu every night? Stock your pantry with quality ingredients that make your dishes burst with flavor. Hunt's Diced Tomatoes are the secret to expanding your weeknight repertoire with sophisticated, delectable, easy dinners that are destined to become new favorites.
Hunt's Diced Tomatoes are steam peeled using simple hot water. Unlike some other brands, they're never peeled with chemicals like lye**. Hunt's Diced Tomatoes are 100% natural with no artificial preservatives and have been grown under the warm California sunshine by dedicated farmers since 1888. Their incredible quality means they deliver flavor-packed richness to your cooking without any of the legwork. Hunt's tomatoes are a convenient way to make a wide range of dishes more delicious, amping up sauces, stews, skillet dinners, and beyond. Here are five quick and easy ways to use them to bring globally inspired flavor to your weeknight routine:
1. Get Slow-Simmered Flavor Faster
An Italian ragu tends to be an all-day affair, best reserved for the long hours of a lazy Sunday. Make the rich, comforting sauce a weeknight reality by leaning on the fresh flavor of Hunt's Petite Diced Tomatoes. The flavors of Italian sausage, zucchini, and white beans are deepened when simmered in the tomatoes, resulting in a rich ragu that's best enjoyed spooned over creamy polenta. It's a dinner that tastes like you cooked all day, but took under 30 minutes.
2. Turn Breakfast Into Dinner
We'll never say no to the occasional pancakes or scrambled eggs for dinner, but broadening your scope gives you even more meals to choose from. Middle Eastern shakshuka—eggs poached in spiced tomato sauce—is a morning meal that translates seamlessly to evenings. Hunt's Diced Tomatoes lend bold, sun-ripened flavor to the skillet. Top it with crumbled feta and chopped fresh cilantro for a salty, bright finish and serve it tableside with plenty of pita bread for swiping up every last bit of sauce.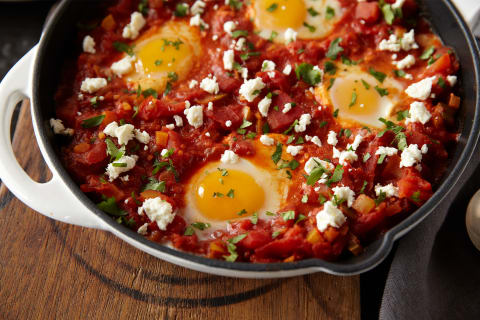 3. Spice Up Your Rice
While you may usually think of rice as a side, it's a main affair in many cultures. West African jollof is one such dish. Hunt's Diced Tomatoes, a fiery pepper puree, curry powder, and aromatics form the base of a rich tomato stew for the rice to cook in. It's a pantry-friendly meal that simmers on its own, for the most part, which is always a win on a weeknight. Stir in extra vegetables like cooked peas and carrots, or don't — jollof rice is a comforting dinner either way.
4. Experiment With New Flavor Combos
Make Monday-Friday meals more interesting by mingling ingredients you might not expect. In this Jamaican-inspired skillet, chopped fresh orange segments are tossed with tender strips of beef and broccoli florets. The sweet and savory flavors come together seamlessly when Hunt's Diced Tomatoes and zippy Caribbean jerk sauce join the party. All that's left to do is serve the saucy mix over rice to make it a meal.
5. Keep the Oven Off
The time it takes for the oven to preheat can feel like an eternity on a time-strapped Tuesday. You can deliver just as much flavor to your dinner table by looking to your stovetop. A classic baked tuna casserole becomes a quick skillet meal when the egg noodles are simmered right in the pan with juicy Hunt's Diced Tomatoes before adding chunks of tuna. Marinated artichoke hearts, crumbled feta cheese, and chopped fresh Italian parsley give it fresh Mediterranean flair, for a comforting supper that's sure to be a hit.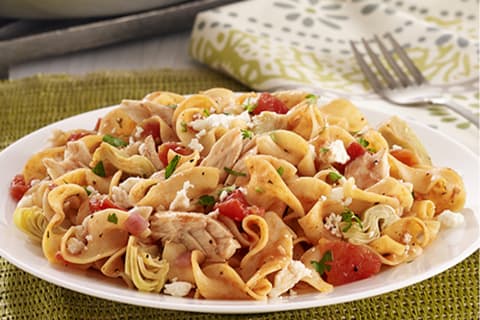 **Lye peeling is generally recognized as safe by the FDA and has no adverse effect on the healthfulness of tomatoes.