5 Hacks For A Smooth Transition From Running Indoors To Running Outdoors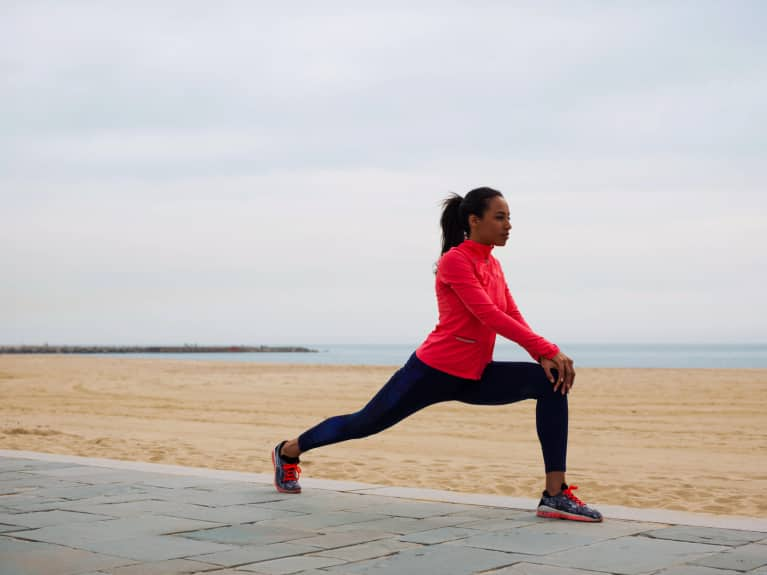 The transition from winter to spring weather is a welcome one, but it requires changes to routines--especially when it comes to movement. Tom Myers is a trainer at New York Health & Racquet Club, one of the city's oldest gyms, and one that knows how to keep its members fit whether the snow is falling or the sun is shining with a unique blend of indoor and outdoor activities. For a city that can experience longer periods of cold, winter weather, navigating outdoor terrain at the first sight of spring can be tricky, especially when your body is used to indoor conditions. Here's how to transition from the treadmill to the pavement and maintaining your workout routine with the new season.
You may want to consider changing up the shoes you've been wearing on the treadmill all winter long for a more season-appropriate option. According to Myers, the difference between a smooth run and one that can trigger discomfort or injury all boils down to your choice of footwear. "There is a large difference in resistance; the belt moves your legs for you on a treadmill, but when you are out in the open, all the work will be on you. Not to mention the uneven terrain, rocks, and tree roots that trail-running shoes are designed to grip. They also spread the weight of impact, which less durable sidewalk trainers won't do."
Soak up vitamin D, but apply and reapply sunscreen.
"Vitamin D is actually made by your body, but it can be directed more efficiently by choosing the right multivitamin," says Myers. "More studies are showing that vitamin K ensures that the vitamin D produced and the calcium you naturally consume don't just sit in your blood, blocking pathways. Vitamin K brings those nutrients to the bones to make them stronger and denser."
Either way, the benefits of vitamin D are easily overturned if we forget to protect our skin with SPF, he reiterates. "Sun damage to the skin can happen so fast; don't prioritize fitness without first making sure you aren't jeopardizing health down the line. SPF 35+ and a hat are a must, even on a hazy day.
Hydration is key, always.
Winter months invite a period of dryness that can easily stretch into the first couple of days and weeks into spring. During this transition, doubling up on hydration is crucial when taking your sweat. "Increased outdoor temps mean you will be sweating more to stay cool. Fluid requirements can double during recovery and even a dip of just 2 percent of your water means you are dehydrated," explains Myers. "A thirsty muscle will be a cramping muscle, and no one wants that."
Warm-up is crucial, even as temperatures rise.
And if you are working out in the heat, don't forget to warm up! Don't try to superhero your most difficult workout for the first time training outside this season. He suggests incremental changes when you first transition outside. "Start with your intervals, not your 10-miler. It can take more than two weeks to acclimate to a hotter climate, maybe even longer if you're used to a climate-controlled gym." It's easy to get caught up with our results instead of our efforts, in which case, Myers reminds us to keep things in perspective when it comes to your pace.
Consider different fruits and vitamins post-workout.
We all know bananas are an all-around go-to for post-workout energy and replenishing the body, but Myers swears by a handful of other fruits and veggies that pass the recovery fuel test. Cucumber, cantaloupe, and watermelons are just a few of the super-hydrating fruits that can help combat water loss, says Myers. "The cucumber contains potassium, magnesium, calcium, and sodium; cantaloupe will give you 15 percent of your daily potassium and 100 percent of your vitamin A; and watermelon gets a bad rap because of its high sugar content, but post-exercise this is the type of fast-burn carb your elevated metabolism will literally chew through."
And about bananas being the best source of potassium? "Watermelon also has a sufficient amount of potassium and naturally occurring water and antioxidants." For the best of melon worlds, he recommends pairing watermelon and cantaloupe to rehydrate when exercising in warmer temps.
If you're on the hunt for a new workout, check out this circuit training 101 guide for some inspiration.
And do you want to turn your passion for wellbeing into a fulfilling career? Become a Certified Health Coach! Learn more here.