Close Banner
Advertisement
This ad is displayed using third party content and we do not control its accessibility features.
paid content
 for

5 Super-Simple Ways To Switch Up The Same Old Dinner Ideas
Making a New Year's resolution to eat at home more often this year? Congrats! Sitting down to dinner at your own table (or couch—whatever works) is a great way to ensure your meals are full of the healthy, tasty ingredients you're looking for and—added bonus—helps you save money, too. And who doesn't want a reset after a month of all those holiday parties?
But you know how it goes: Despite our best intentions, it's easy to fall into a rut of cooking the same (read: boring) meals over and over…and over. The good news is, however, there are easy ways to enjoy healthy, flavorful, fast dishes at home—that will leave you feeling totally satisfied. Read on for a few expert ideas.
Repurpose meal-prepped meats. 
Having a few days' worth of chicken or ground beef cooked and ready to go is great. Eating it the same way every night? Not so much. Instead, when you make your protein, keep the flavor profile simple to start so you can easily use it in different dishes and switch up the seasonings to match what you're making, says Vanessa Rissetto, M.S., R.D., CDN, co-founder and CEO of Culina Health, a virtual nutrition coaching practice. For instance, Rissetto says she'll slow-cook chicken breast and then, on that first night, pair it with potatoes and a salad. Then, she says, "two days later, I'll turn it into tacos." The key? "It's making proteins that can last you for two or three meals so you save money and time, and you can repurpose them pretty quickly," she explains.
Have healthy meals on hand. 
Say a meeting ran later than expected. (Back in the office or not, some things never change!) Or you slept horribly the night before and are zonked by the time dinner rolls around. While the goal may be to eat at home more often, it doesn't mean you have to make every.single.meal completely from scratch. That's where stocking your freezer with healthy, tasty options that are made with good-for-you ingredients comes in. And with vibrant vegetables, tender proteins, and culinary-inspired sauces, Healthy Choice Simply Steamers check all those boxes. Plus, there are lots of options to choose from, like Healthy Choice Simply Steamers Beef & Broccoli for a tasty take on a takeout classic—so you can skip the monotonous meals and get straight to the good stuff.
Healthy Choice Simply Steamers Beef & Broccoli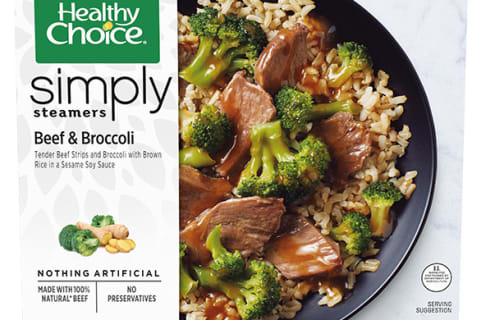 Yes, yes, we know salad can be healthy, but it can also get super boring super fast. Take things up a notch by turning to ingredients that are in season—even a sprinkling makes a big difference. In-season ingredients are fresh and full of flavor, helping to make your whole bowl much tastier as a result. One example: Toss a handful of pomegranate seeds—pomegranates are in season right now—on a salad, with other great toppings like blue cheese, Rissetto says. While you're at it, consider a new homemade dressing to finish things off. "I'm on this warm shallot dressing kick, so I cut up shallots really thin and I add olive oil, garlic, lemon juice, honey, and red wine vinegar," Rissetto says. "These are quick ways to make things very flavorful without a heavy lift," she says.
Find the secret sauce. 
Sauces—whether it's a simple tomato sauce or a more sophisticated take—can quickly elevate a dish to gourmet proportions. The easiest route is to seek out premade (i.e., no prep required) options like Healthy Choice Simply Steamers Grilled Chicken & Broccoli Alfredo, which is topped with a creamy Alfredo sauce, incredibly satisfying, has 27 grams of protein, and cooks in less than 5 minutes. Plus, the "tray in tray" tech means that the sauce and veggies can be cooked at the same time, in their own containers, so the veggies stay crisp while steaming. Rissetto explains sauces can help transform your protein into something more flavorful, which is an especially promising scenario if you're eating the same meal-prepped meat on repeat.
Don't overthink things.
When picking new recipes to add to your weeknight repertoire, Rissetto recommends being choosy and using shortcuts, too. "You don't have to make a 17-ingredient beef Wellington," she says. Even stirring up a fast, flavorful new accompaniment can make all the difference. A chimichurri sauce, for instance, can be put on flank steak and then later in the week on rotisserie chicken or again on salad, she says. Keeping frozen fruits and veggies in the freezer is a simple trick so you can quickly grab them to put in a smoothie or add them to dinner. You don't have to set aside tons of time to research recipes, either: While you're watching TV and scrolling through social media (we all do it!), bookmark some ideas, she notes. "Just keeping it simple will ultimately make it more fun and sustainable." And at least a couple nights a week, give yourself a pass on cooking by choosing a ready-made meal like Healthy Choice Simply Steamers Chicken & Vegetable Stir Fry. Doing so makes mealtime more inspired—minus the prep and cleanup.
Want to look forward to dinner every night? Check out the inspired, ready-made meal options at HealthyChoice.com, or shop now at Instacart.
More On This Topic
more Food
Advertisement
This ad is displayed using third party content and we do not control its accessibility features.
Advertisement
This ad is displayed using third party content and we do not control its accessibility features.