Close Banner
Advertisement
This ad is displayed using third party content and we do not control its accessibility features.
paid content
 for

The 5 Morning Habits I Practice To Boost My Digestion & Calm My Mind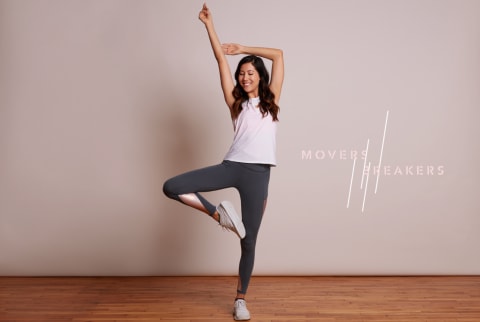 Many people save their self-care sessions for the weekend, but I try to carve out a little bit of time to tune into my body every day.
This wasn't always the case, though. When I moved to NYC from Florida a few years ago, I had a hard time adjusting to the rigorous pace of the city. My morning routine consisted of bolting out of bed and rushing around in a hurry to make it into the office on time—often without taking a moment to breathe. This pace soon began to take its toll on my body, and I was constantly exhausted, stressed, and burnt out. I began forcing myself to wake up a little earlier to make time for a mindful morning routine, and instead of making me more tired, this actually calmed me down—big time. Now, the majority of my mornings are fully dedicated to one hour of self-care. It really sets the tone for the rest of the day!
I'm so grateful to be able to share my routine with you, and I hope it gives you some ideas about how to dedicate a little more time to yourself each morning. I promise, you're worth it!
1. Drink water.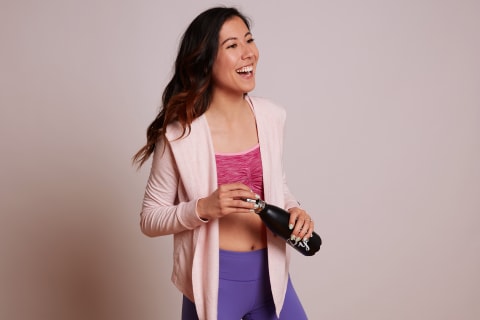 The first thing I do each morning is drink a large glass of water—sometimes with half a lemon thrown in. I've found that rehydrating after a long night's sleep is the best way to jump-start the day. The average human body is made up of 65 percent water, and drinking a glass first thing in the morning fuels your brain, hydrates vital organs, and stimulates digestion.
2. Do a few gentle yoga stretches.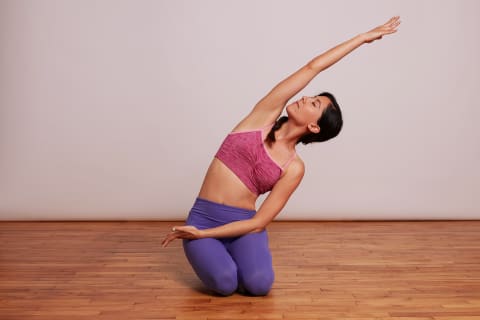 Nothing feels better than treating your body to a few juicy stretches. Since my hips and shoulders are typically super tight when I first wake up, I tend to include poses that gently target these areas, like child's pose, seated side stretch, and pigeon. Doing so allows me to flow into the day slowly and intentionally. I keep my yoga mat rolled up next to my bed, so in the morning I simply lay it on the floor and ease into some gentle movements.
3. Meditate for 5 to 10 minutes.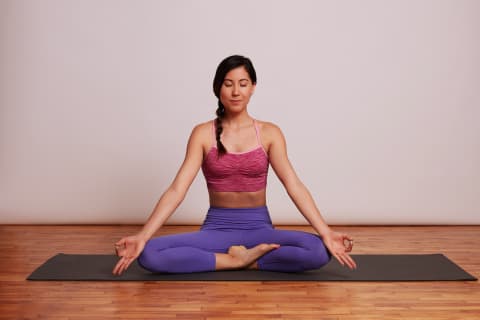 Once I've woken up my body with water and gentle movement, I find a comfortable seated position on my bed or on my yoga mat to meditate. I find that morning meditation comes the easiest for me because my body is already very relaxed. Meditating for even five minutes immediately brings down my stress levels no matter how much is on my to-do list and allows me to focus on a positive intention to carry with me as I jump into work.
4. Rinse your face with cold water.
I tend to leave the hard-core cleansing, exfoliating, and moisturizing for bedtime. In the mornings, rinsing with cold water is enough! This simple ritual feels super refreshing and helps get rid of excess oil, improves circulation, and immediately reduces any inflammation or puffiness.
5. Take a walk (without your phone).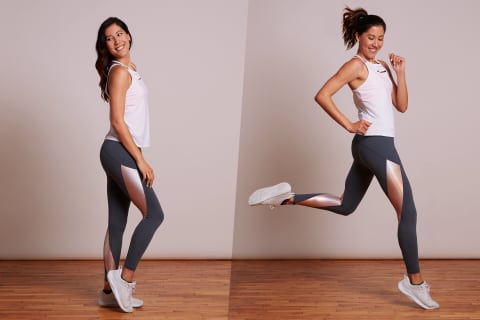 Last but not least, I always spend at least 15 to 30 minutes walking with my fiancé and our dog around the neighborhood. We leave our phones in our pockets for emergency purposes and spend our time simply enjoying our surroundings and each other's company. Mindful walks, especially in the early morning when the neighborhood is a little quieter (well, as quiet as NYC gets), have a way of stimulating all the senses. I find that they lift my spirits for the day ahead, too.
My new CALIA by Carrie Underwood Lumia collection rose gold leggings and top are perfect for walking around the neighborhood, and I always get a few compliments on them along the way. If I have time to squeeze in a morning yoga class, I can wear them there, too, since they're super sweat-wicking. But on days when my routine is shaken up with early events or meetings, I can count on CALIA by Carrie Underwood for versatile and comfy apparel options that work for any occasion.
Self-care looks different for everyone, so it's important to find what works for you. Remember that consistency is key, but don't get discouraged if you fall off the wagon one day. Progress, not perfection!
More On This Topic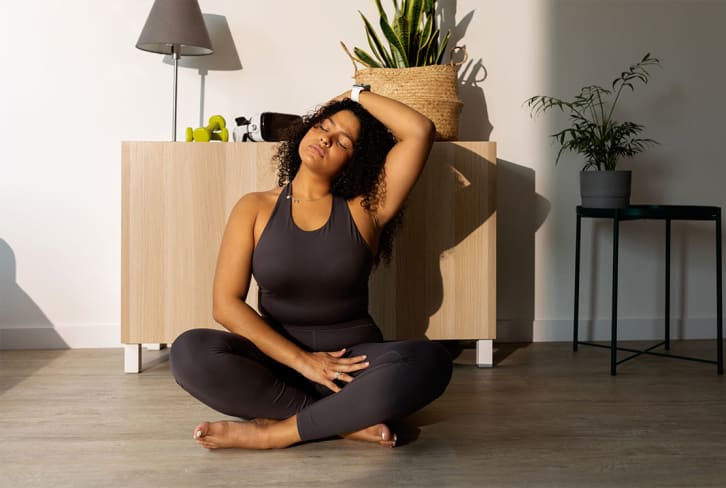 more Movement
Advertisement
This ad is displayed using third party content and we do not control its accessibility features.
Advertisement
This ad is displayed using third party content and we do not control its accessibility features.