By Carolina Santos-Neves
mbg Contributor
Carolina Santos-Neves is a graduate of the Chef Training Program at the Natural Gourmet Institute for Health and Culinary Arts and is presently the chef of Hungry Beast, (CDMX) a kitchen & Juice Bar that focuses on flavors from all over the world with a focus on using organic and local products.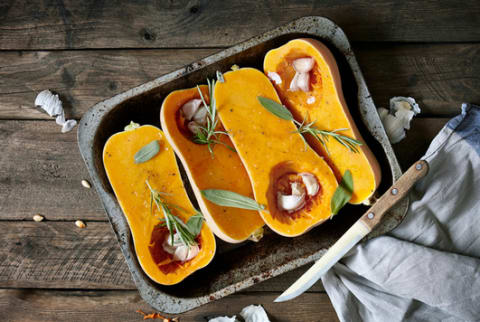 October 24, 2016
Carolina Santos-Neves, mbg's contributing food editor, is the former chef at Comodo, Colonia Verde, and Comparti Catering. She's a graduate of the Natural Gourmet Chef's Training program and a Brussels sprout fanatic. In this series, we'll be exploring all her tricks for plant-based cooking. Get ready for your greens to get a major upgrade.
It's fall. In the food world this means everything suddenly gets flavored with pumpkin. Pumpkin lattes, pumpkin soup, pumpkin bread, pumpkin pie, pumpkin yogurt and ice cream. I love pumpkin, but pumpkin is also a type of squash. And honestly, I love squash more. Don't you?
The beauty behind this veggie is that it tastes delicious, can take on multiple flavor profiles, and is filled with antioxidants, anti-inflammatory properties, and easily adapts to sweet or savory.
There are so many types to choose from, too, whether you're into kabocha (pronounced kah-BOH-chah) because you just love saying it out loud, delicata because of its delicate and sweet nature, butternut because you're a traditionalist, or spaghetti squash because you're G-free but love a mean pasta.
Whichever one is your favorite, I've got your covered with recipe ideas. You see, over the years I have found inspiration for recipes from all walks of life especially when it comes to this starchy veggie. Check out my inspiration and recipe ideas below. Happy squash season!
Delicata
Delicata is one of my all-time favorites. For starters you can eat the skin, so if you're short on time to get dinner going, then this squash is your best bet.
The first time I cooked with it was a recipe a friend shared from her stash of Thanksgiving side dishes. It involved toasted hazelnuts, butter,and sage. Since then I've tried about 30 different variations!
The new veggie "steak"
Cut it in half lengthwise, scoop out the seeds (roast those if you'd like), and then slice the squash. (I like calling it a squash steak.)
Toss slices with olive oil and salt. Roast at 400°F until browned, about 12 to 15 minutes.
Because it's fairly sweet once cooked, I like to pair it with something a little garlicky and herby, like chimichurri. In a small sauté pan, heat up olive oil and minced garlic for 15 seconds, then toss in minced fresh herbs of your choice.
Drizzle on squash and top with chopped and toasted hazelnuts.
Kabocha
This Japanese squash variation is hearty, and it reminds me of a sweet yam because of its density.
I also Iove its yellow/orange interior and how it feels like the veggie that keeps on giving. No matter how much I've cut up, it always seems like there's more. A whole one (usually 2 or 3 pounds) could probably feed 6 to 8 people.
When I first had kabocha, I was at a macrobiotic spot in NYC called Souen. It was served steamed and was so delicious, just on its own. I had two pieces and immediately wanted to order more. And every time I go to Souen I always order it, even though I know how to make it at home.
Kabocha goes Middle Eastern
Serving it steamed with a drizzle of high-quality tahini and toasted sesame seeds is simply divine. I like to break that richness with a drizzle of pomegranate molasses, as well. Those two ingredients also add tons of calcium and antioxidants to the dish.
Acorn
I was at a friend's place for dinner a few years ago, and as part of our meal she served a roasted acorn squash, cut in half with butter and honey. After that night, no joke, I basically ate that same dish for a week straight. I was obsessed.
The perfect bowl
I love the idea of creating a bowl with the squash by cutting it in half lengthwise, then rubbing it with a nice layer of ghee (coconut oil, or just plain old butter work well, too), and then topping it with garam masala and a touch of organic honey.
Roast it at 400°F for 25 minutes, and before you know it, you've got yourself a meal.
If you have an acorn squash "bowl" left over then you can easily add some cooked quinoa, avocado, or a fried egg, and you've got yourself the perfect bowl breakfast, lunch, or dinner.
Spaghetti squash
Well, given the name of this pick, I can't help but actually treat it like a pasta dish. The first time I ate this was very basic, with tomato sauce and Parmesan cheese. Since then, I've elaborated on the dish a touch.
Pasta a la squash
In keeping with the idea of treating spaghetti squash in a pasta-like fashion, I've added a few more items into the tomato sauce base.
After roasting the squash and shredded the flesh with a fork, heat up your favorite tomato sauce, add sautéed cremini mushrooms and a bunch of spinach. Mix it around until wilted. Add either feta or goat cheese and then pour the sauce over the squash.
Voila, a nutrient-rich and fiber-filled "pasta." Take a bite and tell me it doesn't taste like your new favorite Italian dish.
Butternut
I always say that I was Japanese in my past life because I love the culture and the food. So any opportunity to use miso is the best kind of opportunity.
When I was doing the chefs' training program at the Natural Gourmet Institute, our instructor made us a miso butternut squash soup that was magical and so simple.
Put a soup on it
In a blender, add half a steamed and cubed butternut squash, 1 heaping tablespoon white miso, 2 caramelized shallots, ½ cup of water, cracked black pepper, and blend.
Lastly add ½ cup of heavy cream (or coconut or almond milk) and blend longer until smooth. The umami-ness of this dish keeps you feeling incredibly satisfied.

Carolina Santos-Neves
Carolina Santos-Neves is a graduate of the Chef Training Program at the Natural Gourmet Institute for Health and Culinary Arts and is presently the chef of Hungry Beast, (CDMX) a kitchen & Juice Bar that focuses on flavors from all over the world with a focus on using organic and local products. Raised in Brazil, Mexico, and New York and an avid traveler, Santos-Neves was an editor at Epicurious for five years. She's been dinner partying it up with friends and strangers practically since birth. Her favorite foods are ice cream and Brussels sprouts...but not together.