paid content
 for

5 Simple Ways to Upgrade Your Breakfast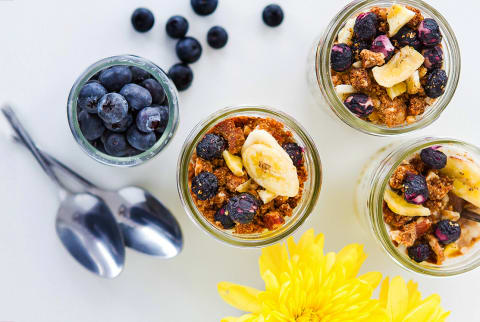 January 15, 2018
The easiest way to build healthy habits? Start first thing in the morning. Whether you're a morning person or not, having a good breakfast can help make your day better by fueling you up for success. The key to using breakfast to your advantage is by preparing meals with intentional ingredients, made with whole foods, free from excessive sugar and overly processed elements.
Let's face it—none of us has a ton of time to cook. By relying on ready-made bases with simple, easy-to-pronounce ingredients, you can quickly, easily prep a healthy breakfast. Having the base handled also makes it that much easier to customize the resulting breakfast to your own needs, whether it's adding adaptogenic superfoods to keep you energized or quell inflammation, or sneaking in a ton of vegetables to have a salad's worth of healthy food before lunch. Simple Mills' baking mixes are one of our favorite shortcuts for making your breakfast favorites with real foods—like almond and coconut flours—and without artificial flavors or fillers, which means you're getting all of the good stuff and none of the bad.
Below are five breakfast recipes that are all about giving you more at breakfast—whether it's more adaptogenic superfoods, extra protein, or just a little more ease in your day.
1. For more superfoods: Freezer-Friendly Lemon Moringa Waffles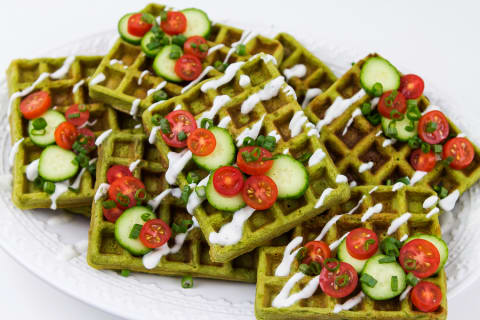 Ready to supercharge those grain-free waffles? Reach for the adaptogen moringa, which is full of antioxidants and vitamins A, C, and E. Its anti-inflammatory, brain-health-boosting, and liver-protective qualities will also give you a natural energy boost. Having adaptogenic herbs like moringa each day is a great habit for success on your wellness journey because they'll keep you feeling good.
Makes 9 to 10 Belgian waffles; depends on your waffle iron
Ingredients for the waffles
5 large eggs
⅔ cup water
3 tablespoons grapeseed or vegetable oil
2 tablespoons fresh lemon juice
1 tablespoon lemon zest
2 tablespoons moringa powder
2 teaspoons tapioca flour or arrowroot starch
Ingredients for the lemon yogurt sauce
⅓ cup plain Greek yogurt, or your nondairy yogurt of choice
1½ tablespoons fresh lemon juice
1 tablespoon water (omit if using thinner, non-Greek yogurt)
Salt and pepper to taste
Ingredients for garnish
Chopped scallions
Sliced baby cucumber
Sliced grape tomatoes
Preheat your waffle iron. In a large mixing bowl, whisk the eggs, then whisk in the water, oil, lemon juice, and lemon zest.
Stir in the Simple Mills pancake and waffle mix, moringa powder, and tapioca or arrowroot.
Once your waffle iron is preheated, lightly grease the plates. Pour batter into the iron and cook according to the manufacturer's instructions.
Cool completely, then stack in an airtight container. Separate each waffle with a piece of wax paper or parchment paper.
Cover and freeze until ready to eat.
Thaw the waffles on the countertop, or microwave them in a heatproof container.
Make the sauce by whisking all of the ingredients together until smooth.
To serve, drizzle slightly cooled waffles with lemon yogurt sauce and garnish with a sprinkle of scallions, cucumbers, and tomatoes.
Note: Waffles keep (without sauce or garnish) in an airtight container in the fridge for up to three days, or in the freezer for up to a month. The sauce can be made up to 48 hours in advance and stored in an airtight container in the fridge until ready to eat.
2. For make-ahead ease: Freezer-Friendly Pancakes (3 Ways)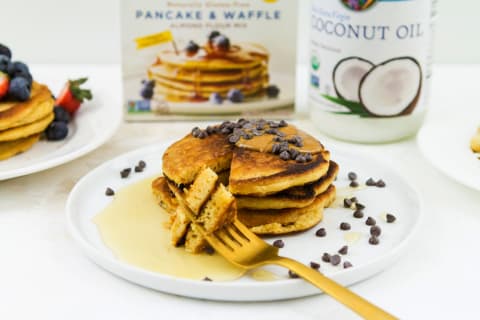 A simple method for enjoying pancakes all week long. Make them before of a busy week, then reheat pancakes as you go. Switch up the toppings for variety all week long.
Makes 10 large or 20 small pancakes
Ingredients for the Pancakes
5 large eggs
⅓ cup water or milk of choice
3 tablespoons Garden of Life coconut oil, melted and slightly cooled
Additional oil (or butter) for the pan
Topping Combinations
Unsweetened flaked coconut, chopped macadamia nuts, fresh pineapple chunks
Nut or seed butter, chocolate chips, raw honey
Fresh berries, whipped cream, and cinnamon
Plus maple syrup, of course!
Make pancakes according to instructions on the box. Remove from pan and set on a wire cooling rack. Repeat until all the batter is cooked.
Cool the pancakes completely, then store them in an airtight container with a piece of wax or parchment paper between each pancake. Freeze until ready to eat.
Thaw on the countertop, or microwave in a heatproof container.
Finish with your topping(s) of choice and enjoy!
Note: Pancakes will keep in an airtight container in the fridge for up to three days, or in the freezer for up to a month.
3. For on-the-go: Blueberry Banana Granola Parfaits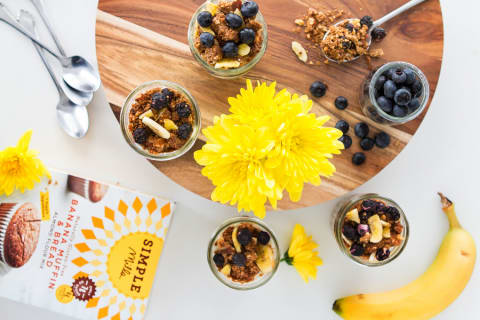 Putting together your breakfast ahead of time is a great way to make more time for yourself in the morning—and even better when they're portable. Prepare parfaits ahead of time to take with you to the office, school, or errands.
Ingredients for the Granola
1 cup raw almonds, finely chopped
⅔ cup raw walnuts, finely chopped
¾ cup unsweetened shredded coconut
Pinch of fine sea salt
¼ cup unsweetened creamy almond butter (or your favorite nut or seed butter)
¼ cup raw honey
¼ cup melted coconut oil
½ cup dried or freeze-dried blueberries
½ cup banana chips, roughly chopped
Ingredients for the Parfaits
Fresh bananas, peeled and sliced
Fresh blueberries, washed and dried
Plain yogurt of choice
Preheat the oven to 350°F. Line a large baking sheet with parchment paper or a nonstick pad and set aside.
In a large mixing bowl, stir together the almonds, walnuts, Simple Mills banana bread and muffin mix, coconut, and salt. Set aside.
In a small bowl, whisk together the almond butter, honey, and coconut oil.
Add the almond butter mixture to the large mixing bowl and toss with the nut mixture until well-combined.
Turn the granola out onto the prepared pan and press firmly into an even layer. Try to make sure the layer is the same thickness throughout, about ¾ inch to 1 inch thick. Bake for 15 to 20 minutes, until crisp.
Cool, then use your fingertips to break up the granola. Sprinkle the dried blueberries and banana chips over the top, and use your fingertips to toss it all together.
To assemble the parfaits, layer the fresh bananas, yogurt, granola, and fresh blueberries together in a bowl or Mason jar. Top with a drizzle of raw honey, if you want. Enjoy!
4. For more healthy fats: Avocado Toast on Grain-Free Artisan Bread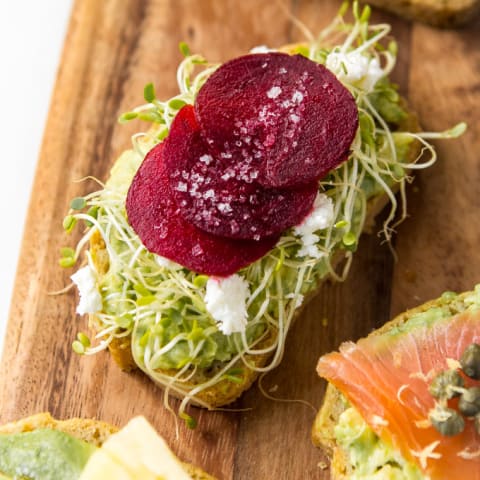 Starting your day with good-for-you fats like those found in avocado is one of the keys to staying satisfied and focused throughout the morning. Make it extra delicious by making your avo toast on freshly baked (and grain-free) bread.
Makes 5 slices of avocado toast
Ingredients
Toppings combinations
1 slice of cooked bacon, cut in half + one sliced hard-boiled egg + freshly cracked black pepper
Alfalfa sprouts + goat cheese + cooked sliced beets + Himalayan pink salt
Smoked salmon + capers + lemon zest
Sliced fresh pineapple + drizzle of ¼ teaspoon chili paste mixed with ½ teaspoon honey and a pinch of powdered ginger
Thinly sliced fresh radish + za'atar spice mix
Slice 5 pieces of Simple Mills bread and toast them to your preference.
Add a layer of sliced or mashed avocado to each slice of bread.
Finish each slice with one of the topping combinations listed above.
Enjoy immediately!
5. For extra protein: Healthy Quiche Muffins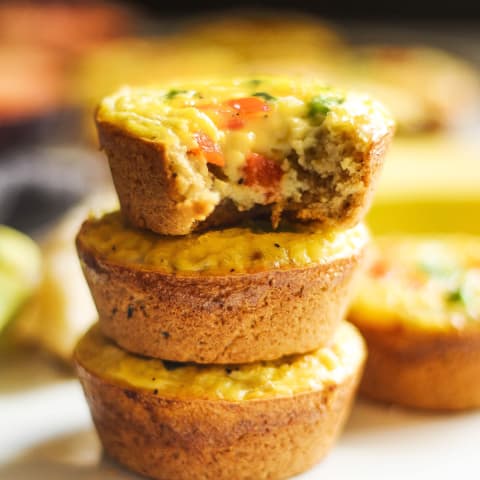 Eggs are a great way to start the day, providing protein that will give you staying power. This pizza dough is made up of almond flour, cauliflower, and other simple ingredients that provide additional blood-sugar stabilizing protein, and tons of vitamin E to make your skin glow. Make these quiche muffins to get your protein in a tasty and portable package and start your day with a nutrient-filled meal.
Ingredients
1 box Simple Mills Pizza Dough
2 tablespoons apple cider vinegar
2 tablespoons olive oil
6 tablespoons water
3 large eggs
½ cup almond milk
½ cup finely chopped bell pepper
¼ cup finely chopped onion
1 teaspoon salt
¼ teaspoon black pepper
Preheat your oven to 375°F and grease a muffin pan.
Combine the first four ingredients in a large bowl. Stir until dough is formed.
Combine remaining six ingredients in a bowl, whisking to combine.
Take 1½-inch balls from the pizza dough and press into each muffin tin, ensuring they are pressed up into the sides, as well.
Use a tablespoon or ice cream scoop to add 1 tablespoon/scoop of egg mixture into each crust. Do so for all 12 muffins. Then, take ½ scoop and place into each muffin tin until egg mixture is finished.
Place in the oven and bake for 17 and 20 minutes.
We believe living a healthy lifestyle isn't seasonal or a trend but rather a series of habits you form to create a life filled with more joy, energy, and vitality. The best part is it doesn't have to be complicated. We always recommend focusing on simple ingredients you can pronounce and making blood-sugar-balancing, hormone-stabilizing meals! These ideas are just the starting point—feel free to experiment and have fun playing around in the kitchen!