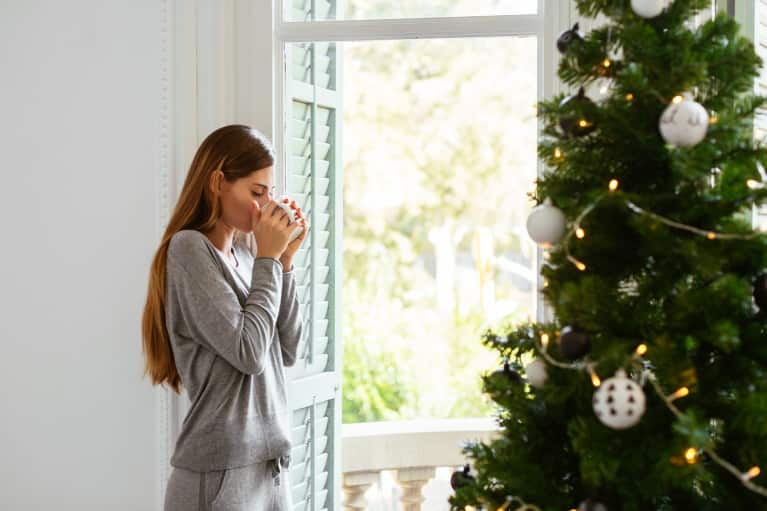 The holiday season is now in full force, and the moments of slowing down to reflect on the year and the mayhem of finishing up work, traveling, and jamming into close quarters with family are, though at odds, pretty much a package deal.
But a little self-care goes a long way. Whether you're looking for guidance, encouragement, or inspiration to welcome the new year with intention, or just a stress-busting book for the trip home over the holidays, queue up these captivating audiobooks that approach self-care and mindfulness through totally different lenses.
The Spirit Almanac: A Modern Guide to Ancient Self-Care
Come for the thoughtful insights behind humanity's rituals; stay for the accessible how-to's for creating your own. Written by two of mbg's very own wellness experts—sustainability editor Emma Loewe and beauty editor Lindsay Kellner—this actionable book is an essential guide and tool kit for your personal self-care journey, rooted in history, faith, and science. It's categorized by the four seasons—and now's a wonderful time to start a winter ritual!
The Finnish Way: Finding Courage, Wellness, and Happiness Through the Power of Sisu
Hygge is so 2016. Meet sisu—or the concept of persistence and tenacity in purpose. In Finland, it's regarded as a national virtue; in wellness, it looks like everyday courage that transforms body, mind, and spirit. This book dives right in.
"Is it a good idea to write about something I'm still in the middle of?" asks Maggy van Eijk, who wrote this collection of deeply personal essays about navigating her mental health. Too many people living with anxiety, depression, and self-loathing often face these struggles alone. This hopeful and encouraging road map to self-love is the antidote to that. The answer to her question, of course, is yes.
If you've spent some time feeling stagnant, stuck, or just stressed out, this one's for you. And bonus: Spending a few hours listening to two of the top personal development bloggers share their insights might feel like your own one-on-one session. Marc and Angel Chernoff together narrate their second book, subtitled "Change Your Thoughts, Change Your Reality, and Turn Your Trials Into Triumphs," and lay out refreshing, new strategies for changing thought patterns and daily habits to restore well-being and overcome life's toughest challenges.
Dare to Lead: Brave Work. Tough Conversations. Whole Hearts
Anyone with big plans (or even just big dreams) for the next year—whether it's in your career, community, or circle of friends—listen up: This is the epic motivational boost that will inspire you to step it up and do everything you really, truly want to do. Dr. Brené Brown's latest No. 1 New York Times best-seller (she has four others, by the way) is the culmination of a seven-year study on courage and leadership—and what she found is good.