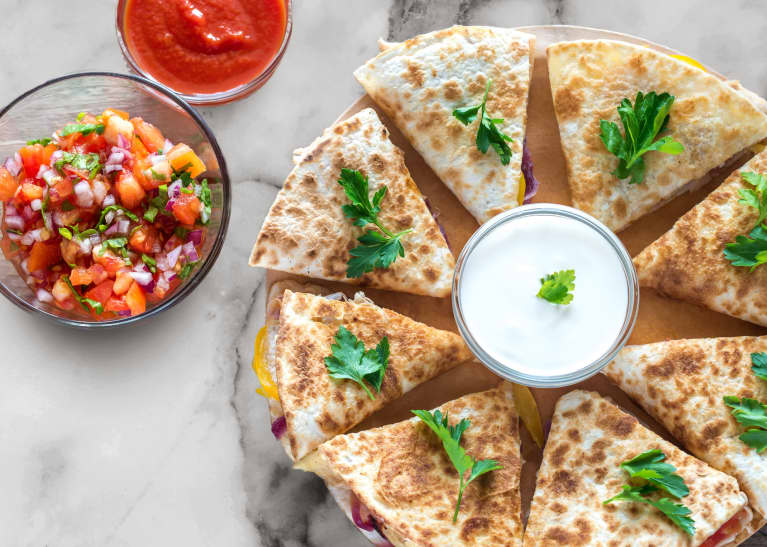 Packing lunch can be tougher than trying to get out the door in the morning. And if you've got picky eaters in your crew, forget it. You want to make something that ticks all of your boxes, but if you veer too far in the health-conscious direction (collard greens, anyone?), the lunch you so carefully planned out might end up traded away or discarded in favor of another kid's cookie-and-pizza combo. What's a conscious parent to do?
Luckily, there are a few easy options for a craveable packed lunch that comes together in a snap:
There's something about a small wooden skewer that makes any meal feel like a party, when, in execution, a skewer meal can actually be easier than its no-stick counterparts. Slide a few pieces of raw chicken (bonus points if you throw some veggies on there, too) onto a skewer and grill or pan-fry until it's cooked through. Stir together tamari, almond butter, raw garlic, and toasted sesame oil for a quick satay sauce for happy dunking (maybe the most fun lunchtime activity for kids and adults alike). For dessert, slide a few berries on a skewer and serve with a melted chocolate dip.
Here's the secret about quesadillas: If they're filled with cheese, no one notices that there's veg in there, too. Finely chop some broccoli, cauliflower, or kale, then give it a quick sauté with onion powder, garlic powder, and salt until it's cooked through. Fold it into a tortilla with Applegate Naturals® Shredded or Sliced Cheese, which are Non-GMO Project Verified and pasture-raised, and—bam!—a veggie-packed meal that feels like a treat.
3. Build a better sandwich.
Deli sandwiches are the OG lunch staple and actually aren't all that bad for you—except when the meat doesn't really resemble meat at all and is packed with filler ingredients. Fortunately, there's Applegate®, who offers high-quality deli meat that is humanely raised with no antibiotics ever and that's made without artificial ingredients, including chemical nitrates and nitrites. They also recently relaunched their Applegate Organics® poultry deli varieties that are now Whole30 Approved® (and you know they have strict standards!). Rather than slapping something together for them, make kids part of the creative process of sandwich building: The night before, lay out a selection of fillings and spreads with some bread and let them layer away (with high-quality foods to choose from, the results will always be nourishing and taste delicious). They'll take pride in their output and be excited to eat their lunch the next day.
You can do this with the sandwich from above or even a simple PB&J—a quick go in a waffle iron turns even the most boring two pieces of bread into a super-fun treat. Just make your sandwich as you normally would, then gently press it in the waffle iron until it's toasty.
A salad all tossed together? Blech. A salad deconstructed into its component parts—which are really just fun, poppable veggies? Heck yeah. Throw some cherry tomatoes, sliced carrots, lettuce, red pepper, and whatever other colorful veggies you want into a bento box and give your kid an option of dippers on the side—think hummus, pesto, and a salad dressing. Options give them the control, which make it easy to make veggies into a full-fledged meal.