Close Banner
Advertisement
This ad is displayed using third party content and we do not control its accessibility features.
paid content
 for

5 Food & Beverage Trends You Need To Know About This Spring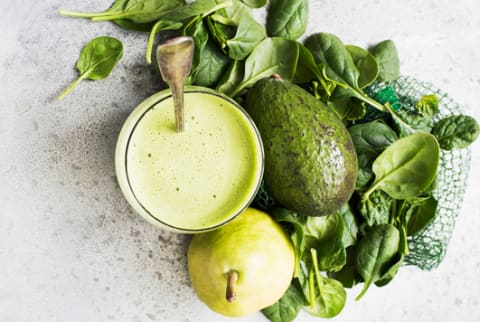 We can feel it in the air, spring is almost here—and we couldn't be more excited. Longer days, brighter color palettes, and fresh produce are on their way.
To get some good ideas for cooking, drinking, and smoothie creations, we thought we'd ask some of our favorite holistic foodies what their favorite ingredients are for this spring and what they're doing with them.
Plant power
Easy, hearty, whole-food-based beverages are here in a huge way this spring, and adding powerful greens like wheatgrass and spirulina to a juice or smoothie is one of the simplest ways to get all their goodness. We like this Hearty Greens juice that combines spinach, celery, kale, and wheatgrass with spearmint and apple for a bit of sweetness.
Registered dietitian and natural foods chef Miranda Hammer Shear says she's all about a particularly colorful root vegetable. "My current favorite ingredient for spring is the watermelon radish!" she says. "Not only is it an incredibly beautiful and vibrant root vegetable, but it's in the brassica family, which includes powerhouse produce such as broccoli, cabbage, and Brussels sprouts. They are firm and crisp in texture, and add a sharp bite to whatever you add them to. I love topping my avocado toast with them, tossing them in a grain bowl, or even roasting them to bring out the sweetness."
Flower and herb essences and oils
Not just for external use, essential oils can add both intense flavor and nutrients to food and drink.
Alle Weil, a holistic nutritionist, says, "Essential oils are essentially distilled plant extracts taken from the flowers, leaves, stems, roots, and even seeds of plants. Once extracted and concentrated, they are extremely powerful in the smallest amounts."
One of the best ways to include essential oils in your routine is with cold-pressed juices. Naked Pressed Juice's new Botanical juices line includes Apples to Lavender and Citrus Lemongrass flavors, which both feature essential oils. Apples to Lavender has apple, cucumber, beet, cranberry, lemon, passionfruit, and lavender oil for a drink that's high in potassium and tastes amazing. Citrus Lemongrass combines bright orange and lemon flavors with greens and lemongrass oil to create a juice that's an excellent source of vitamin K and a good source of magnesium for an energetic boost.
Cassandra Bodzak, author of Eat with Intention, says, "Right now, I'm obsessed with my 'focus potion'—it uses celery, baby kale, grapes, and rosemary oil for a truly unique taste. It's refreshing and sweet with a powerful prescriptive punch from rosemary that zaps your head into gear on foggy days!"
Just be careful to make sure all your essences and oils are culinary grade and safe for cooking with.
Ayurvedic influence
Ayurveda is the ancient system of health based on the doshas and finding balance within the body based on the season, how you're feeling, and your specific body type.
Turmeric, ashwagandha, and more commonplace spices like cinnamon and coriander are all making waves in teas and drinks for their unique properties.
Adding them to juices, smoothies, and salad dressings for more elevated flavors and potent blends will be the go-to in warmer weather.
Mushrooms galore
Everything from fresh to dried and especially adaptogenic varieties, mushrooms are totally having a moment. Health-supportive chef and cookbook author Laura Lea Goldberg loves the way she can use mushrooms in so many ways.
"As the weather starts to warm, I've been craving plant-based food that's still hearty and satisfying—enter wild mushrooms! Full of umami and meaty in texture, I love roasting mixed wild mushrooms, then tossing them into grain bowls or scrambled eggs and onto avocado toast and pasta (I'm obsessed with legume noodles).
"Each variety has a unique flavor, but they're all packed with fiber, vitamins, and minerals. You can also play around with rehydrating dried wild mushrooms to create a rich, savory broth to use in soups or simply sip for a nourishing beverage.
"Also on the beverage front, I'm currently smitten with medicinal mushroom powders, which dissolve instantly in hot water for a quick superfood boost. I love reishi when I want to chill and feel relaxed and I go for the lion's mane mushrooms to clear my head and help me focus on work."
Avocado all the way
An old favorite, avocado is always on trend, but we think you'll be seeing it on more than toast.
Lee Holmes, whole foods chef and author of Heal Your Gut, says, "My essential ingredient for spring is avocado. I love them in smoothies, make dressings out of them, drop them into salads, make chilled soup, and even ice cream. I love how buttery and creamy they are and filling, too. The mild flavors work well to spice them up, and their texture is great for smoothies."
More On This Topic
more Food
Advertisement
This ad is displayed using third party content and we do not control its accessibility features.
Advertisement
This ad is displayed using third party content and we do not control its accessibility features.