Close Banner
Advertisement
This ad is displayed using third party content and we do not control its accessibility features.
5 Comfort Food Recipes That Helped Me Lose 75 Pounds Easily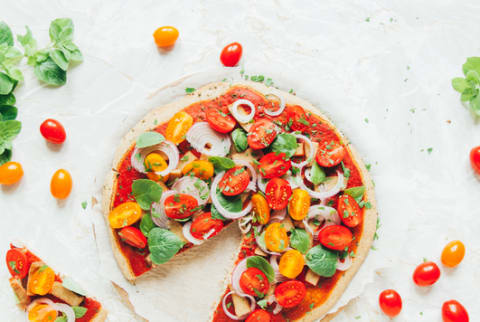 My No. 1 rule when it comes to healthy, balanced, lasting weight loss: Eat what you actually want to be eating! This doesn't mean eating pizza and burgers all day long (in the sense that you may be thinking); what it means is finding healthier and satisfying alternatives to your absolute favorite dishes that make you feel happy and excited to eat them.
When it comes to weight loss, it seems like we have been taught that food is the enemy and it's not something to really be "enjoyed." I believe that's how the industry is keeping us overweight, unhealthy, and unhappy. Food is meant to be loved, enjoyed, and fun!
If we suck the enjoyment out of it by going on a restrictive diet, it's no wonder we fall off the wagon (I have tried this method many, many times, winding up in an awful cycle of dieting, bingeing, going "off" my diet until I can't take it anymore, starting the diet "over" or starting a new diet, and repeating the process). All it did was leave me miserable, frustrated, and hopeless (and definitely not any leaner)—sound familiar?
Figuring out that I can still have the same type of meals that I love and have always loved, enjoy the heck out of them, and lose weight/maintain weight loss has been the key to finally reaching success on my weight-loss journey. Now I am happy, healthy, and actually enjoy eating again and can rest assured that the weight I've lost is never coming back.
Here are five of my absolute favorite recipes that helped me shed 75 pounds and not ever feel restricted. They are all healthier/lightened-up versions of some of the comfort foods from my youth that totally satisfy those cravings.
1. Simple Personal Pizza
1 whole grain or gluten-free pita
2 tablespoons tomato sauce
¼ cup vegan shredded mozzarella cheese
Herbs and spices of your choice (oregano, garlic powder, Italian seasoning, basil)
Optional toppings: any veggie you can think of! (I love mushrooms and spinach)
1. Preheat oven to 400°F and lightly spray baking sheet with nonstick cooking spray.
2. Place pita on baking sheet, top with tomato sauce, and sprinkle with desired herbs and spices. Add vegan shredded cheese and optional toppings.
3. Bake for 5 to 7 minutes or until cheese is melted.
2. My Favorite Burgers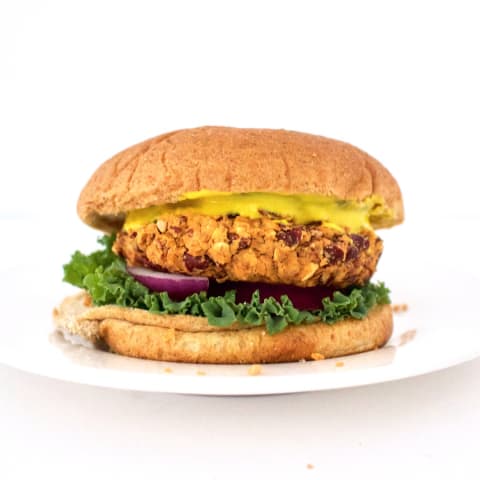 1 can (15 ounces) kidney beans, drained and rinsed
2 tablespoons ketchup
1 tablespoon yellow mustard
1 teaspoon garlic powder
1 teaspoon onion powder
⅓ cup gluten-free quick oats
1. Preheat oven to 400°F; line a baking sheet with parchment paper (or spray with nonstick cooking spray), and set aside.
2. Mash beans in mixing bowl until there are no whole beans left. Add in the rest of the ingredients and stir until well-combined.
3. Divide mixture into 4 equal portions, and roll into balls. Place on prepared baking sheet, and flatten with the palm of your hand.
4. Bake for 10 minutes, flip (carefully!), and bake for another 10 minutes on the other side.
5. Serve on a whole-grain or gluten-free bun with your choice of toppings and condiments. The burger patty is also delicious crumbled into a salad.
3. Oil-Free French Fries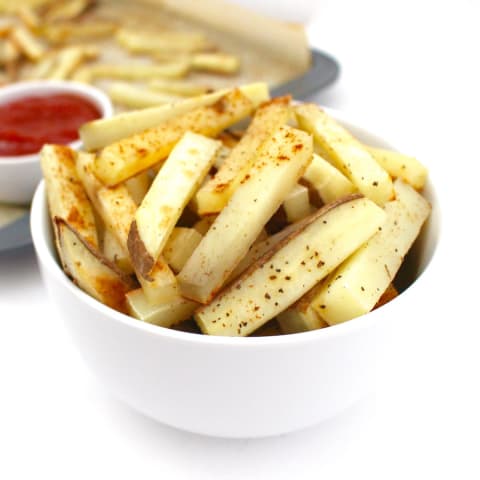 3 medium russet potatoes (250 grams each)
Spices of choice (I like salt, pepper, and garlic powder)
1. Preheat oven to 400°F; line 2 baking sheets with parchment paper (or spray with nonstick cooking spray), and set aside.
2. Slice potatoes into french fry shapes of your desired thickness. Place sliced potatoes on baking sheet, and sprinkle generously with spices.
3. Bake for 15 minutes, flip, and bake for another 15 minutes, or until fries have reached your desired crispiness.
4. Vegan Grilled Cheese
2 slices whole-grain bread
2 slices vegan cheddar cheese
Optional: sliced tomato, jalapeños, and kale or spinach
1. Place vegan cheese slices (and optional ingredients) inside bread.
2. Lightly spray pan with nonstick cooking spray and heat over medium heat.
3. Cook sandwich on both sides until the cheese has melted and the bread is golden brown (about 3 minutes per side).
5. Vegan Spaghetti & Meatballs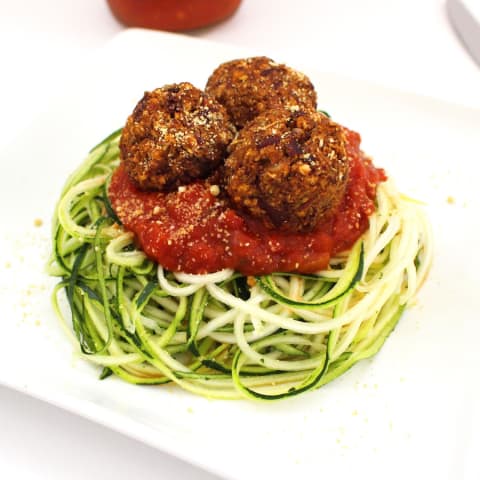 6 ounces uncooked whole-grain or gluten-free spaghetti noodles of choice*
Spaghetti or marinara sauce
1 can (15 ounces) kidney beans, drained and rinsed
1 tablespoon onion powder
1 tablespoon garlic powder
1 tablespoon oregano
1 tablespoon chili powder
3 tablespoons tomato sauce
2 tablespoons mustard
*For an even lighter version, use zucchini noodles!
1. Preheat oven to 350°F; line baking sheet with parchment paper (or spray with nonstick cooking spray), and set aside.
2. Add kidney beans to large bowl and mash until no whole-bean pieces remain. Add remaining meatball ingredients, and stir to combine.
3. Scoop out about 1 tablespoon of the mixture, and use your hands to form into meatball shapes (you will get around 12).
4. Place on baking sheet and bake for 20 to 22 minutes, until outside is slightly crispy.
5. While meatballs are baking, prepare spaghetti noodles according to package instructions.
6. When spaghetti and meatballs are ready, combine them with desired amount of sauce in a large bowl, toss, and enjoy!

Annie Markowitz, PhD
Health Coach
Annie Markowitz, PhD, is a weight loss expert with a PhD in Nutrition from the University of Texas at Austin. She is also a cookbook author and founder of the popular plant-based recipe website www.VegAnnie.com. Annie lost over 75 pounds in a balanced, self-loving kind of way, and is passionate about showing others how eating clean, wholesome foods can be delicious, fun, and exciting! Her recipes are simple to prepare, budget-friendly, and always free of artificial ingredients. You can find Annie on Facebook, Pinterest, Instagram, and Twitter. She loves to connect with new friends!