paid content
 for

The 4 Benefits Of Working Out In Cold Weather, According To Science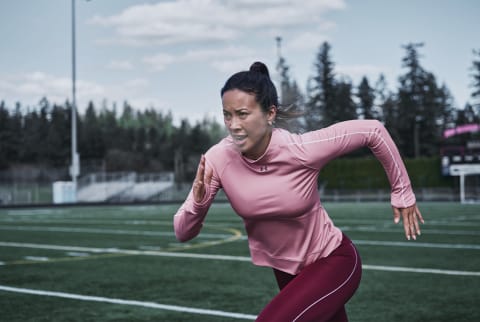 Image by Under Armour / Contributor
December 20, 2021
For years, cold weather was something we avoided—why freeze when we can bundle up with a book and cup of cocoa? But recently, cold has been trending. Cold showers are all the rage, with amazing benefits like relieving symptoms of depression1. Everyday people are even jumping in ice baths, which science has connected to fewer sick days2 and less stress3. But most importantly, for the everyday athletes, cold weather may help us meet our goals. We may have always viewed cold weather as an obstacle, but that's only because we weren't equipped with the right science or gear to know better!
The science of cold.
With the right facts and fabric, cold weather can be the reason to lace up, head outside, and get our sweat on. Think about all you could do with gear that keeps you ridiculously warm but also gives back the energy you spend, helping you work harder and recover faster. Yes, it exists—the Under Armour RUSH ColdGear collection is revolutionizing how we do winter. Crafted with infrared technology, this fabric converts body heat into infrared energy you can reuse while increasing blood flow to help muscles work harder. What happens when this innovative gear meets the science of cold? Let's just say the path to your goals may be clearer than you thought, and these four benefits of working out in cold weather will prove it to you:
1. Cold weather helps you burn more calories.
As humans, we store a few different types of fat in our bodies: white and brown being two you should know about. Whereas white fat stores extra energy, brown fat4 burns energy to create heat and manage body temperature, thus it's activated by colder temperatures. There are many benefits of brown fat, but one that's particularly friendly to our training goals: In the process of maintaining our body temperature, brown fat helps us burn more calories, and can even help with appetite regulation.
2. Colder temperatures support endurance exercises.
Endurance comes down to our ability to sustain aerobic exercise over a period of time. As it turns out, temperature plays a considerable role. Studies5 have shown that warmer temperatures can hinder endurance performance, whereas reasonably cool temperatures may benefit performance. We don't usually think about 50 to 55 degrees Fahrenheit as play-outside kind of weather, but research has shown that this temperature is optimal for endurance5.
3. Colder weather positively affects metabolism.
Our metabolism plays a huge role in our fitness goals, as it's responsible for providing the energy we need to run, jump, and do all the sweaty things. As the brown fat in our body is activated by colder temperatures, it breaks down blood sugar and fat molecules to create heat. In doing so, brown fat can create healthy metabolic shifts, which may be helpful with diabetes and other metabolic disorders6.
Reaching our goals ultimately starts with a burst of energy. And while a cold front may help rev up our metabolism, the innovation of Under Armour's RUSH fabric adds an extra kick. This scientifically engineered fabric is infused with minerals that absorb your body heat and convert it into infrared energy that is re-emitted into the body. Between this recycled energy and the benefits of a chilly day, you'd be hard-pressed to find a reason not to brave the elements.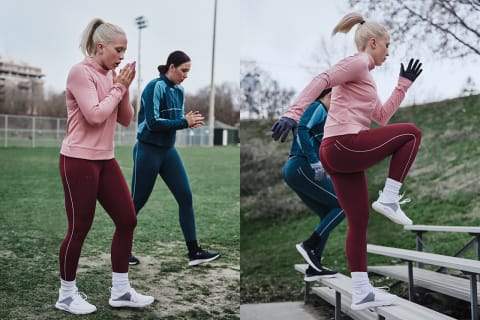 Image by Under Armour / Contributor
4. Colder temps are proven to help improve your mental game.
As athletes, there's a reason why it's important to get our heads in the game. Reaching goals is a physical and mental journey (especially in a world full of distractions). Some studies and theories have shown that it takes more energy (in the form of glucose) to cool us down than warm us up​​. This may mean that a lower body temperature gives our brain access to more glucose, which fuels our overall brain function7. Another study confirmed that our working memory is actually better in cold weather.
Cold but not too cold.
Winter months have always felt like an obstacle for our training goals, but science gives us plenty of reasons to conquer the cold. At the same time, every athlete should know their own limits, and temperature is no exception. So how cold is too cold? According to the American College of Sports Medicine8, we can exercise safely in cold weather environments until temperatures drop to -18 degrees Fahrenheit.
But hello, that's cold. An important safety precaution to train in the cold is gearing up appropriately. While providing benefits likened to an infrared sauna on the go, Under Armour RUSH ColdGear also has your warmth covered. This lightweight fabric is designed to keep your body's core temperature warm. During those chilly winter months, the name of the game is conserving body heat, and that can be as simple (and cozy) as the Under Armour RUSH ColdGear No-Slip Waistband leggings and Core Jacket.
Devon Barrow
Branded Content Editor
Devon Barrow is a Branded Content Editor at mindbodygreen. She received her degree from the University of Colorado. When she's away from her desk, Devon is teaching yoga, writing poetry, meditating, and traveling the world. She's based in Boulder, Colorado.
Devon's first book, Earth Women, is coming soon. To learn more, join the mailing list, and receive updates, head to www.devonbarrowwriting.com.