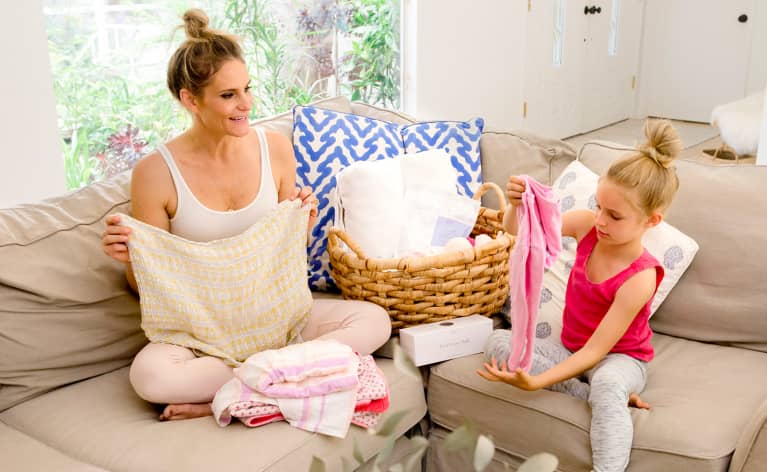 As a wellness educator and a mom of two, I'm constantly teaching my young daughters what a healthy lifestyle is all about—because these days, it's about so much more than eating well and working out.
I believe that wellness is intimately connected to how we care for the Earth, too. Using nontoxic products in my home to create a healthy and safe environment for my family often goes hand in hand with using products that are better for the Earth. So, here are three ways I'm teaching my daughters about sustainability at home:
1.
Shopping locally and sustainably grown food.
Food is our medicine and our life force. I love to go to the farmers market with my family and introduce our girls to the local farmers there. Every trip is a chance to teach them the importance of buying local and supporting local farmers, who help teach them about growing food sustainably.
These fun outings help my kids see that our food comes from the earth, and it has chi and life force in it. Right now, they're learning that the food they eat also feeds their brains, to function well and help them become smart and strong.
2.
Reducing, reusing, recycling (and composting!).
When it comes to reducing waste at home, we try to avoid single-use plastics. My glass water bottle and our reusable food storage bags are from Grove Collaborative, one of my favorite online retailers for household products that are safer for us and the environment. I use these bags in the girls' lunch boxes instead of disposable ones, and they understand that we wash them and reuse them, instead of throwing them away when their snack is done.
One thing we love to make at home is bone broth. This teaches the girls about reusing (we make it from the bones from the meat that we've eaten), and the kids absolutely love it. It teaches them about not being wasteful with food and is a great way to make something new out of something you would normally throw away. Plus, it's so nutrient dense and good for them.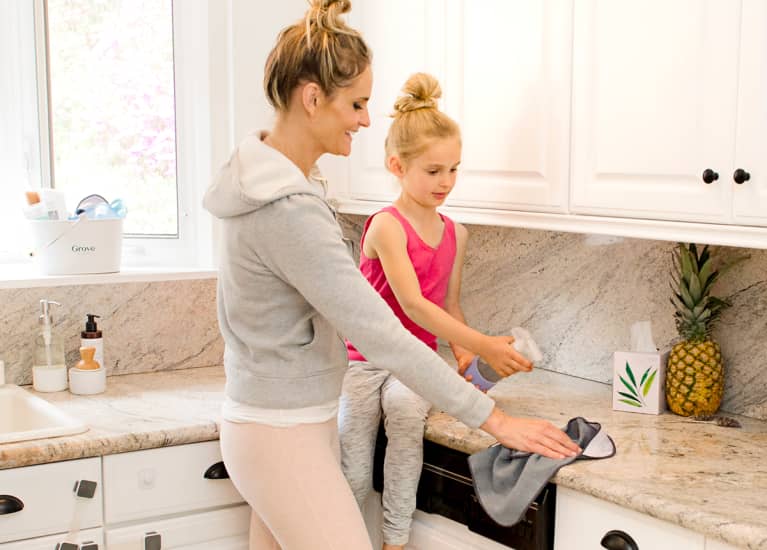 We teach the girls that anything that's from the earth can go back in and shouldn't be wasted.
We also compost whatever we can, which teaches the girls that anything that's from the earth can go back in and shouldn't be wasted. We have a little bin in our kitchen that has a biodegradable bag where we collect our food scraps, which can then go in the green bin or the landscaping bin in our city. This way, we avoid having to deal with a huge compost setup at the house. You can always check with your city and find out how to dispose of biodegradable waste.
3.
Gardening and cooking together.
In addition to practicing composting, I love to teach the girls about gardening and the sun and Earth's precious energy. It's so important for them to learn that our food comes from the earth and that we must take care of it in order to have healthy food and healthy bodies.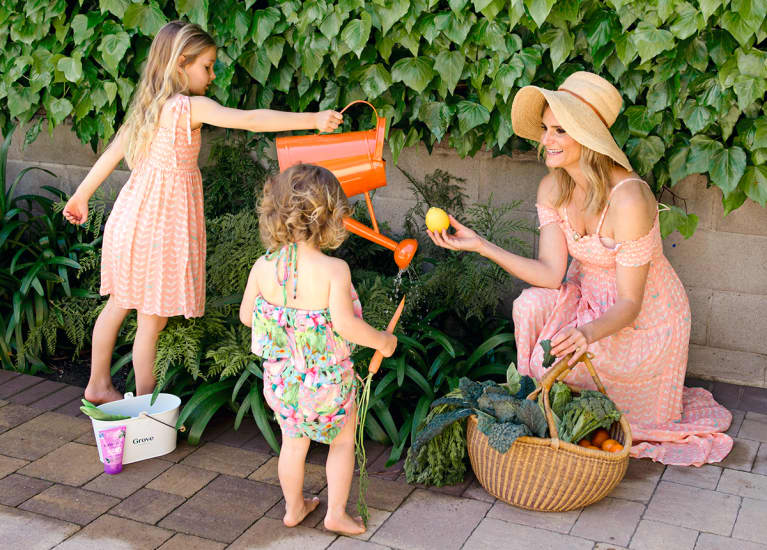 We have dinosaur kale plants in our garden, and the girls love picking and eating it straight from the garden. But even if it's just taking care of a small herb garden, it really helps kids grasp the concept.
Cooking with the girls is one of our favorite things to do: When they put their energy into the process, they really get even more excited about it and want to learn the benefits of the different foods, making them motivated to eat well.
After we cook together, I also get the girls involved in helping me clean up as well. We just add water to Grove Collaborative's All Purpose Cleaning Concentrate in a glass spray bottle, and we use it on all of our surfaces and kitchen area. It really takes care of the mess (which happens fast with two little ones!), and I also love that I don't have to worry about harsh chemicals, toxic ingredients, or unwanted residue left on surfaces, tables, or counters where we nibble, prep, cook, and eat.
It all circles back to being conscious of using cleaner, nontoxic products: Even something like choosing a safer laundry detergent counts. Using the gentle Laundry Powder Packs from Grove Collaborative helps us stay mindful of how our products don't affect just us—they also go down the drain, the sewage, and eventually back into the earth.
It's an interconnected cycle that I want my daughters to understand, be conscious of, and value for years to come.