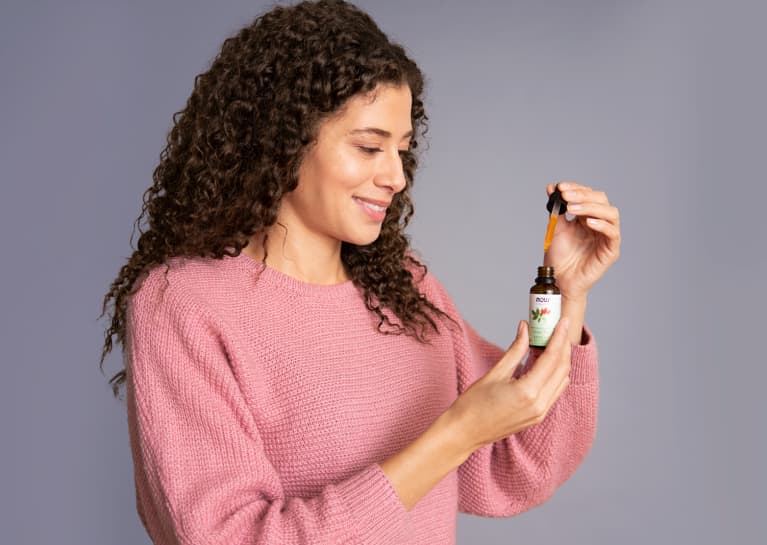 Here at mbg, we believe that beauty is uniquely yours. In our video series Bare Your Beauty, we break down various techniques, rituals, and how-to's designed to help you feel good in your own skin, whether your goal is to de-stress, update your skin care regimen, or try a new look.
Did you know that rosewater was likely the first modern perfume? As the history goes, Avicenna—the Persian physician and astronomer who's regarded as the father of early modern medicine—discovered the process of distilling oil from rose petals, and voilà!
The rose flower's beauty cred doesn't end there. Fast-forward to today, and you've probably noticed its starring role in many skin care products: As an ingredient, rose packs some powerful skin-loving benefits, specifically for skin that's feeling dry and dull.
Below, we paired organic rosewater concentrate with organic rosehip oil—both from NOW® Solutions—to create a nourishing and balancing face mist that's suitable for all skin types, especially dry and combo skin.
What you'll get? An eyedropper's worth of rosehip seed oil—which is a potent yet lightweight oil that the skin drinks up easily—provides antioxidant protection and replenishes a healthy glow by improving skin moisturization, brightening skin tone, and soothing irritation. Rosehip seed oil is rich in omega-6 essential fatty acids, vitamin E, and beta-carotene—while a bit of rosewater concentrate is packed with vitamins, minerals, and antioxidants that help restore the skin's balance and clean out pores. Just add water, and you'll have a skin and hair refresher, a face mask and makeup remover (when combined with a carrier oil), a fragrance base for your favorite perfume, and a floral spray for your linens all in one.
How you'll feel? Totally refreshed. Get the recipe below, and happy misting!
Directions:
1. Combine all 3 ingredients into your spray bottle and shake well.
2. Whenever you feel the need to rejuvenate, shake well, and lightly mist onto your face, neck, or hair.
Caution: Keep out of reach of children. Avoid contact with eyes. If pregnant or nursing, consult your health care practitioner before using. Not for internal use.