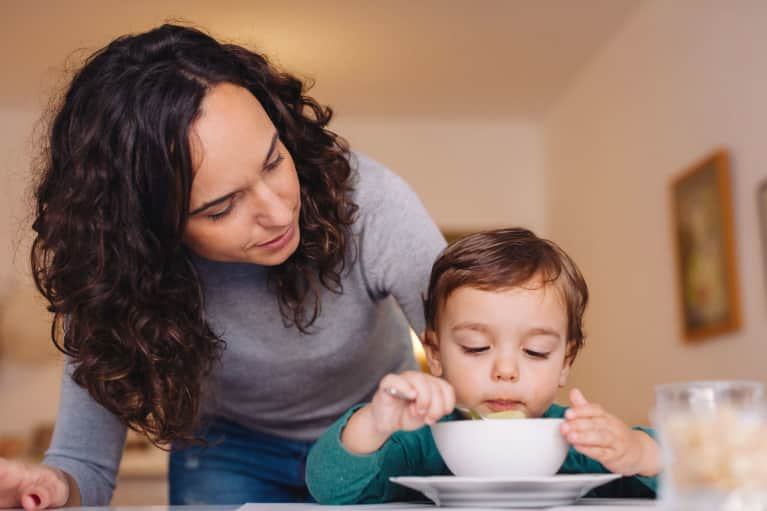 Sweater weather and shorter days call for one main thing: cozy dinners at home. The good news is that fall and winter produce—like squash, sweet potatoes, and pumpkin (oh hey, toasted pumpkin seeds)—are undeniably comfort-food friendly, which means we can whip up warming, decadent meals that are also on the healthy side.
The even better news? We've got a few delish, wholesome dinner ideas that are so easy to prep, the kids can help you get dinner on the table. And they're so good, we promise they'll want to gobble up every one of these veggie-packed dinners as soon as the table's set.
1.    Build-Your-Own Pitas
On busy nights, the single sheet-pan method (everything cooks at once!) is a lifesaver. Roast your family's favorite veggies and proteins, and have everyone pack them into warm pita pockets along with some yummy extras like hummus and fresh greens. Here's how:
Pita pockets (go gluten-free if desired)
For the filling: Seasonal vegetables (some ideas: colorful potatoes, sweet potatoes, butternut squash, zucchini, carrots, Brussels sprouts, green beans, and onions). Optional to add a protein like chicken (sausage works, too)
Olive oil, sea salt, fresh pepper, and any seasonings you like
For the extras: Hummus, rice, fresh greens like arugula, fresh herbs like dill, avocado slices, feta or goat cheese, dried cranberries, pecans—get creative!
Try a sweet pita: peanut butter, sliced strawberries and bananas, and honey
Chop up the veg and proteins. Let little helpers toss the filling along with olive oil and seasonings in a sealable bag or container and pour it out evenly onto a large baking sheet. While it's roasting (tip: you can roast veggies up to a day ahead of time just reheat), serve up the extras of your choosing in bowls. Toast or microwave pitas (wrap them in a moist paper towel if you microwave) just before you bring out the filling, then dig in!
2.    Best Bowl of Soup Ever
Soup is the OG comfort food (chicken noodle, anyone?), and cooler seasons are its time to shine. Stews and chilis need a few hours, so go for quick-and-easy canned classics and pile on crunchy, yummy toppers that kids and adults will love. Some of the most slurp-worthy soups on the shelf right now are made by Annie's. They recently upped their soup game to make their line of kid-friendly soups more delicious than ever—think certified organic, better-for-you soups like Chicken Noodle, Creamy Tomato & Bunny Pasta, plus even more fun & flavorful options!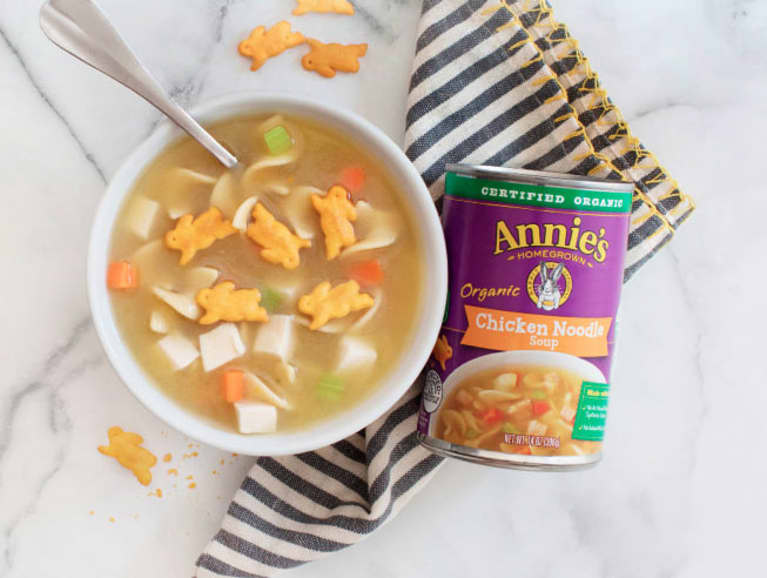 · Annie's Organic Chicken Noodle Soup, plus toppers of your choice. Our suggestions: pita chips, tortilla strips, sweet potato waffle fries, avocado slices, spiralized veggies, chopped up herbs, pesto, and of course, Organic Cheddar Bunnies (too cute!).
· Or Annie's Organic Creamy Tomato & Bunny Pasta Soup, plus toppers of your choice. We suggest: toasted pumpkin seeds, popcorn, savory granola or trail mix, Greek yogurt, kale chips or corn chips the kids can crumble, crispy toasted herbs or fresh herbs, spiralized zucchini or carrots, roasted cauliflower, sweet corn kernels, and oven-roasted edamame.
This one's almost too easy. Just prep your toppers while the soup warms up, and recruit the crew to help turn the dining table into a creative soup toppers buffet. Kids will love picking their own ingredients for their bowls, especially with stealth-health toppers like Cheddar Bunnies, popcorn and curly carrot noodles. You can also make toast for dippers!
3.    Shepherd's Pie with Cauliflower Mash
There's always a way to sneak healthy benefits into traditionally not-so-healthy fall favorites. In the case of shepherd's pie, swap the usual topping of mashed potatoes with lighter dollops of mashed cauliflower and go for grass-fed lean ground beef and tons of fresh vegetables for a hearty and nutritious main course.
A head of cauliflower
Sea salt for seasoning
Grass-fed lean ground beef
Colorful seasonal vegetables like carrots, peas, onions, and mushrooms
Beef or bone broth
Keep to one pot for easy baking, serving, and clean up! Make mashed cauliflower by steaming the florets, then pureeing until smooth (don't forget to season with a little salt). In a shallow braiser or skillet, cook the beef first, then add onions, veggies, and the bone broth. When it's ready, the kids can help dollop on the mashed cauliflower. But while it cooks, throw together a quick green salad and toast a baguette. Bon appetit!