Close Banner
Advertisement
This ad is displayed using third party content and we do not control its accessibility features.
paid content
 for

Function, Filter & Fashion: The 3 Factors To Consider When Buying A Face Mask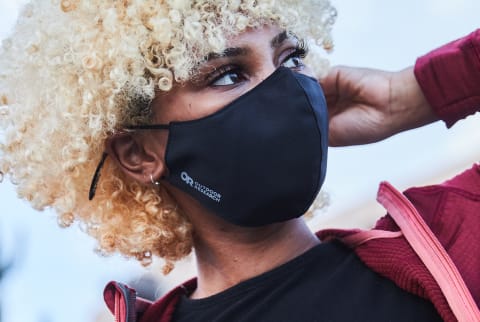 Image by Outdoor Research
There aren't many times an accessory becomes a fashionable go-to by necessity. But in a world where face masks are not optional, we're finding ourselves reaching for the highest quality, most protective masks that also look good while we're wearing them. Bonus points if they match our outfits. Sure, we've seen masks that look super cute and are decorated with cute symbols and designs, but more times than not, these face coverings offer minimum protection against germs and airborne viruses, ahem, COVID-19. Here at mindbodygreen, we've found a one-of-a-kind face mask that functions just like we want it to, gives us the ability to, well, breathe during wear, and looks fashionable, too. Enter the Outdoor Research Face Mask. The new class of mask that stands head and shoulders above the rest.
If you don't know who Outdoor Research is, let us introduce you. They're a company that's built on the common need to be outside. The outdoor-loving brand believes life is an adventure and exploring and journeying never truly end. And even though Outdoor Research is dedicated to creating innovative gear that helps the inner adventure-lover in all of us, the passion goes deeper than that. It's designed by and for adventure. And that's why we're here to share why their mask is unlike any other on the market (more on that below).
Function 
Is there really a point in wearing a face mask if it's not actually doing its job? According to the CDC1, masks function at their highest when they have a proper fit, multiple layers of protection, and a washable fabric. The Outdoor Research face mask checks all three boxes. It's designed with a polyester fabric that gives each user a customizable fit thanks to the double-core nose wire and adjustable ear loops. This allows users to get a snug fit all around the face for the best protection. Plus, the center seam creates a lifted and contoured fit so your mask doesn't slide up and down your face as you move and speak and you get a bit of breathing room while you wear. Fogged glasses, be gone.
The best part is you can wear this while you work and play. Since the Outdoor Research team is full of active and outdoor-loving employees, you know that being able to wear a mask during physical activity was top of the list when it comes to design. Because the mask sits above your face, and not directly on top of it, you'll find that it's much easier and more comfortable to breathe in than other masks on the market.
But one of the most unique functional designs is the built-in HeiQ V-Block. According to Sara Nazim, Outdoor Research product manager for accessories, "This is an innovative Swiss antimicrobial technology which makes treated textiles resistant against spoilage from microbes." In other words, this technology makes your mask extra-resistant to viruses and protects it from becoming bacteria-infested. HeiQ V-Block is also hypoallergenic and composed of 100% cosmetic ingredients, so you don't have to worry about any harsh chemicals coming in contact with your skin.
Filter
The Outdoor Research mask also comes with a compatible filter, three to be exact. We like to think of filters like a screen door. They give that extra layer of protection that makes you feel a bit safer while you wear. Filters reduce the risk of transmitting contamination by filtering over 95% of viruses, bacteria, and particles in accordance with ASTM test standards. TBH, that's a whole lot of protection.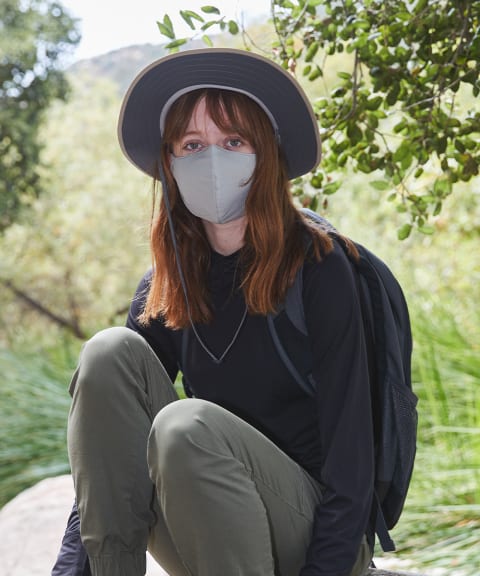 Image by Outdoor Research
On average, Outdoor Research recommends changing your filter every five to seven days. If you live in a hot or humid climate or you're especially active while wearing your mask, you may want to replace it even more often. Each Outdoor Research mask purchase comes with a set of three U.S.-made filters and the ability to purchase additional packs as the need arises. And as for washing, well that's up to you. If you find that you're really active (or sweaty), try washing every other day, but for those who have more of an easygoing lifestyle, washing once a week should suffice.
Fashion
Now that we know this mask functions to the highest ability and it's made with multiple layers including a replaceable filter that offers even more protection from the spread of germs, let's talk about fashion. No, you won't find any tie-dye or floral print masks here, but truth be told, sometimes busy-printed masks make it challenging to pair with multiple outfits and work for a variety of occasions. The Outdoor Research mask comes in solid colors with a small logo in the lower corner, making it simple, chic, and fuss-free when it comes to matching it with your wardrobe. For those who love neutral colors, you can choose from black, gray, or navy blue. And there are also poppier colors like army green, a dusty gray mauve, turquoise, and orange. And if you find that most masks gap or feel too large on your petite face frame, Outdoor Research offers a size small that's 20% smaller than the original mask. Not to mention, there are kid sizes available, too.
Bottom line.
There's so much to love about these masks. They don't interfere with your lifestyle, no matter how active or sedentary you prefer to be. They offer tons of protection, from a durable and breathable fabric to a replaceable filter that blocks out transmittable germs. And they look cute while you wear them. We're calling it the most well-rounded, must-have accessory of the season.
More On This Topic
more Movement
Advertisement
This ad is displayed using third party content and we do not control its accessibility features.
Advertisement
This ad is displayed using third party content and we do not control its accessibility features.