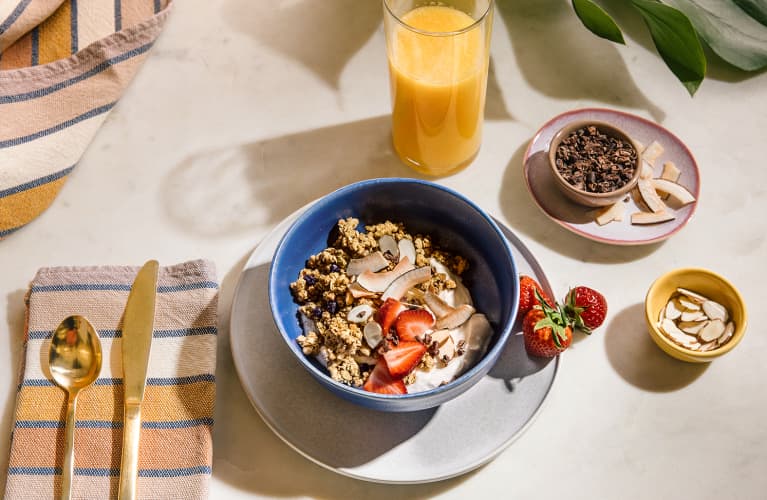 Here at mbg, we're all about Food With Benefits—whether those benefits save you money, time, or help heal your body. In our video series, we'll show you how to make delectable recipes, each with a unique benefit. Whether it's a dinner for four for under $10 or a dessert designed to restore your balance, these meals, snacks, and desserts will inspire you and make your mouth water! Up today: how to make three protein-packed breakfasts in under a minute.
Breakfast has the power to make or break the rest of your day, and it's not always easy to whip up something healthy. Whether you have a jam-packed morning at work or you just can't resist the snooze button, slicing veggies and scrambling eggs isn't always possible. And most of the easier, grab-and-go breakfasts are sugar bombs that will leave you starving in about an hour.
That's why we're loving the new organic Hemp Yeah! Granola line from Manitoba Harvest. Unlike most in its class, this simple and super-yummy granola is packed with protein and low in sugar. And the fact that it's made with hemp hearts means that Hemp Yeah! Granola has all the benefits that come with this nutritional powerhouse food, like good-for-you fatty acids, 10 grams of high-quality plant protein per serving, and tons of vitamins and minerals. Plus, it comes in four yummy flavors, including Honey & Oats, Dark Chocolate, Cranberry, and Blueberry—our personal favorite for a quick, healthy breakfast.
Our latest Food With Benefits video shows you three quick and easy ways to use Hemp Yeah! Blueberry Granola to fuel your first meal of the day—watch and get all the recipes below!
It's the classic breakfast combo, but with a healthy and satisfying twist. Blueberry and almond are a perfect pairing, so we use almond milk here, but you can use any milk or nondairy beverage you have in your fridge. Toss in a handful of fresh berries if you've got 'em, and your breakfast is ready in under a minute!
Ingredients:
¾ cups Hemp Yeah! Blueberry Granola
½ cup almond milk
handful of your favorite berries (optional)
Combine milk and granola. Sprinkle with a handful of your favorite berries for an extra-sweet punch.
This delicious yogurt bowl has sweetness, crunch, and lots and lots of protein and healthy fat from the yogurt, almonds, and Hemp Yeah! Blueberry Granola. (P.S.: It's also got about 1.6 grams of omegas-3 and -6!)
Ingredients:
½ cup nondairy yogurt of your choice
3 strawberries, sliced
⅓ cup Hemp Yeah! Blueberry Granola
1 tablespoon slivered almonds
1 tablespoon cacao nibs
1 tablespoon coconut flakes
Scoop dairy-free yogurt into a bowl. Arrange strawberries, granola, almonds, and cacao nibs over the yogurt. Sprinkle coconut flakes on top. Eat as is, or mix before digging in.
Almond Butter & Banana "Bruschetta"
Toast makes for a super-easy breakfast, and adding a granola topping along with almond butter and banana really ups the quality of fiber and protein in your morning meal. The blueberry/banana/almond combo is the perfect amount of sweetness to satisfy your sweet tooth without leaving you crashing.
Ingredients:
1 slice of your favorite bread, toasted
2 tablespoons smooth almond butter
½ banana, sliced thin
¼ cup Hemp Yeah! Blueberry Granola
Spread 2 tablespoons of almond butter on your toast. Slice bananas and distribute evenly, then smash lightly with a fork. Sprinkle granola on top and enjoy!