3 Cookbook Authors Share Their Favorite Vegetarian Holiday Main Dish
Contributing Food Editor
By Liz Moody
Contributing Food Editor
Liz Moody is a food editor, recipe developer and green smoothie enthusiast. She received her creative writing and psychology degree from The University of California, Berkeley. Moody is the author of two cookbooks: Healthier Together and Glow Pops and the host of the Healthier Together podcast.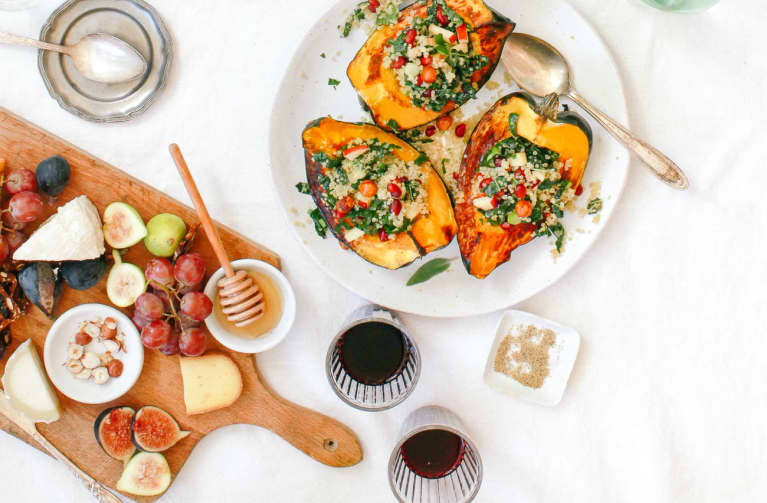 Our editors have independently chosen the products listed on this page. If you purchase something mentioned in this article, we may
earn a small commission
.
While we're all about a festive array of veggie-rich holiday side dishes, it can be hard to come across a vegetarian main that doesn't feel like a wan imposter of the more meat-heavy classics.
We wanted a holiday vegetarian main dish that was a show-stopper, a crowd-pleaser, and didn't feel rife with compromise—so we reached out to three of our favorite cookbook authors and asked them to help tackle the problem.
Roasted Butternut Squash Tostadas with Hummus, Caramelized Onions and Goat Cheese
Makes 8 tostadas
"These winter tostadas were created as a nourishing, shareable meal that was light, yet still celebratory," says Serena Wolf, the author of the hit healthyish comfort food cookbook The Dude Diet Dinnertime.
"They're a vegetarian smorgasbord of hummus, caramelized butternut squash, creamy goat cheese, tart pomegranate and fresh thyme; and thin, oven-crisped tostada shells let the toppings shine while adding an addictive crunch to each sweet and savory bite." To make a simple recipe even easier, Wolf encourages people to use their favorite store-bought hummus. "No shame in a little outsourcing," she says.
Ingredients
1 medium butternut squash, peeled, seeded and sliced into ½-inch cubes (about 4 cups cubed squash)
3 tablespoons plus ½ teaspoon extra-virgin olive oil, divided
Kosher salt
Fresh ground black pepper
8 small (5- or 6-inch) corn tortillas
1 large red onion, thinly sliced
1½ teaspoons balsamic vinegar
1 cup hummus
2 ounces goat cheese, crumbled
1 tablespoon fresh thyme leaves
3 tablespoons pomegranate arils (optional)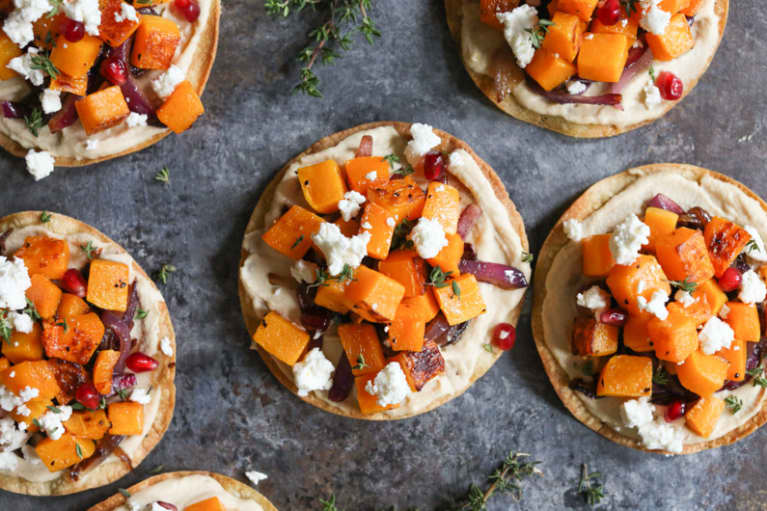 Pre-heat the oven to 375 degrees.
Place the cubed squash on a large baking sheet. Drizzle with 1 tablespoon of olive oil, season with kosher salt and fresh ground pepper, and toss to coat. Arrange the squash in an even layer. (Ideally, you want a little bit of space between the cubes.)
Roast for 30 minutes until tender and lightly browned, stirring once halfway through the cooking time.
Meanwhile, caramelize your onions. Heat 1½ tablespoons of olive oil in a large nonstick skillet over medium heat. When the oil is hot and shimmering, add the onions and a pinch of kosher salt and cook, stirring occasionally until very soft, about 15-20 minutes. (Be careful not to burn the onions! If they start to brown, reduce the heat to medium-low.) Stir in the balsamic and cook for 1 minute more, then remove the onions from the heat and briefly set aside.
Moving on to the tostada shells! Arrange the tortillas on a large baking sheet. Lightly brush both sides of the tortillas with the remaining 2 teaspoons of olive oil and season with kosher salt and fresh ground pepper.
Bake for 6-8 minutes per side or until lightly browned and crisp. (Keep an eye on them, friends. They can go from browned to burnt very quickly.) If you're capable of multitasking, I recommend baking the tostada shells during the last 15 minutes of the squash roasting time.
Spread each tostada with about 2 tablespoons of hummus. Top with caramelized onions and roasted squash. Finish with a little crumbled goat cheese, a sprinkling of fresh thyme, and few pomegranate arils (if using), and serve!
Quinoa, Apple & Sage Stuffed Acorn Squash
Serves 6 to 8
"This is my idea of the perfect hearty and healthy holiday main dish!" raves Love & Lemons blogger Jeanine Donofrio, who featured this bountiful squash in her newest plant-based cookbook, Love & Lemons Every day.
"Cozy roasted acorn squash becomes a veritable cornucopia, filled with apples, quinoa, kale, hazelnuts, and tangy feta cheese. A warm sweet and savory apple cider sage vinaigrette brings all of these fall flavors together." Make the quinoa ahead of time to cut down on prep on the big day even more.
Ingredients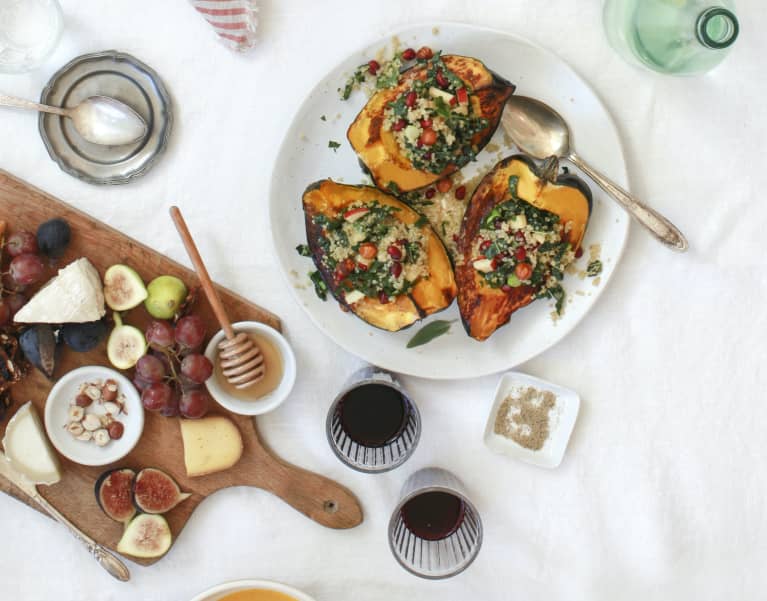 2 acorn squash
Extra-virgin olive oil, for drizzling
1⁄2 teaspoon sea salt, plus more to taste
Freshly ground black pepper
2 cups cooked quinoa
5 lacinato kale leaves, stems removed, very finely chopped (2 cups)
3 scallions, sliced
1 Gala apple, finely diced
1⁄3 cup chopped toasted hazelnuts
1⁄3 cup pomegranate seeds
1⁄3 cup crumbled feta cheese (optional)
1⁄4 cup extra-virgin olive oil
2 tablespoons apple cider vinegar
2 teaspoons maple syrup
1⁄2 teaspoon cinnamon
16 sage leaves, chopped (about 1⁄4 cup )
1⁄2 teaspoon sea salt
Freshly ground black pepper
Preheat the oven to 425°F and line a baking sheet with parchment paper.
Slice the acorn squash in half and scoop out the seeds. Slice the halves into quarters and drizzle with olive oil, a pinch of salt, and a few grinds of black pepper. Place the squash pieces cut-side down and roast for 40 to 55 minutes or until tender and golden.
Make the dressing: In a small saucepan over low heat, gently heat the olive oil, apple cider vinegar, and maple syrup until warm. Add the cinnamon, sage, salt, and a few grinds of black pepper and stir until fragrant, about 30 seconds.
In a large bowl, mix together the quinoa, kale, scallions, and diced apple and toss with half the dressing. Add the hazelnuts, pomegranate seeds, salt, and a few grinds of black pepper and toss again.
Assemble the squash on a platter. Scoop the filling into the squash, top with the feta, if using, drizzle with the remaining dressing, and serve.
One-Pot Herby Buttered Mushrooms and Wild Rice
"No matter what, I always have at least one vegetarian main dish on my holiday menu...and it's always the first dish to disappear," says Tieghan Gerard, the blogger behind the mega-successful Half Baked Harvest site.
She loves this recipe, excerpted from her NYTimes best-selling cookbook, Half Baked Harvest Super Simple. "There is something so delicious about the combination of wild mushrooms, herbs, and a touch of butter," she says.
"The wild rice and creamy white beans keep the dish hearty, filling, and worthy of a main course. Best part? This entire recipe is all made in one pot. This means less dishes and for big holidays—there is nothing that sounds better than less dishes to clean up!"
Ingredients
2 tablespoons extra-virgin olive oil
1 pound mixed wild mushrooms
Kosher salt and freshly ground pepper
6 tablespoons salted butter
2 shallots, thinly sliced
½ cup fresh basil leaves, roughly chopped
2 tablespoons fresh thyme leaves
1 tablespoon chopped fresh sage leaves
½ cup dry white wine, such as pinot grigio or Sauvignon Blanc
1¼ cups uncooked wild rice blend
1 (14-ounce) can cannellini beans, drained and rinsed
Juice of 1 lemon
¼ cup shaved Manchego cheese
Heat the oil in a large skillet over high heat. When the oil shimmers, add the mushrooms and season with salt and pepper. Cook, undisturbed, until softened, about 5 minutes, then stir and continue cooking until the mushrooms are caramelized, 3 to 5 minutes more. Reduce the heat to medium and add the butter, shallots, half of the basil, plus the thyme and sage. Cook, stirring occasionally, until the shallots are caramelized and fragrant, about 5 minutes.
Pour in 2 cups of water and the wine and bring to a boil over high heat. Stir in the rice, cover, and reduce the heat to low. Simmer until the rice is cooked and most of the liquid has evaporated, 40 to 55 minutes. Add up to ½ cup of water more as needed throughout cooking. Remove the pan from the heat and stir in the beans, lemon juice, and the remaining basil.
Divide among six bowls and top with Manchego to serve.
Wild rice reprinted from Half Baked Harvest Super Simple. Copyright © 2019 by Tieghan Gerard. Photographs copyright © 2019 by Tieghan Gerard. Published by Clarkson Potter, an imprint of Penguin Random House, LLC.