Meal Prep Sunday: A Smashed Potato + Chickpea Hash For Radiant Skin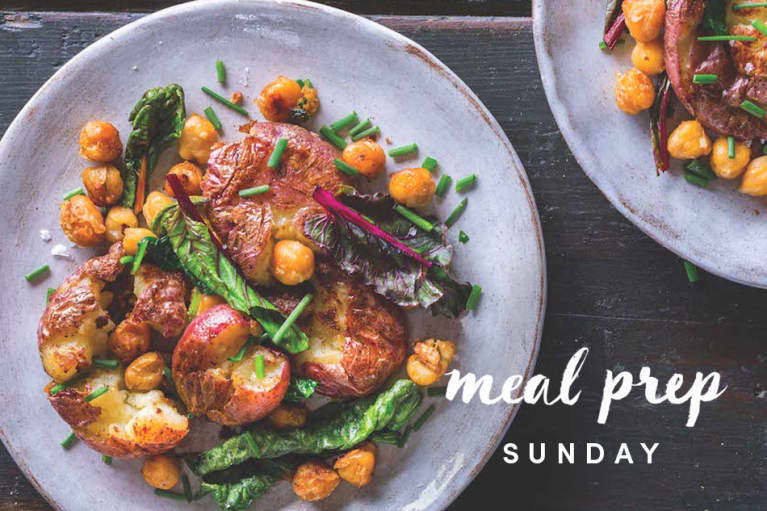 Our editors have independently chosen the products listed on this page. If you purchase something mentioned in this article, we may
earn a small commission
.
Welcome to Meal Prep Sunday, where you'll make a single, healthy recipe with serious bodily benefits, whether it makes your skin glow, helps soothe your gut, boosts your immunity, or more! Because it gets boring to eat the same thing every day, you'll do the bulk of the prep on the first day—and every day after that, there will be one small, five-minute-or-less tweak that will transform the leftovers into a new, amazing meal.
Potatoes, contrary to some of the bad press they get, are actually an amazing whole food—chock full of vitamins B6 and C, manganese, potassium, fiber, and antioxidants (particularly the ones with the red skins). Vitamin B6 helps with new cell formation, making it essential for brain, cardiovascular, nervous system, and skin health. When combined with dark leafy greens and chickpeas, like in this red potato hash from the book Simple Green Suppers, you're making a meal that's rich in plant-based protein, fiber, vitamins, and minerals. Author Susie Middleton goes on to give us ideas for eating this radiant skin-inducing dish in new ways throughout the week. Get the details below.
A simple, comforting supper with just a few ingredients, this dish was inspired by a freshly dug batch of Red Gold potatoes from the garden. Nutty-tasting yellow-fleshed Red Golds are delicious, but of course not required, in this recipe—any baby potato will do! The potatoes get boiled first, then crushed and sautéed with the other ingredients for a delicious crispy finish. I also love that this recipe showcases another tasty way to use chickpeas as a protein: in a rustic hash.
Sautéing the chickpeas until golden, as I mentioned in the introduction, is the trick to giving them extra flavor. It even works with drained canned chickpeas. Choose your favorite tender greens for this, and be generous with the garlic, too.
Shopping List for the Week
20 ounces baby red potatoes
2 big bunches tender greens, such as Swiss chard, spinach, broccoli leaves, or young kale
¼ cup plain Greek yogurt or sour cream
Fresh chives
Eggs
1 yellow onion
Fresh ginger
Fresh cilantro
Naan bread
Parmigiano cheese
Lemon
Pantry Staples (purchase if you don't have)
Kosher salt
Unsalted butter
Olive oil
2½ cups cooked or canned chickpeas
Garlic
Black pepper
Hot sauce or vinegar of your choice
Tomato paste
Ground coriander
Ground cumin
1 can coconut milk
Tamari
Sesame oil
Brown sugar
Sesame seeds
Potato, Greens + Chickpea Hash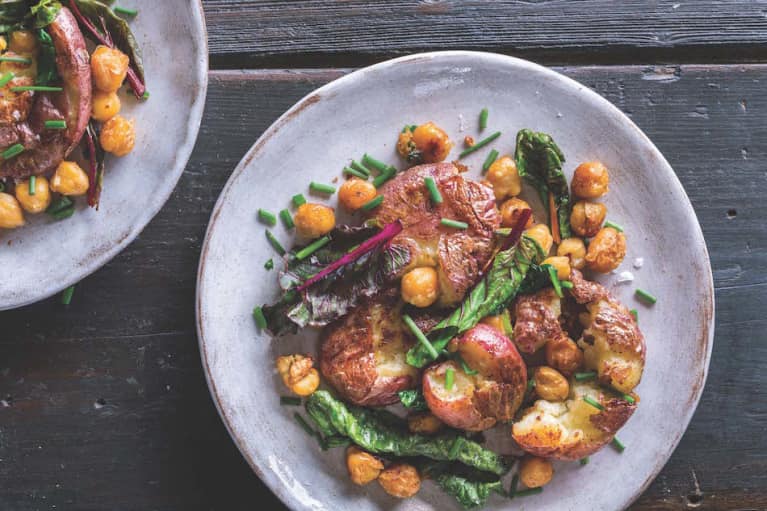 20 ounces baby red potatoes, preferably yellow-fleshed (about 20)
2¾ teaspoons kosher salt
6 tablespoons unsalted butter
2½ cups cooked or canned chickpeas, drained and rinsed
Generous 2 tablespoons minced fresh garlic
6 cups stemmed and chopped or sliced tender greens, such as Swiss chard, spinach, broccoli leaves, or young kale
Freshly ground black pepper
Hot sauce or vinegar of your choice
½ cup sour cream or Greek yogurt
4 to 5 teaspoons chopped fresh chives
Method
1. Put the potatoes and 2 teaspoons of the salt in a large saucepan and cover with a generous amount of water. Bring to a boil, reduce the heat to low, and simmer until just tender, about 25 minutes. Drain.
2. Melt 2 tablespoons of the butter in a large (12-inch) nonstick skillet over medium heat (you will have to do this in two batches or in two separate pans). Add the chickpeas and cook, shaking or stirring, until golden brown, about 5 to 7 minutes. Add the garlic and cook, stirring, until fragrant, about 30 seconds. Add the greens and ¼ teaspoon of the salt and cook, tossing or stirring, until wilted, 1 to 2 minutes.
3. Move the greens and chickpeas to one side of the pan and add the remaining 1 tablespoon of butter. Let it melt and then add the whole boiled potatoes. Using a potato masher or spatula, crush the potatoes into large pieces (you don't want to mash them completely; just break them up), then sprinkle them with the remaining ½ teaspoon of salt and several grinds of black pepper. Increase the heat to medium-high and stir everything together. Press down on the mixture with a spatula and cook until the bottom is somewhat browned, 3 to 5 minutes. Flip the hash over in pieces and cook again until the other side is somewhat brown, 2 to 3 minutes.
4. Remove the hash from the pan and taste for seasoning. Add more salt and pepper and a splash or two of hot sauce or vinegar. (You can also serve the hash with a bottle of hot sauce alongside it instead.) Garnish with the sour cream or plain Greek yogurt and chives. Repeat with the second half of ingredients if you didn't cook it in separate pans at the same time.
DAY 2: Spanish Potato Tortilla
Preheat a broiler. Whisk together a few eggs, a splash of heavy cream or half and half, salt, and several grinds of pepper. Coarsely chop a portion of leftover hash, and stir into the eggs. Heat a generous splash of olive oil in a medium nonstick skillet over medium heat. Pour in the potato-egg mixture, use a spatula to distribute the hash evenly in the eggs, and let sit and cook for a few minutes until edges are set. Transfer to the oven and broil until puffed and set.
DAY 3: Indian Coconut Curry
Slice a small yellow onion and sauté in a bit of oil until browned. Add some chopped fresh ginger and a bit of ground coriander and ground cumin. Sauté until fragrant. Add a spoonful of tomato paste and cook and stir for a few seconds. Add a cup or two of well-mixed, canned coconut milk and stir to incorporate all the flavors. Add in a portion of leftover hash and stir until hot. Serve sprinkled with chopped cilantro.
DAY 4: Grilled Naan Potato Pizza
Finely chop a portion of leftover hash. Heat a gas grill or a broiler. Brush a piece of naan with olive oil on one side and sprinkle with salt. Grill or broil the naan for 1 minute; flip and grill or broil the other side briefly. Remove the naan from the heat and spread a portion of chopped hash thinly over the top of the naan. Drizzle with olive oil and sprinkle with a bit of grated Parmigiano. Return to the grill or broiler for 1 minute to heat the hash through.
DAY 5: Warm Kale Salad with Potatoes & Lemon Sesame Dressing
Line a platter or shallow bowl with extra young hearty greens leftover from the original recipe. Whisk together tamari, lemon juice, a little sesame oil, a little brown sugar, and a bit of grapeseed or other neutral oil. Drizzle some of the dressing over the greens and toss gently. Arrange a portion of the leftover hash over the greens and drizzle with a bit more dressing. Top with toasted sesame seeds if you like.