Your Weekly Horoscope Is Here: What's In The Stars For You?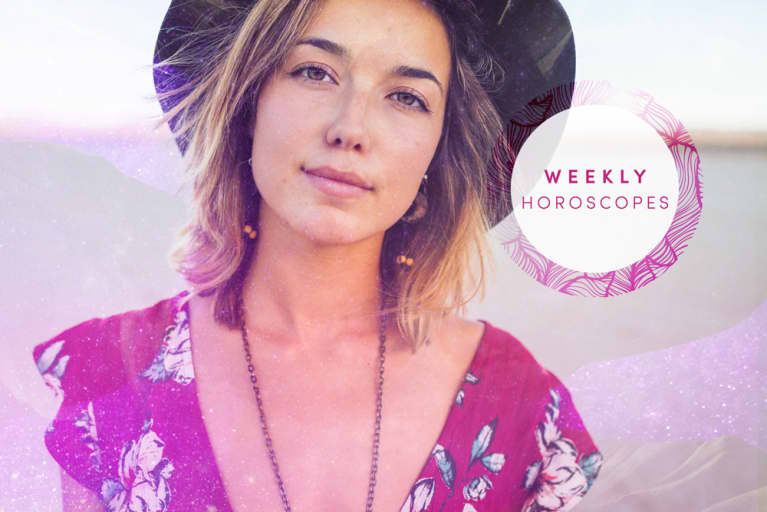 Peace, love, and harmony—what a concept! (And with 2017's strange political parade, one that's felt like a distancing dream.) But the human desire to connect, cooperate, and collaborate will never die, a reminder that comes courtesy of the Libra full moon this Tuesday, April 11.
These moonbeams can be healing for hearts everywhere. Lay down swords and let love rule. Or, if you must fight for justice, be a peaceful warrior. Partnerships that have been percolating since the September 30 new moon in Libra may finally become bona fide joint ventures. Who knew THAT person was into you?
Libra is all about an equal flow of give and take.
Full moons are known to illuminate unseen opportunities, and this one could blow the lid off a secret crush. Already found your missing puzzle piece? Make a sizable deposit in the "emotional bank account." Whether it's a gift that is their taste (not something you think they should like) or the surprise of a weekend trip—a willingness to step into your sweetheart's shoes can go a long way to bringing back the love.
But if you've crossed too far into their terrain, set new boundaries of self-care to heal resentment and restore equilibrium. Then, how about getting vulnerable and inviting your other half into your corner of the world? Libra is all about an equal flow of give and take.
Cupid is really back on the scene this Saturday, April 15—bearing a freshly sharpened quiver of arrows to boot! And after six weeks of misfires and mojo-dulling vibes, it's about damn time. Blame the delayed spring fever on romantic Venus. Since March 4, she embarked on a retrograde, moonwalking through feisty Aries, then slipping back into elusive Pisces on April 2.
All the world's a costume party while Venus floats through Pisces.
Venus' backspins take place every 18 months, and while it might afford people a chance to dive deeper into relationship-building and creative exploration, they can still snuff out a certain je ne sais quoi between lovebirds and artistic collaborators. (And here's hoping you didn't wind up with a really bad haircut. Venus is the celestial stylist, after all.)
On Sunday, Venus reawakens—and like a kiss from a Disney Prince, we can all enjoy this romantic uprising. Progress is imminent, whether in love or a stalled creative mission. Until April 28, Venus will power forward through Pisces, the sign of dreams and magic. Go on and wax poetic about your vision of love. Or, better yet, put it on a vision board. A picture is worth a thousand words and can help tune us in to the very opportunities we want to magnetize.
Fantasies can be played out with barely the utterance of a safe word. Pull the theatrical pieces to the front of the closet, especially those amazing shoes you tucked away for the winter. All the world's a costume party while Venus floats through Pisces. While you're at it, spice up your social life with a spiritual element. A little woo can go a long way when it comes to forming lasting bonds.
Want more insight into what's in store for you? Check out your love horoscope to learn more about yourself in relationships. Then, read your sun sign's full weekly horoscope here.