What The Healthiest People We Know Eat When They Have Only 5 Minutes To Make Dinner
Contributing Food Editor
By Liz Moody
Contributing Food Editor
Liz Moody is a food editor, recipe developer and green smoothie enthusiast. She received her creative writing and psychology degree from The University of California, Berkeley. Moody is the author of two cookbooks: Healthier Together and Glow Pops and the host of the Healthier Together podcast.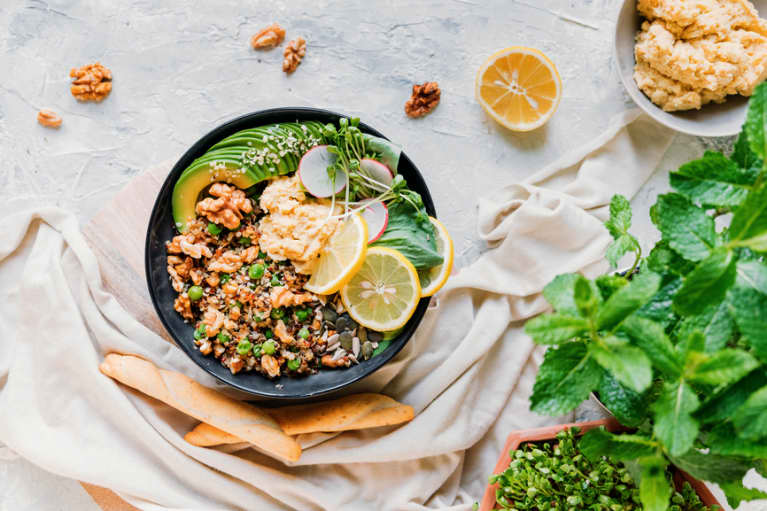 It can be easy to be tempted by take-out on nights when you're busy or just tired AF. It's easier to say no to greasy Chinese when you have an arsenal of quick and easy healthy dinner ideas you can whip up in less time than it takes to pick up the phone. With that in mind, we asked some of the country's best registered dietitians to share what they eat when they need a simple, healthy dinner on the table, stat.
I buy Trader Joe's cauliflower rice, then cook it in with olive oil on the stovetop, and tossing in whatever veggies I have on hand. I'll crack an egg or two on top, add a dash of tamari, and voilà! A glass of wine, and a delicious dinner is served.
—Carolyn Brown, R.D., founder of FoodTrainers
Beans, Veggies & A Poached Egg
When all else fails, my go-to easy dinner is beans (my favorites are butter beans and chickpeas) heated up and tossed with whatever veggies I have on hand. A poached or fried egg and a spoonful of feta or goat cheese on top makes it taste way fancier than it is and adds satisfying protein and fat.
—Jessica Cording, R.D., founder of Jessica Cording Nutrition
My absolute favorite is whipping together a bowl-focused meal. It usually means a little bit of everything we have left over in the fridge, reinvented and mixed with some staples we always keep like kimchee, a few sauces and spreads I make and keep on hand from miso and sesame seed butter to pestos. It will almost always mean sautéing whatever greens or vegetables we have left, and a grain of some sort.
—Alle Weil, AADP, founder of Flora Ex Machina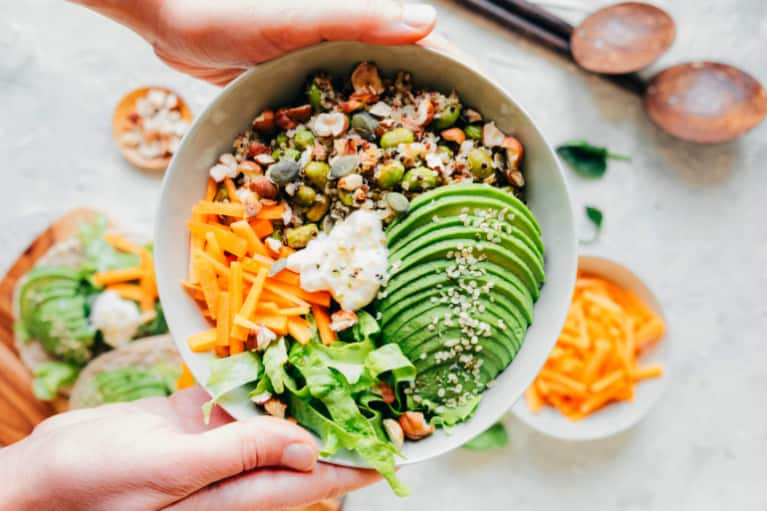 My go-to quick, easy dinner is called sloppy shrimp. Essentially we saute a LOT of garlic in olive oil. Toss in the shrimp and cook until pink (three minutes or so). Remove the shrimp and add diced tomatoes, a splash of wine white, a little salt and pepper and let it reduce. Once the base has reduced, we add the shrimp back. Sometimes we might add olive, capers, or fresh basil at the end. Top with a little feta or Parmesan and serve in a variety of ways. Sometimes pasta, sometimes over greens, but our favorite is with a nice piece of grilled bread that we use to scoop it all up!
—Kimberly Evans, R.D., founder of Whole Health Nutrition
The quick and easy dinner I throw together when I'm pressed for time or am having a lazy moment is an egg scramble (or anything with eggs, for that matter). I scramble up two eggs (or two eggs plus one egg white) and add whatever fresh or frozen greens I have on hand (usually kale or spinach), chickpeas, and avocado. I'll throw in some leftover quinoa or brown rice if I have some made in the refrigerator. I may even add in some avocado toast on the side.
—Alanna Waldron, R.D., founder of Eats Real Food
My go to dinner is lentil soup loaded with turmeric and ginger. I usually have lentils in my pantry and if I don't have fresh ginger on hand I will sub in dried. The soup can come together in 30 minutes and is super fortifying and delicious. I typically have some fresh herbs on hand and some spare spinach, kale, or arugula, which I will add to the soup at the very end for a boost of greens. If I don't have lemon juice to finish the soup I will use a splash of sherry vinegar for a little pep. If I am feeling really hungry I will make some quinoa or brown rice to go alongside the soup and have a really hearty meal full of plant-based protein and fiber.
—Miranda Hammer, R.D., founder of Crunchy Radish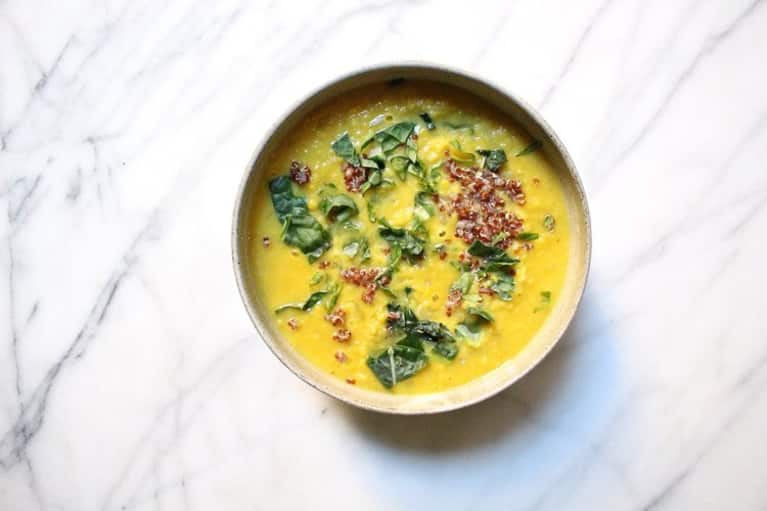 One of my go-to dinners if I need something quick and don't want to think is cabbage and ground beef. I chop up a head of red cabbage into about 1-inch pieces, sauté the cabbage with garlic and onion in butter and seasonings. It takes about 20 minutes to cook down. I love the color of purple cabbage and it contains nutrients that are especially beneficial for detoxification. I typically will brown up some grass-fed beef and bake a sweet potato. I cube up the sweet potato and add the cooked ground beef and sweet potato to the mix. Before I eat it I top it with walnut or pecan pieces for some crunch and healthy fat. All said and done, it's simple, super delicious and you'll get a lot of leftovers out of it.
—Britni Thomas, R.D., of Nutritional Weight & Wellness
My go-to quick and easy dinner is always a simple stir-fry. If I've forgotten to shop I can still most often find some vegetables that need to be used up in the fridge and quickly chop them and toss them in the wok with a simple homemade stir-fry sauce made with gluten-free soy sauce, honey, lime, ginger, and garlic. I'll find a protein to add to the stir fry such as chicken, shrimp, tofu, or edamame beans, and then serve the stir fry over brown rice noodles (which cook very quickly!) or some quinoa! It's a meal that's usually done in less than 20 minutes from start to finish! I usually use this Quick & Easy Stir Fry Veggies recipe and add in the protein as I go!
—Cristal Sczebel, CHN, founder of Nutrition In The Kitch
Legume Pasta with Sautéed Vegetables
My go-to easy dinner is, hands down, legume pasta with sautéed veggies and shaved Parmesan cheese. I love this meal because legume pasta (black bean, lentil, or chickpea) is very high in protein and fiber, meaning a 2-ounce serving keeps me satiated for the night. I usually slice a few tomatoes, throw in some garlic and onions, or really whatever vegetables happen to be in my fridge. I saute the veggies just enough that they adapt a souplike consistency, which I use in lieu of a tomato sauce. Lastly, a little Parmesan goes a long way here. Parmesan cheese is also a good source of protein and provides a calcium boost! Just remember, a serving of shaved Parmesan is about ¼ cup, so don't get carried away! Some of my favorite legume pastas are Banza (chickpea pasta), Pasta Legume (lentil pasta), or plain old Trader Joe's Black Bean Pasta.
—Leah Silberman, R.D., founder of Tovita Nutrition