This Will Be The First Trash-Free Community In The World. Let's Take A Peek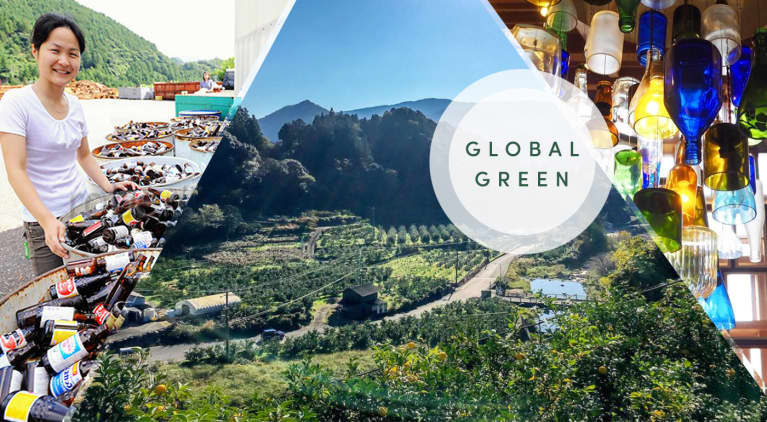 This Earth Month (why should it only be one day?), we're highlighting the innovative people, places, and technologies paving the way to a more sustainable future. We'll journey thousands of miles away and back to our own backyard to introduce you to the thought leaders making a serious mark on the eco-movement—and share how you can do the same. Get ready, get set, get inspired to go green.
No matter where you go in the world, as long as there are people, there will be trash. It's a sad reality that every quaint town and bustling city is dotted with sidewalk bins of crumpled wrappers, Dumpsters filled with food scraps, and forgotten bottles. Trash, it seems, is the great unifier, whether we like it or not. But what if it didn't have to be that way?

Kamikatsu, a mountainside town in Southwest Japan, is reimagining what it means to be a modern community. Garbage trucks don't shuffle the streets and there isn't a landfill for hundreds of miles. Instead, Kamikatsu's 1,500 citizens take it upon themselves to recycle, reuse, and compost nearly all of their trash.
It all started in 2003, when the government grew concerned about the human and environmental impact of the town's trash incinerators. Together with citizens, they dreamed up another solution: stop producing waste altogether. It's easier said than done, but Kamikatsu is creeping up on its goal to go zero-waste by 2020, with 80 percent of waste being repurposed (compared to a 34 percent recycling rate in America).
Kamikatsu's approach to trash is unique and exciting and spectacular—but it doesn't have to be. Let's dive into the town's sustainable initiatives to see how we can emulate each one in other pockets of the world.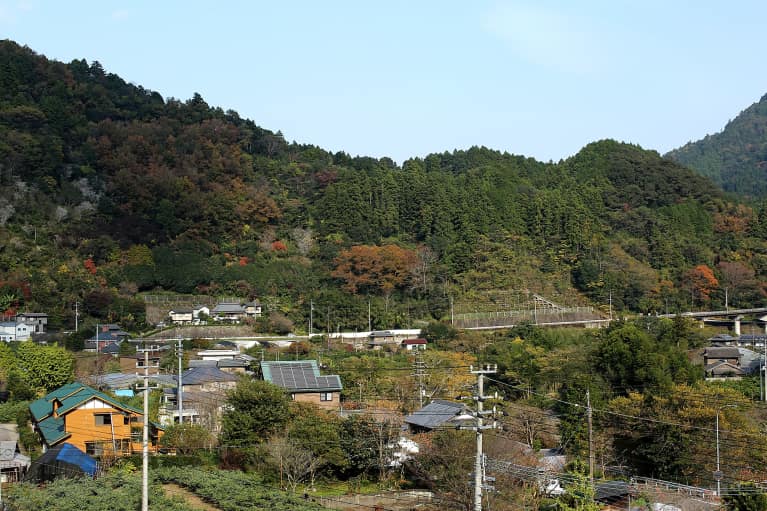 Since Kamikatsu doesn't have any garbage trucks, every resident must wash, sort, and bring their own trash to a central recycling center. And they don't just sort it into two or three bins like we do in the U.S.—they organize their trash into a whopping 34 categories, separating everything from steel cans to spray bottles, cardboard to newspaper, lighters to razors. All materials are washed sparkly clean and all food scraps are composted. While this granular system may seem like overkill, it makes the recycling process much easier and cheaper later on.
Locals sort their trash with a mesmerizing authority. They know exactly what to do with each material they get their hands on, tossing them into boxes and bags with an almost robotic diligence.
"It can be a pain and at first we were opposed to the idea," Hatsue Katayama, a Kamikatsu resident, explains in a Seeker Stories video. But she says the system becomes normal once you get used to it. "Now I don't think about it. It's become natural to separate the trash correctly."
It's this initial frustration that keeps most of us from recycling diligently. A study on recycling habits found that 25 percent of Americans don't recycle because it isn't convenient where they live, with another 10 percent saying they find the practice too time-consuming. Almost nobody had ideological concerns preventing them from recycling more often.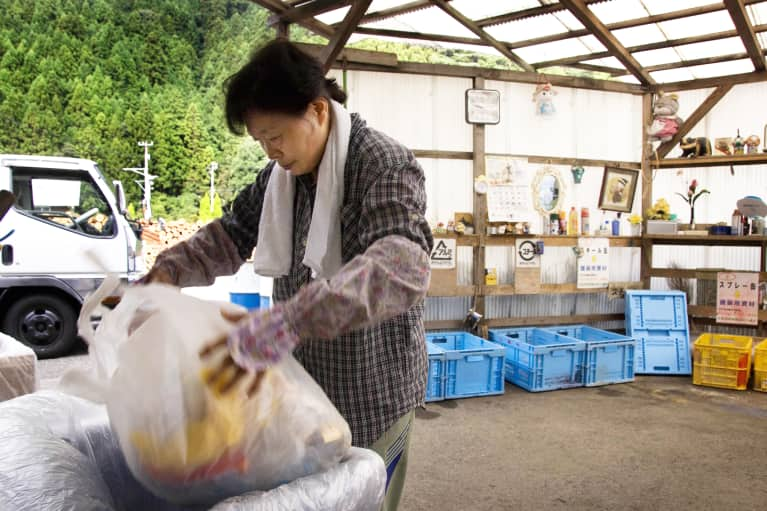 "People in the U.S. need the resources and the incentive to make separating their trash easy," explains Tom Szaky, founder and CEO of global waste reduction company TerraCycle. "Asking residents to separate their waste involves them in the waste management process. Understanding how different products and packaging fit into the current recycling infrastructure may help change the way people consume and buy."
So how can you take a cue from Kamikatsu and incentivize yourself to take the time to recycle more effectively? Think of it as a game. Look at the waste that you're producing and make a mental note of the items you're throwing away again and again and see if you can find a way to replace them. If you're constantly throwing away packaging from Trader Joe's frozen dinners, try making your own version one night with fresh veggies. Then, reward yourself to keep the cycle going.
Putting a little extra thought into what you're throwing away could shake you out of the "out of sight, out of mind" mentality and remind you to stay a bit more responsible for what you're buying and tossing.
Gomi stations, or trash stations, are where Kamikatsu residents drop off sorted waste to be further processed. There, a worker oversees the sorting process and volunteers sort waste for the elderly and anyone else who isn't able to do so themselves. Signs over each bin tell people where everything goes, how each material will be repurposed, and how much money the town is saving in the process. Akira Sakano, the deputy chief officer at Zero Waste Academy, which monitors the stations, estimates that Kamikatsu has cut down waste management costs by up to 60 percent with this system.
Szaky thinks that these signs are key to the program's success. By telling residents how disposable chopsticks will be recycled into paper material, how aluminum cans will be sold for 155 yen, and how glasses and ceramics will be crushed and used in construction projects, the Zero Waste Academy is involving them in the process and creating a community around waste disposal.
Implementing something similar where you live would likely take government action. "The bins and instructional signs might need to be provided from the top down, and it is likely that residents would want some sort of stipend or compensation for transporting their trash," says Szaky. While this may seem like a tall ask, advocating for a more responsible waste disposal system doesn't have to be difficult. First, familiarize yourself with your community's current recycling system (it will be single stream or multistream) on Earth 911. Then, reach out to your representative asking that they collect more types of recyclable material or put out more centralized bins that people can use for drop-offs.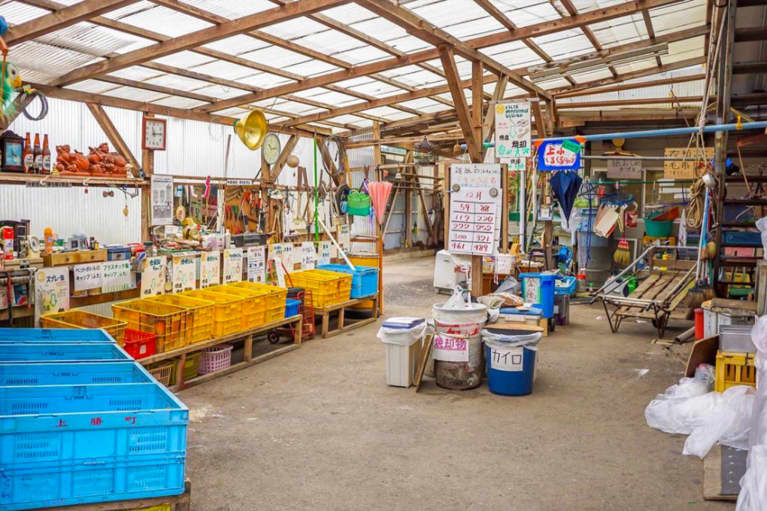 Drop Kamikatsu as an example of how effective, and ultimately cost-efficient, a developed recycling system can be. More local examples of successful recycling initiatives include San Francisco, which has made recycling and composting mandatory for residents and businesses, and banned Styrofoam and disposable plastic bags.
Gomi Stations aren't the final destination for everything in Kamikatsu. Townspeople will often take higher-value waste (think torn clothing or broken toys) to Kurukuru shops, or circle shops, to be revived into new items by local crafters. From there, they are returned to the original owner or sold in an adjoining shop. These marketplaces are wildly popular, and of the 10 tons of goods taken to Kurukuru shops in 2014, 9.7 tons found new owners.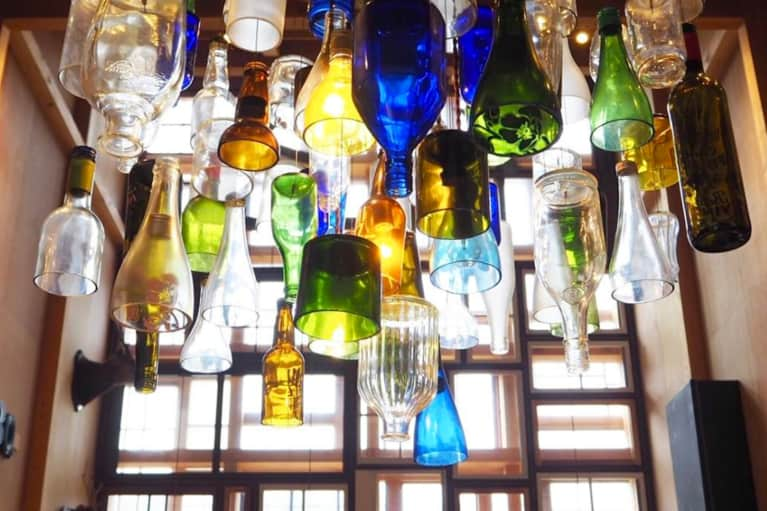 This communal reuse system is actually relatively easy to implement, and other cities around the world are already catching on. Repair Cafés, an initiative that Martine Postma kicked off in Amsterdam in 2009, encourage visitors to breathe new life into broken items alongside repair specialists. Even if you have nothing to repair, you stop in for a cup of tea or coffee and pick up some tips and techniques. Today, there are 1,252 of them across the world. Most popular in the Netherlands and Germany, these cafés preach the importance of craftsmanship and remind people to value everything they own—from small kitchen electronics to full-size musical organs.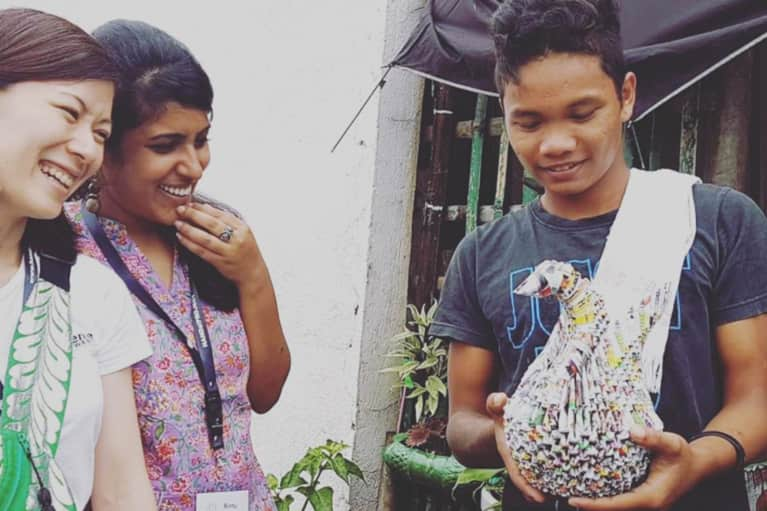 Postma is encouraged to see her concept spreading to Canada and the United States, where there are currently cafés in 11 states. "More and more people get the idea that we should stop wasting precious resources and that we should get back to prudent use of products and resources," she says. She also notes that while initially popular with the elderly, her shops are quickly becoming more millennial. "We see young people who are not OK with tossing broken items. Some are interested in repairing themselves and have often tried to do so at home already and are coming to us for some help to get it right."
If you're lucky enough to live near a Repair Café, go check it out or create a mini version by setting aside a few hours with friends to see what you can upcycle or repair together.
Green innovation defines the local businesses in Kamikatsu, too, with eateries like Cafe Polestar and Rise & Win exemplifying a "waste not, want not" mentality.
Cafe Polestar doesn't leave paper napkins on its tables and doesn't print receipts unless a customer specifically asks for one. Employees use their own reusable shopping bags to buy local, seasonal ingredients to be fashioned into staples like curries and soups. Rise & Win, on the other hand, is a brewery made from recycled mill wood, dotted with light fixtures made of old bottles hanging over used tables and chairs. The space also has a general store that sells unpackaged dried fruits, nuts, and pastas by weight and invites shoppers to bring their own storage containers. Even the simple uniforms that employees wear are fashioned of recycled materials.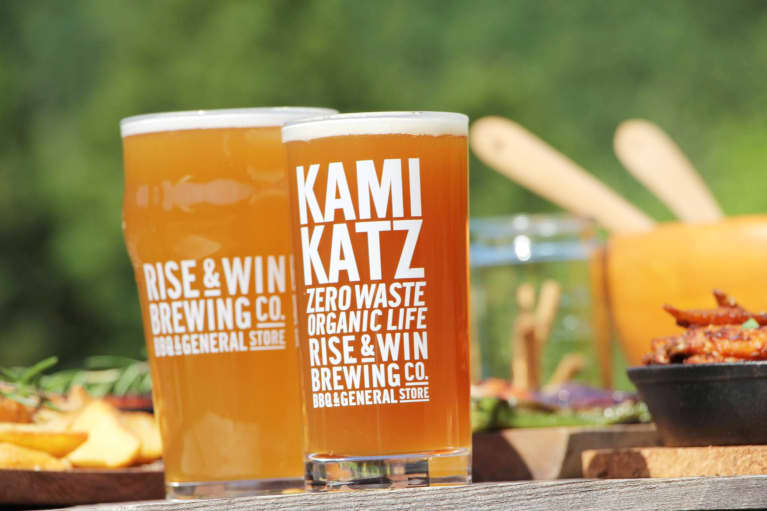 This concept of eco-friendly restaurants and menus is also becoming trendy across the world. You'd be hard-pressed to find a restaurant in Brooklyn that doesn't have a family of glass bottles and Mason jars on display, and culinary trailblazers like Dan Barber are bringing the zero-waste mentality to our plates with their delicious takes on food scraps. Over in England, Silo, a coffeehouse, brewery, and restaurant, has gone entirely zero-waste by trading directly with farmers, opting for furniture made from recycled materials like industrial floor tiles and filing cabinets, and serving on plates and platters made of plastic bags. Its motto? "Waste is a failure of the imagination." Establishments like these are making it easier to connect with the story behind our food.
There's so much to learn from Kamikatsu and the communities around the world adopting similar waste-reduction strategies. More than anything, they show that there's nothing stronger than a group of people united by a common goal. There are so many small actions we can take to make a difference—actions that are heightened to new extremes when others join in on the fun.