Your Weekly Horoscope Is Here: What's In The Stars For You?
mbg Contributors
By The AstroTwins
mbg Contributors
Ophira and Tali Edut, known as the AstroTwins, are professional astrologers based out of New York and Seattle. Their work has been featured in The New York Times, Elle Magazine, Vogue and Good Morning America and they are the authors AstroStyle, Love Zodiac, Shoestrology, and Momstrology.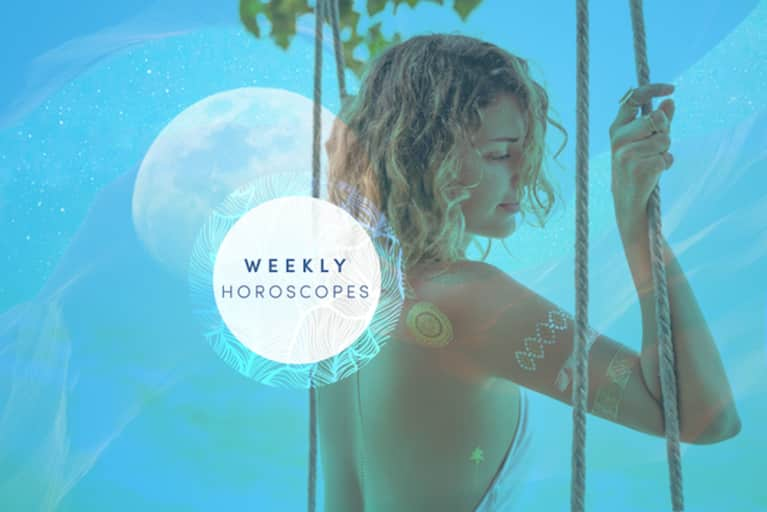 Happy Zodiac New Year! The astrological calendar turns over this Monday, March 20, as the Sun embarks on a monthlong tour of Aries. The Ram is the first sign in the horoscope wheel, which begins every year with the spring equinox. And under this solar spell we'll all feel a sense of renewal—fired up with initiative and eager to take on fresh experiences. Embrace maximalism in all its forms.
Live-out-loud Aries Season is a time to grab life by the horns and be fearless with your self-expression. The competitive vibes will be as fierce as the spring fever during this passionate, proactive period, which lasts until April 19. As fun as it may be to go for the gold, try not to get carried away as a contender. It's all fun and games until somebody's ego gets crushed. Ouch!
Near the end of the workweek, mobile Mercury, which is touring Aries from March 13 to 31, will get into a couple of dustups. On Friday, furtive Pluto in Capricorn will square Mercury, cautioning against TMI. Don't give away your trade secrets or spill too much at a company meeting. Keeping a slight air of mystery can give one the upper hand. Steer clear of any shady dealings, though!
Shortcuts might bring a momentary advantage but cutting corners always catches up to people. Better to be the tortoise than the hare near the weekend—at least once you've crossed the finish line, you'll be in the clear.
Also on Friday, outspoken Jupiter in Libra sits opposite communicative Mercury causing another brand of friction. Jupiter's insistence on playing fair and honoring the opposite perspective will clash with fiery Mercury in Aries' swagger and "me first" agenda. Power struggles could erupt with a heaping helping of self-righteousness on the side.
Taking down a troll with one salient clapback? By all means, yes! But be careful not to get swept into an ethical battle or time-sucking tweet-storm when tempers are running high.
The moon spends the entire weekend in dreamy, esoteric Pisces. This compassionate, imaginative lunar spell marks the one-month "mooniversary" to the February 26 solar eclipse in Pisces. Did you make a big decision a month ago, or get some major developments in motion? This weekend could bring a second wind for the mission—or a chance to advance to the next stage of the game.
Get into action but don't rush. Pisces energy is fluid and meditative. Move at a slower pace so you can tune in to your intuition and make room for the muse as you go.