5 Days Of Healthy Meals: Gut-Friendly Sautéed Kale + Butter Beans Edition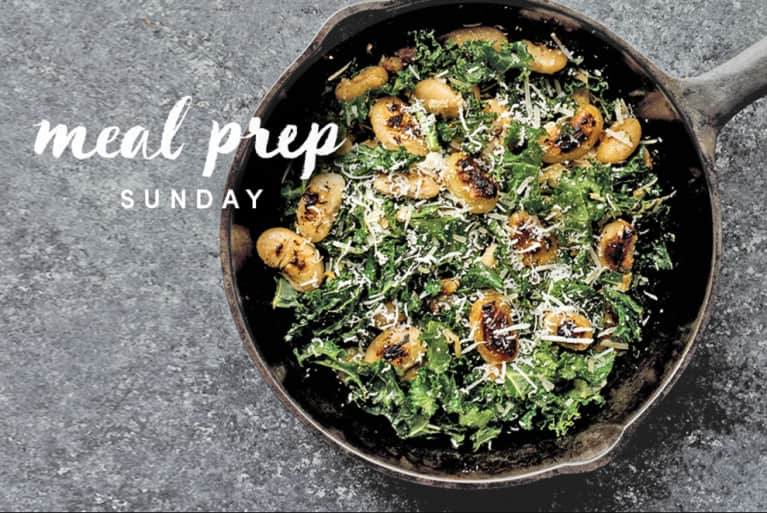 Our editors have independently chosen the products listed on this page. If you purchase something mentioned in this article, we may
earn a small commission
.
Welcome to Meal Prep Sunday, where you'll make a single, healthy recipe with serious bodily benefits, whether it makes your skin glow, helps soothe your gut, boosts your immunity, or more! Because it gets boring to eat the same thing every day, you'll do the bulk of the prep on the first day—and every day after that, there will be one small, five-minute-or-less tweak that will transform the leftovers into a new, amazing meal. Today, we're sharing a recipe from Andrea Bemis, organic farmer and author of the new book Dishing Up the Dirt, which beautifully highlights cooking with the seasons. Here's her spring-inspired menu to get you ready for thawing temps with a healthy dose of gut-friendly fiber.
Honestly, this recipe has changed my life. I first whipped it up in our kitchen back at Hutchins Farm after an incredibly long and hard day out in the fields. With only a can of butter beans and a bunch of fresh kale, this dish was born. I turn to it often for a quick dinner when Taylor and I are drained but need nourishment. If we serve this as a complete meal, I'll top the beans and kale with a few fried eggs and call it dinner. As a side dish, I prepare it just as written. This is a crowd-pleaser, so make sure to double the batch if you're expecting company!
Shopping List for the Week
1 (15-ounce) can butter beans
1 bunch of kale
1 lemon
1 red onion
Parmesan cheese
Feta cheese
1 loaf rustic white bread (sourdough works well!)
½ pound mushrooms
1 avocado
Bacon
Whole wheat tortillas
Pantry Staples (purchase if you don't have)
Olive oil
Salt and pepper
Crushed red-pepper flakes
Smoked paprika
1 (15-ounce) can diced tomatoes
Pasta
Eggs
White wine
Hot sauce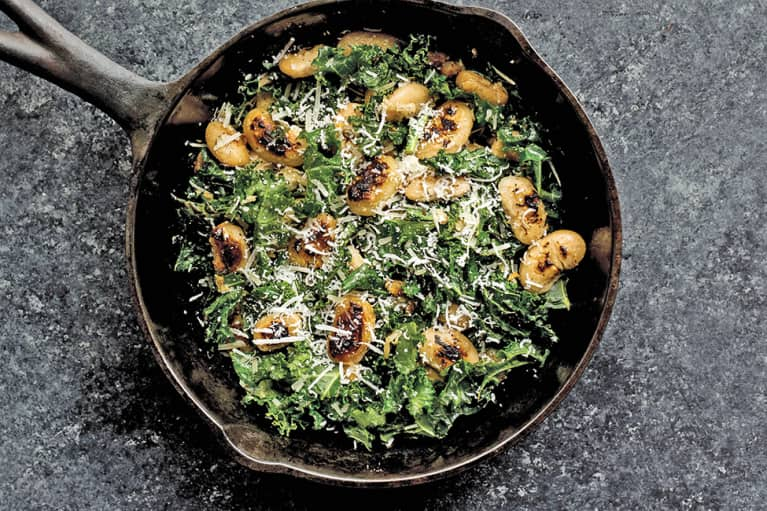 Pan-Fried Butter Beans & Greens
3 tablespoons olive oil
⅛ teaspoon crushed red-pepper flakes
1 (15-ounce) can butter beans, rinsed, drained, and patted dry
2 cloves of garlic, roughly chopped
1½ cups kale, tough stems discarded, torn into bite-size pieces
fine sea salt and freshly ground black pepper
1 tablespoon fresh lemon juice
freshly grated Parmesan cheese for serving
Method
1. Heat the oil in a large skillet over medium. Add the crushed red-pepper flakes and cook for about 30 seconds, stirring often. Add the beans in a single layer, being careful not to overcrowd the pan, and cook until they are lightly browned on the undersides, 4 to 5 minutes.
2. Flip the beans and cook for an additional 4 to 5 minutes. Stir in the garlic, kale, and salt and pepper to taste. Continue to cook until the kale begins to wilt, about 2 minutes. Mix in the lemon juice and cook for 1 minute longer, stirring until everything is evenly coated.
3. Divide the beans among the plates. Top with plenty of Parmesan and enjoy.
Note: This recipe can easily be split between two people as a main course but makes enough for four small side-dish portions.
DAY 2: Butter Bean + Fried Egg Tartine
Toast a thick slice of sourdough bread. While the bread toasts heat a little oil in a nonstick skillet and fry your egg. Spoon over the leftover pan-fried butter beans and greens over the toast and top with a fried egg. Sprinkle with salt and pepper.
DAY 3: Butter Bean + Tomato Stew
In a skillet saute ½ a medium red onion in olive oil until translucent. Add ½ teaspoon of smoked paprika and a pinch of cayenne. Pour in a can of diced tomatoes, ½ cup vegetable broth, and season with salt. Simmer uncovered for 5 to 10 minutes, then stir in butter beans and kale. Top with crumbled feta cheese, if desired.
DAY 4: Butter Bean + Mushroom Pasta
Cook the pasta according to package directions. Roughly chop your ½ pound of mushrooms. In a large skillet heat a little olive oil over medium heat. Add the mushrooms and give them a good stir. Cook for about 3 minutes. Add ¼ cup dry white wine and bring to a boil. Reduce heat and cook until the liquid evaporates. Stir in leftover butter beans and greens and mix well with the mushrooms. Spoon the mixture over the cooked pasta and sprinkle with Parmesan cheese.
DAY 5: Butter Bean Breakfast Tacos
Dice ½ an avocado and set aside. Fry bacon in a large skillet until fully cooked and lightly crispy. Remove from the heat. Drain off all but 2 teaspoons of bacon fat. When cool enough to hand crumble the bacon. Scramble a few eggs in the reserved bacon. While the eggs cook, warm a few tortillas in the oven until ready to serve. To assemble add the scrambled eggs, reserved butter bean mixture, diced avocado, and crumbled bacon. Garnish with crumbled feta cheese and a drizzle of hot sauce and enjoy.