Getting your greens is no new concept. Dark and leafy, long and lean, or with a stalk, greens of all varieties have mega-nutritional mileage. Greens are the original "superfoods" and are full of vitamins, minerals, and immune-boosting, disease-fighting phytochemicals.
Greens provide vital minerals.
As a registered dietitian, I'm well-versed in nutritional science, so every food choice I make has a health-supporting purpose. For example, I love to incorporate dark leafy greens like kale and collards into my diet because they contain calcium, which is essential for bone and teeth health (and a great calcium option for vegans!). I also prioritize eating broccoli, Brussels sprouts, bok choy, and watercress—part of the cruciferous family—because they contain glucosinolates, which are phytonutrients with very powerful anti-cancer properties.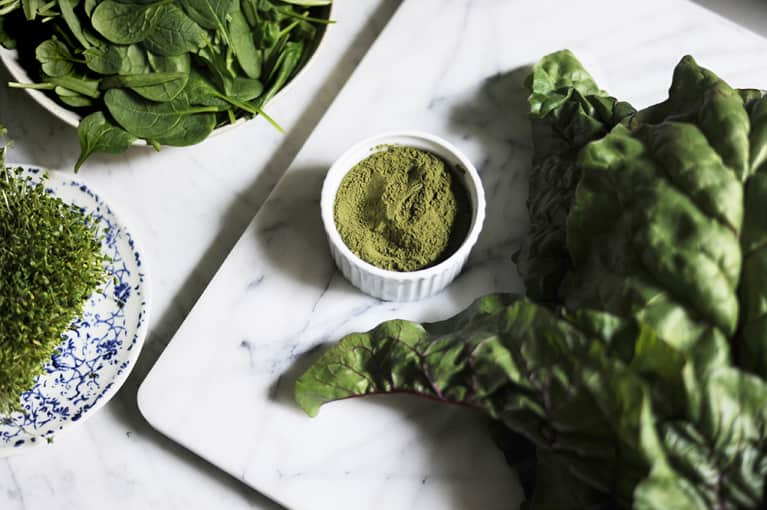 Greens are naturally immune-boosting.
Many greens also contain vitamin C, which is an important vitamin for boosting the immune system. In particular, I'm a big fan of wheat grass, alfalfa, and barley, as they help to oxygenate the body and reduce inflammation, supporting healthy organ and immune function.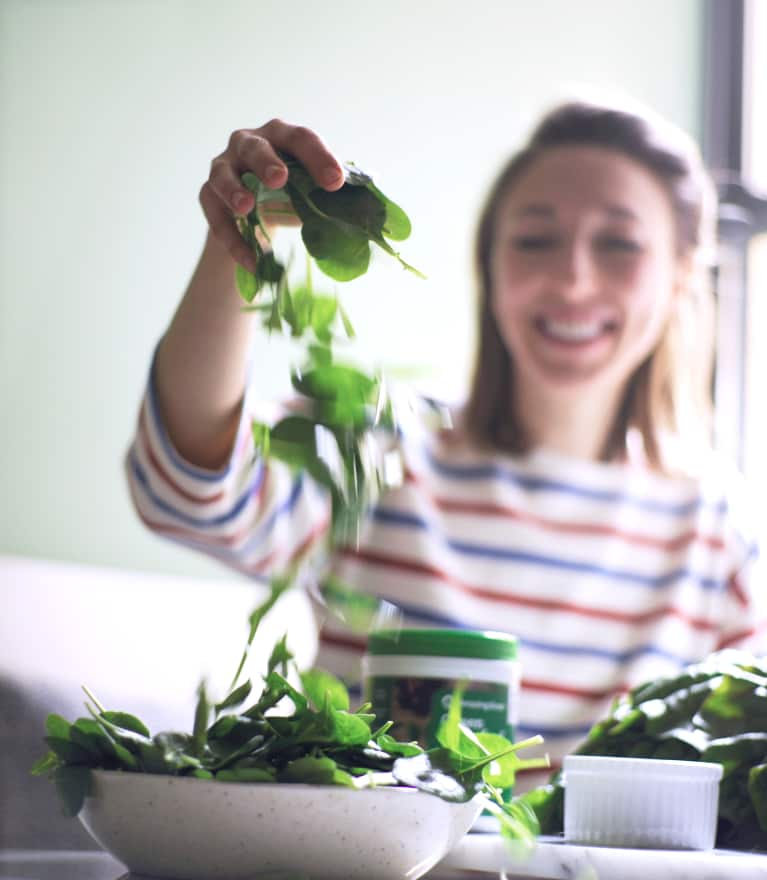 Greens enhance your natural beauty.
Vitamin C, mentioned above, also helps to promote collagen production. Collagen supports joint health as well as healthy and glow-y skin and hair. Vitamin E, which is found in turnip greens, spinach, and swiss chard, is another vitamin that encourages healthy skin and hair and also protects the body from damaging free radicals.
Are you eating enough greens?
Although we'd love to incorporate each and every one of these amazing, chlorophyll-colored veggies into our diets every day, it's just not realistic (or necessarily delicious) to do so. Luckily, there are greens powders, like those from Amazing Grass, which allow you to seamlessly and effortlessly slip nutrient-rich greens into your diet. The convenience of powdered greens ensures that you are getting your green fix for overall health—especially helpful during longs days of travel or on those days you don't eat as well as you know you should.
I'm a big fan of the Amazing Grass Green Superfood powder, which contains a powerful blend of nutritious greens and grasses—organically grown on the company's family farm in Kansas—that increase energy, boost immunity, and alkalize and detoxify the body. While their greens powders come in a variety of flavors, I'm a big fan of the original flavor, because it's so versatile and goes great with water or juice just as well as it slips into a morning smoothie. You can even get creative and add it to everything from soups and stews to baked goods! I love having the peace of mind knowing that I'm fortifying my body with essential vitamins and minerals with just a single scoop of this stuff.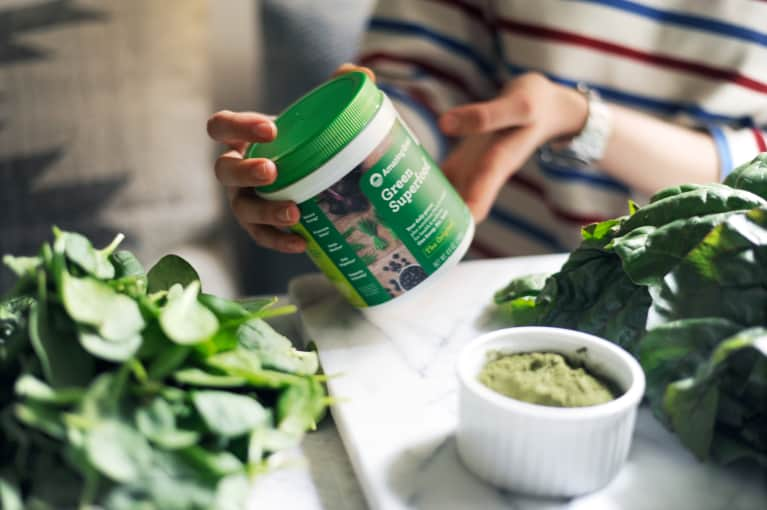 Each scoop of Amazing Grass Green Superfood powder contains a blend of organic and non-GMO broccoli, wheat grass, alfalfa, spirulina, barley grass, chlorella, and spinach, in addition to antioxidants from green tea and acai, plus digestive enzymes and probiotics. Imagine trying to squeeze all that into a single day's worth of meals!
3 Ways To Get In Your Greens
Integrating just one scoop of Amazing Grass Green Superfood into your routine is so simple and seamless. Here are a few ways I love to get creative with my greens powder:
The original flavor works perfectly stirred into a soup, hummus, or scrambled into eggs for a frittata.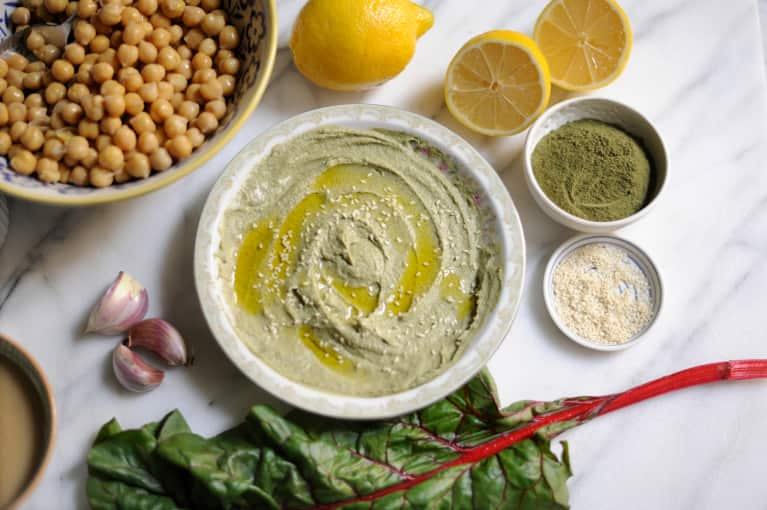 The Berry flavor tastes divine mixed in a chia-seed pudding or overnight oats. The Chocolate flavor is delicious in avocado mousse, a peanut butter banana smoothie, or blended together with dates and almond butter for energy bites.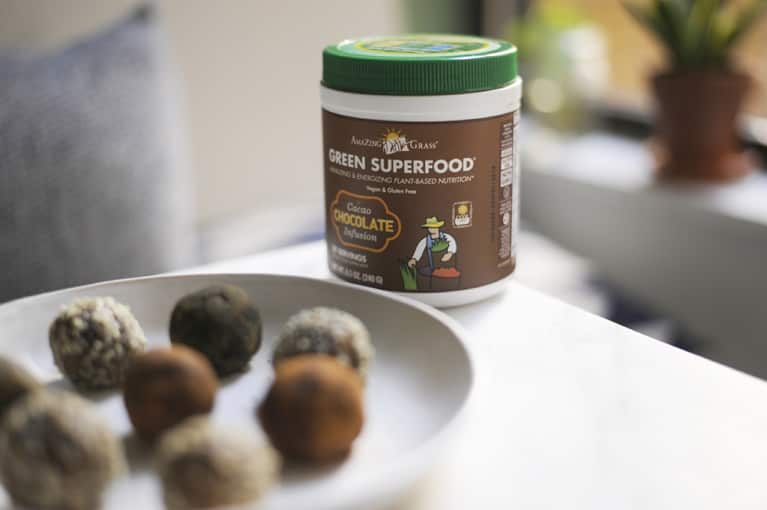 The Energy Lemon/Lime flavor is perfect in a citrusy ice pop or as a post-workout cooler. It's also crafted with Yerba Mate and Matcha Green Tea for an extra boost of clean, plant-based caffeine to help you feel invigorated.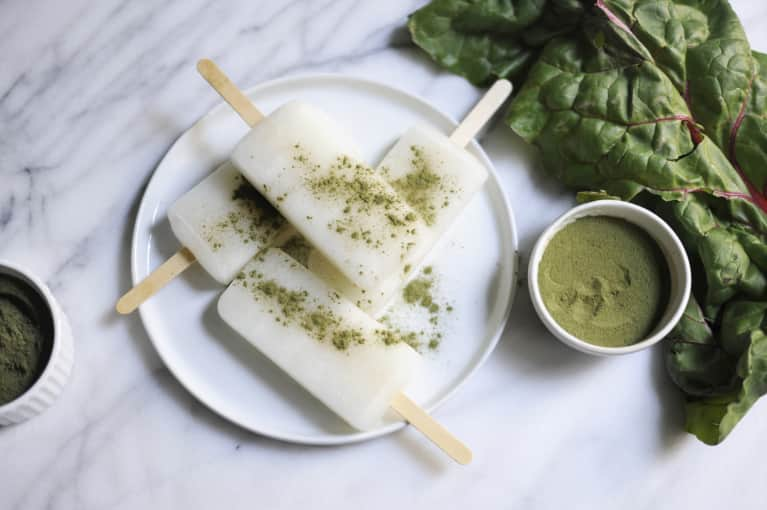 Regardless of your favorite flavor, adding a greens powder into your life allows you to optimize your nutrition and up your greens intake while leading a busy lifestyle. It can even be added to your favorite foods so you don't have to give up breakfast waffles or mac 'n' cheese for dinner; just add a scoop of Amazing Grass Greens Superfood to charge your meals with nutrition.