5 Ayurvedic Beauty Lessons That Changed My Skin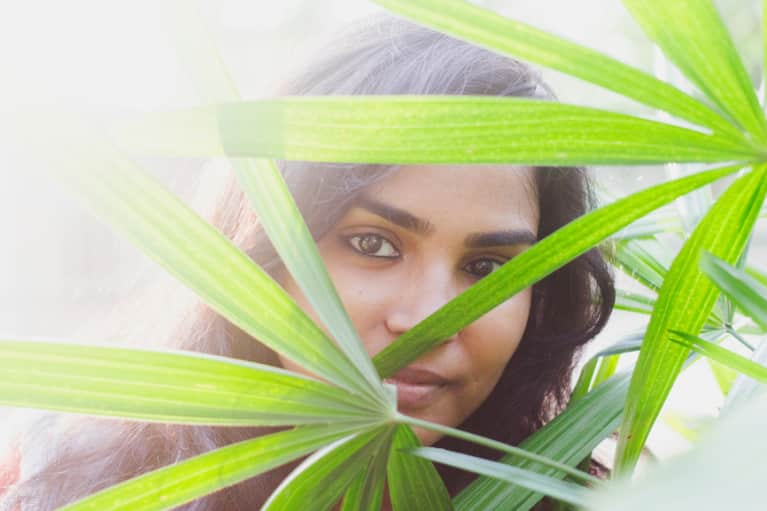 Our editors have independently chosen the products listed on this page. If you purchase something mentioned in this article, we may
earn a small commission
.
If you're skeptical about Ayurveda's ability to help your skin and body look great as you age, just google Queen Gayatri Devi, a picture of great beauty and vitality well into her 80s. Closer to home, look no further than Richard Gere or Jennifer Aniston—both of whom are arguably poster children for the years having treated them very well. What do they have in common? A love of Ayurvedic practices. From daily yoga practices to daily detox rituals (Aniston swears by a cup of lemon water every morning), there's a lot Ayurveda has to offer in the way of looking and feeling young!
Eat to counter what your body may be losing more with age.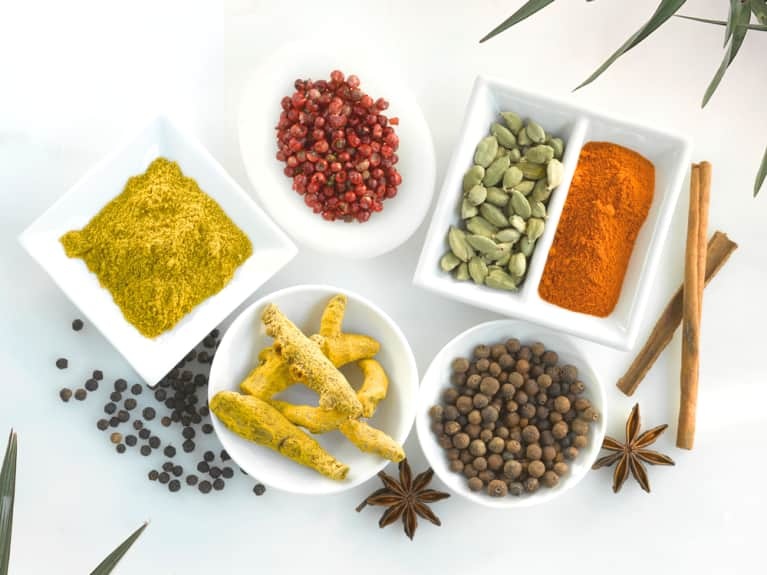 Good fats top the list for things to add to your diet because they help restore the skin's thinning lipid barrier, add greater lubrication to the joints, and can also help a host of sensory functions such as vision! Bring ghee, an Ayurvedic staple, into your cooking, and build nuts and avocados into snacktime. (Kapha types should exercise moderation on good fats given a constitutional tendency for weight gain, more than vata and pitta types.) Spices can keep your body's metabolic fire strong and also boost immunity—both of which have a telling impact on your skin's radiance and health.
Try: I recommend turmeric, cumin, mint, fennel, and black pepper. Finally, sweet fruits are loaded with skin-loving antioxidants, minerals like potassium, and vitamin C, so load up on them ideally before 5 p.m., as Ayurveda doesn't recommend fruit late in the evenings.
Work out, not just to fight the effects of a slowing metabolism but also to keep circulation strong.
The key to glowing skin and good motor function. It's not just a coincidence that your favorite yoga instructor always seems to be wearing an otherworldly glow—yoga is not only an incredible form of exercise, but it can also be a powerful tool in your quest for skin that is naturally and consistently radiant. Poses like downward-facing dog, bridge, and headstands help combat the natural effects of gravity by allowing the head to naturally fall toward the ground rather than upward to the sky. These poses also encourage blood to flow to the face more quickly, bringing oxygen and other nutrients that encourage skin regeneration and fight free radicals, leading to a natural glow.
Try: Twisting poses like seated twists are the key to ridding the organs of toxins and impurities, which can manifest themselves in the form of skin ailments. Finally, try sun salutations and poses like warrior, chair pose, and half-moon pose to really get the heart rate up and circulation going which assists everything from detoxing—that helps reduce pore size—as well as collagen formation under the skin.
Give your skin the ingredients it deserves.
Exfoliating regularly can be hugely beneficial to your anti-aging efforts, but the key is balance and not overexfoliating. Several natural ingredients are celebrated in Ayurveda for their properties to cleanse and restore. Honey on its own is a great cleanser. Ground nuts, brown sugar, and oatmeal can be very helpful in creating a DIY scrub.
Try: A great natural homemade exfoliant can be made from gram flour and dried orange peel (ground in a processor to a powdery consistency), mixed with some rosewater and honey. Leave it on for five to seven minutes and then remove with a washcloth. Blemish-prone skin also benefits tremendously from face-packs, especially ones with the following ingredients: clay or fuller's earth (cools skin and removes impurities), honey (fights bacteria and fades acne scars), and turmeric (combats inflammation and is highly healing)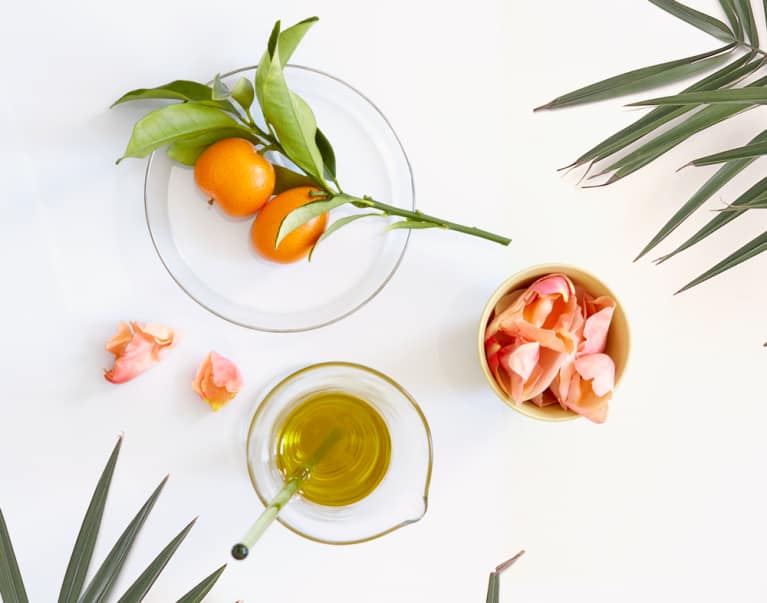 As we age, our skin produces fewer oils, causing the epidermis to become thinner and our lipid barrier to weaken. Thinner skin can't recover from water loss as quickly, is more vulnerable to inflammatory diseases, and is less effective at blocking damaging UV rays and balancing pH levels. Adding oils back into the skin is the best way to combat early signs of aging and maintain an effective barrier. Rose oil is excellent at hydrating and nurturing maturing skin, while frankincense essential oil works at the cellular level to promote renewal and cellular regeneration necessary for battling fine lines. Pomegranate oil—rich in punicic acid, known for its collagen boosting properties—is excellent for restoring firmness and elasticity to the skin.
A collagen-boosting, skin-firming face-yoga ritual.
We all go through the day repeatedly making the same expressions (yes, that's how crow's feet and forehead lines multiply). Supporting your skin by helping it to forget that muscle memory through a series of quick and easy facial massage moves can be a huge help.
Try:
Eyelids tend to get heavier with age, so a little bit of stretching can help keep them healthy. Look upward and raise your eyebrows at the same time. Then gently close your eyelids, while still looking up.
Place your forefinger on the temple, and thumb on the top of your cheekbone, to gently stretch out crow's feet. This is another exercise that pairs well with the application of face oils.
Spend some time creasing out fine lines in the face, like the vertical lines between your brows. Use your forefinger and thumb to push your eyebrows away from each other, which is the opposite direction that they go when frowning or squinting. I find this works best when using a few drops of face oil with the motion.