This Bread-Free, Plant-Based French Toast Is A Breakfast Game-Changer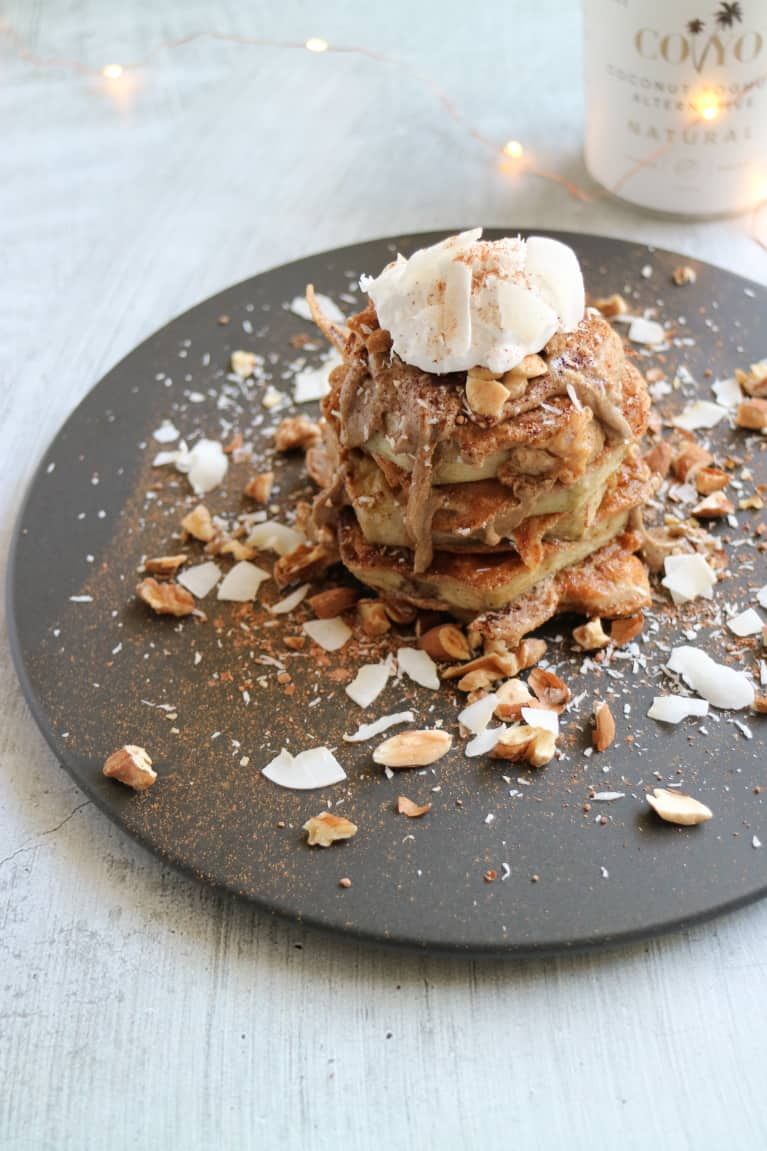 Want a lighter version to an old favorite? Fiber-rich eggplant substituted for bread makes this unconventional French toast nourishing and fulfilling. Topped with seeds, butter, and coconut yogurt, this breakfast will fuel you for your day. It's a healthier alternative to the original you can eat anytime. It's better than the real thing!
Ingredients
1 large eggplant (or 2 small)
1 tablespoon sea salt
2 whole eggs
2 tablespoons coconut milk
1 teaspoon cinnamon
½ teaspoon vanilla
1 tablespoon coconut oil
2 dollops tahini (or sub for any nut or seed butter)
2 heaped tablespoon coconut vanilla bean yogurt
1 cup your choice of (preferably activated) nuts and seeds (I like walnuts, almond, sunflower seeds, and pumpkin seeds)
2 tablespoon raw cacao
½ cup coconut chips
2 tablespoons rice malt syrup (optional if you want it sweeter). (Note: At @inmybowls we use rice malt syrup as our choice of sweetener. It is made from fermented cooked rice and is a blend of complex carbs, glucose, and maltose, so it is 100 percent fructose -. However, where possible we do not include it and stick to a savory state of mind. Why? Well including sweet flavors anywhere in your diet encourages your "sweet tooth" and it makes it more difficult to stay away from sugar as your brain will still crave it.)
Slice the skin off the eggplant. Cut into 1-centimeter rounds and pierce with a fork 3 times (large round may require more). Sprinkle salt over and let sit for 10 to 15 minutes and do some yoga or tomorrow's food prep in the meantime!
In a bowl, combine the eggs, coconut milk, cinnamon, and vanilla, and whisk to combine. Heat the coconut oil in a small skillet over medium heat. Dab the pieces with paper towel to remove excess water, and put each piece of eggplant in the egg mixture. Holding onto as much mixture as possible, place the eggplant on the skillet. Repeat for all pieces of eggplant. Cook for 10 minutes on the first side over low heat and 5 minutes on the other side.
To serve, stack half the pieces on one plate and half on the other. Top each serve with half the tahini, yogurt, mixed nuts and seeds, raw cacao, coconut chips, and a small drizzle of rice malt syrup if you want it sweeter (I personally find it sweet enough) and DEVOUR!