9 Ways These Super-Successful Women Are Giving Themselves A Break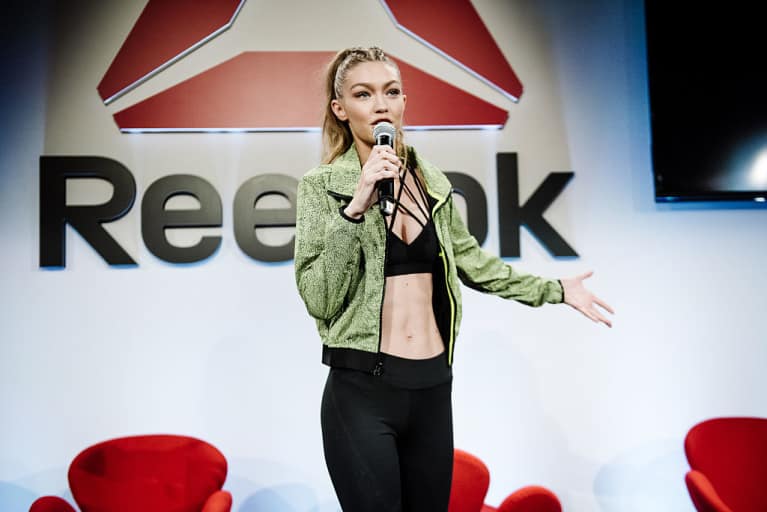 Gigi Hadid isn't someone who comes to mind when we think about imperfection—in fact, from the outside, she looks pretty perfect to us. But after spending an afternoon with Gigi and her squad at Reebok's #PerfectNever event, we found that the experiences she shared were actually super relatable. As it turns out, top models, athletes, and activists have insecurities too.
The Reebok campaign aims to debunk the idea of being "perfect" and encourages women to embrace who they are, wherever they are. Gigi sat down with four admirable women, Ruby Rose, Zoe Kravitz, Lena Dunham, and Aly Raisman, to talk about how they deal with the pressures of perfection in the context of a modern, social-media-driven world.
This panel discussion, moderated by Jessica Mendoza—one of the only women in the sport of baseball—touched on a spectrum of hot topics including body image, professionalism, self-care, self-acceptance, bullying, and the importance of women supporting other women. Here are some golden nuggets from the day:
1. Accept the abundance that comes your way. Practice "I deserve."
"Whether it's on live TV or going into a meeting, you are there for a reason. You are there because you deserve to be in that moment at that time, and at that time the doubt has to go. You need to somehow force it into your brain 'I am badass, and I deserve to be here.'" —Gigi Hadid
2. Give yourself a break already.
"There is also so much stigma for women around mental health and around taking care of ourselves and around basically the ideal that we've created of the 24-hour woman. The woman who can get up, do her job, be the kind of present girlfriend you're talking about, be a parent, look good doing it. And the fact is that it's too much pressure for anybody. It's too much pressure when you are also dealing with the basics and the challenges of life, and we are all going to have a moment in our lives where we crash and we need help." —Lena Dunham
3. Use meditation to connect to something deeper and crush anxiety.
"I've meditated since I was 9. That was one of the great gifts my parents gave me. It's really lucky my mom got me into Transcendental Meditation when I was 9 because I was such an anxious child, so that's a place where I can always go that's just where you are whole...you return to the place where you are whole and you are perfect and there is nothing but your perfect beautiful limitless consciousness." —Lena Dunham
4. Take a moment to really think about your uniqueness.
"It's kind of wild that each and every one of us is the only person in the world that is us...we are all 100 percent unique and there is no one else in the world like us and there's no one else in the world like you, so we are really different. And that's the coolest thing about existing on this planet." —Ruby Rose
5. You can't overflow from an empty cup.
Talking about how she has never taken a sick day, Gigi said it's because she struggles with "the guilt of not wanting to take care of yourself because you feel like you don't want it to reflect on your professionalism." —Gigi Hadid
6. Be gentle; it will only add to your strength.
"Women are so strong, but I think strength—and this is something that she (my mom) is always reminding me of—is that the most important part of strength is being gentle. It's so important to be gentle with yourself and with other people." —Zoe Kravitz
7. Infusing kindness into anything you do will get you much further than achievement alone.
"People will remember you more for the kind of person you are rather than what place you were on the podium. And I think that's something that really helped me, and when I realized that, I ended up doing better in my competitions because I put so much less pressure on myself." —Aly Raisman
8. Your "shortcomings" add texture and often create a basis for who you will become.
"The irony is that all the things that everybody teased me about are what have gotten me so far in my career today...and it's important to be honest and do things like this and talk about how we are not perfect and how we have insecurities and are just like everybody else." —Ruby Rose
9. Unblock your inherent creativity by giving yourself time and space to be happy.
"I got really tired of being unhappy, and I think it really gets in the way of my art. You know when you are self-doubting so much it really gets in the way. And not that I am constantly feeling confident, but I had to find a way to sort of clear that energy away from me—for the most part or as often as I can—because it really gets in the way of being creative." —Zoe Kravitz