New Research On Nuts Proves Why We Should Use Food As Medicine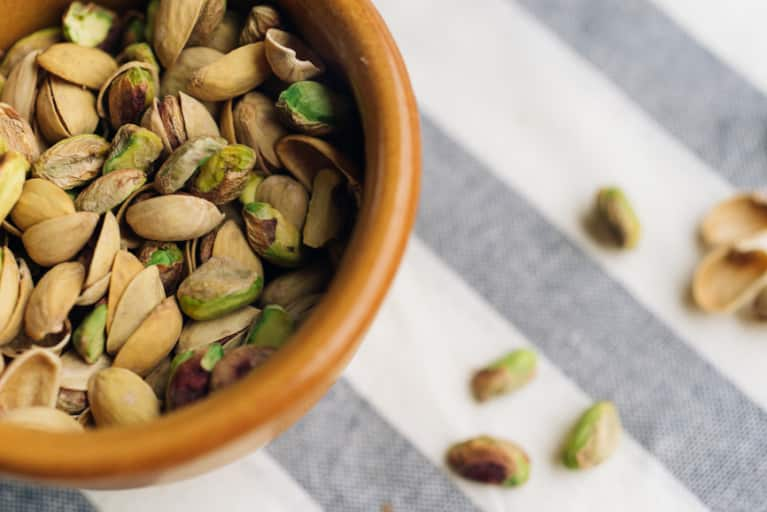 December 7, 2016 — 10:25 AM
In case you hadn't heard, nuts are a pretty magical food group. And as one of our favorite afternoon snacks, they are tasty, low in sugar, and will keep you feeling satisfied until dinner. Nuts are also packed with fiber, healthy fats, and vitamin E and have been shown in various studies to reduce the risk of cardiovascular disease in people who consume them regularly.
As if we needed another reason to love nuts, brand new research that collected and analyzed data on nut consumption from around the world suggests that nuts may be an even more powerful tool for not only preventing heart disease—but cancer, diabetes, infection, and premature death—than we ever imagined.
Consuming nuts can help you prevent several types of chronic disease.
A group of European scientists weren't quite satisfied with current research that limited most of the benefits of nuts to cardiovascular health. Their study, published in the journal BMC Medicine, took data from 29 published research articles and after analyzing over 800,000 participants the researchers found that consuming 20 grams of nuts each day, about a handful, can reduce your risk of coronary heart disease by 30 percent, cancer by 15 percent, and the risk of premature death by 22 percent. Results also showed that nut consumption is associated with a reduced risk of death from respiratory disease, diabetes, and infection—all serious problems currently facing health care systems around the world. Could a solution be so simple?
Using food as medicine can be simple and effortless.
The risk reduction observed in this study is especially meaningful when you consider that 20 grams of nuts is only about a handful each day. This means that consuming even a very small amount of certain foods can have incredible implications for our health and is yet another reason to believe in the power of food as medicine.
If we take what was learned from this study and look at the big picture, we can hypothesize that as many as 4 million premature deaths could be attributed to insufficient nut intake—assuming that the relationships found in the study are accurate and representative of real-life associations.
A new trend in nutrition research.
Although previous research has linked the consumption of nuts to cardiovascular health, this study is significant because it clearly extends these benefits to other diseases. This study also contains data from a much larger number of previous studies than previous research on the topic. And according to one of the co-authors, this particular study represents a new trend for nutritional research with a focus on a wider range of diseases instead of concentrating on big names like cancer and heart disease.
Nuts are a fantastic food to incorporate into our daily routine, and not just for heart health but for overall well-being and the prevention of disease. And we don't know about you, but here at mindbodygreen we are celebrating a reason to add cashews to just about everything.
Want to turn your passion for wellbeing into a fulfilling career? Become a Certified Health Coach! Learn more here.