How Your Workout Can Mess With Your Metabolism: A Doctor & A Fitness Expert Explain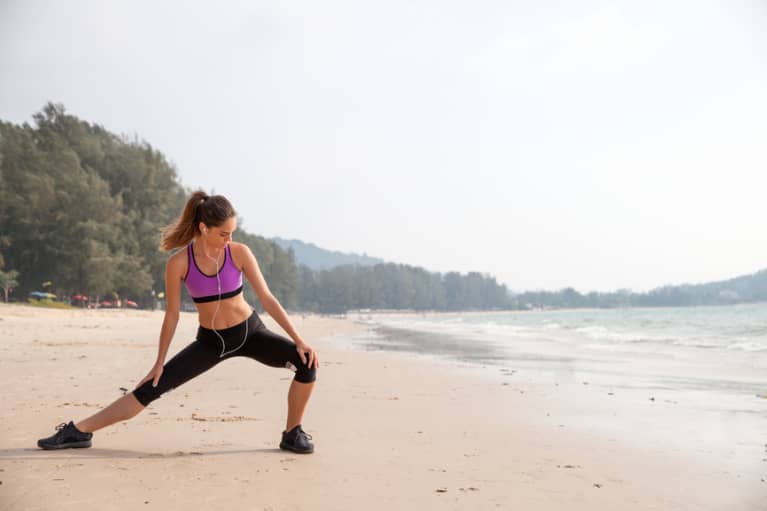 While you can't exercise your way out of a bad diet, research has consistently shown a strong correlation between living an active lifestyle and maintaining a healthy weight.
But as the boutique fitness scene continues to boom and more classes become available on a daily basis, it can be hard to know which types of workouts are best suited to your weight-loss and weight-maintenance goals.
So we consulted two experts—Dr. Jordan Metzl and fitness expert Lisa Tanker—to find out what types of exercise best serve our metabolisms and why working out can make us gain weight sometimes. Here's what they had to say.
How to tailor your workout for a metabolism boost
No, all workouts are not created equal. There are tons of tiny details that go into creating the most beneficial workout for your body, including what time of day you work out. Dr. Metzl suggests working out first thing in the morning. "Sometimes [workouts] are best done 'naked' [without food]," he notes. "I'm a big fan of using intensity [HIIT] to ramp up the metabolic furnace for the day."
Lisa adds that when it comes to a metabolism boost, the weight-training/cardio combination is golden.
"The weight training can consist of free weights, machine weights, or body weight while the most effective cardio moves are plyometric based," says Lisa. "When you combine body weight/weight and plyometrics together, you will get in your strength training, rev up your heart rate, boost your metabolism, and get cardio in one workout and in half the amount of time than that of splitting your workout into weight training followed by a round of cardio workout. "
When exercise makes you gain weight
If you're exercising more than ever and gaining weight (and we're not talking muscle mass), Dr. Metzl suggests looking at how much you're eating—because again, you will not lose weight if you eat a pint of ice cream after every workout.
Lisa adds that not giving your body adequate time to recover—otherwise known as overtraining—is a recipe for disaster. While it may not seem like you're overdoing it, working out five to seven days per week for over an hour can exhaust the body.
"Overtraining occurs when you physically tax your body without giving your body the proper time needed to rest and recover," says Lisa. "Everyone's limit on how much physical stress their body can handle and the time needed to recover is different. Recovery times vary due to an individual's level of intensity during workouts and how long it takes the individual's body to naturally heal and recover."
How to tell if you're overtraining
If you're lifting tiny weights and spending long periods of time chatting between reps and sprints, that might explain why you're not seeing results. But if you're working out long and hard on a daily basis and not seeing results or you've hit a plateau that you can't seem to break through, this probably has to do with overtraining.
Other signs of overtraining include insomnia, fatigue, loss of motivation and irritability, persistent muscle soreness, and a decrease in your normal workout performance.
If any of these sound familiar, do yourself (and your metabolism) a favor and take your workout down a notch. Happy lifting!