We're all about kicking the day off with a quality breakfast—and planning ahead is the best way to make sure we fit it in. Fall breakfasts should be hearty and nutritious enough to power you through cold mornings and hectic days, while keeping you satisfied until lunchtime.
If you're anything like us, you love starting the day on a sweet note, but this doesn't have to mean you're destined for a midday sugar crash. It's all about being smart and picking natural sugars combined with protein, healthy fats, and carbs to keep your blood sugar balanced.
Here are three make-ahead recipes that prove you can enjoy a breakfast that's on the sweet side while still getting the nutrients you need to fuel your day the right way.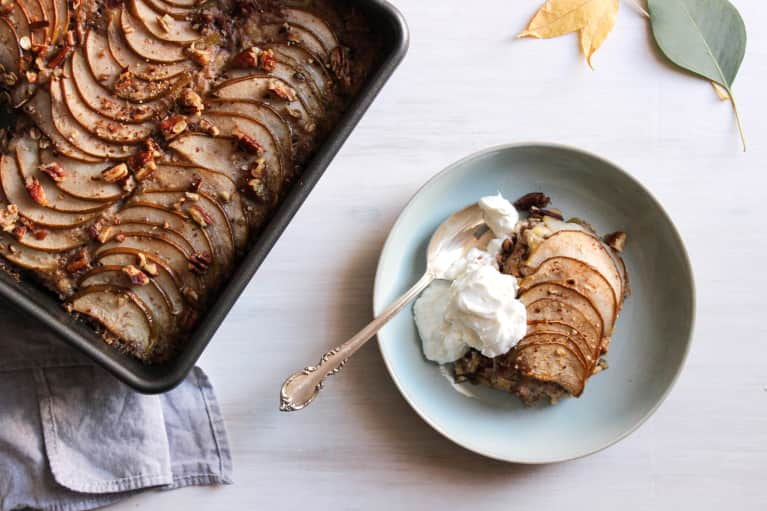 Pear + Pecan Baked Oatmeal
½ cup roughly chopped pecans or walnuts, toasted
2 chia eggs (2 tablespoons ground chia + 6 tablespoons water)
2 cups rolled oats
2 teaspoons cinnamon
½ teaspoon nutmeg
1 teaspoon baking powder
½ teaspoon salt
2 bananas, roughly chopped
1½ cups milk of your choice (I used almond)
¼ cup maple syrup or honey
3 tablespoons melted coconut oil
2 teaspoons vanilla extract
2 medium pears, halved lengthwise and sliced very thinly, and divided
Heat oven to 375°F. Grease an 8-inch-square baking pan with coconut oil.
In a medium bowl, make chia egg mixture and let stand for 5 minutes.
In another medium bowl, combine oats, cinnamon, nutmeg, baking powder, and salt.
In the chia egg bowl, mash the bananas with a fork. Add milk, maple syrup, the rest of the coconut oil, and the vanilla. Mix well to combine.
Add the dry ingredients to the wet ingredients and stir to combine.
Place a quarter of the pear slices in a layer along the bottom of the coconut oiled baking pan.
Pour the oat mixture over the pears in an even layer and sprinkle with the pecans. Arrange the rest of the pear slices on top.
Bake for 35 to 45 minutes until set.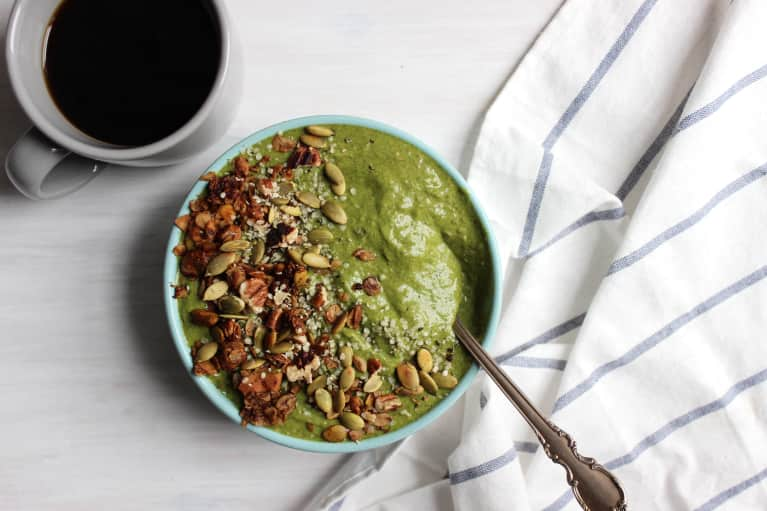 Pumpkin Pie Green Smoothie Bowl
½ cup almond milk
1½ to 2 cups frozen spinach
1 teaspoon pumpkin spice
½ teaspoon pure vanilla extract
1 frozen banana, broken into pieces
½ cup pumpkin puree
1 tablespoon almond butter
Granola (see below for a recipe)
Hemp seeds
Toasted pecans or almonds
Pomegranate arils or berries
To prep your smoothie bowl the night before, place spinach and banana in a bag or a jar and put in the freezer. In another jar combine almond milk, pumpkin puree, pumpkin spice, vanilla, and almond butter and place in the fridge.
In the morning, place your fridge jar in the blender first, followed by the freezer jar, and blend until smooth, scraping down the sides once or twice to make sure everything is incorporated.
Serve in a bowl with desired toppings.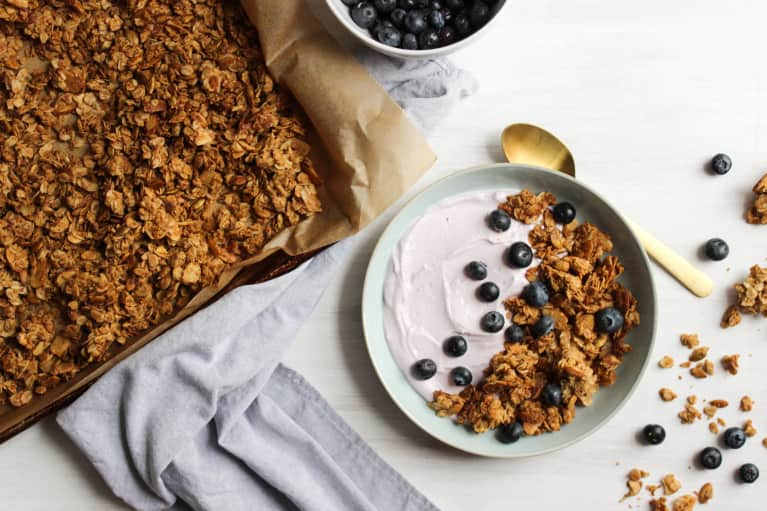 Chunky Peanut Butter Granola With Yogurt
2½ cups rolled oats
1½ cups seeds or nuts (I used a mix of pepitas and flaked almonds)
½ cup almond flour
¼ cup ground flaxseeds
2 teaspoons cinnamon
1 teaspoon salt
½ cup coconut oil
⅓ cup maple syrup or honey
⅓ cup peanut butter
1 teaspoon vanilla
Your favorite yogurt (look for ones made with simple ingredients and less sugar)
Heat oven to 325°F and line a large baking tray with parchment paper. In a large bowl, combine oats, nuts and seeds, almond flour, flaxseeds, cinnamon, and salt, and toss to combine.
In a small saucepan, combine coconut oil, maple syrup or honey, and peanut butter, and heat over a low heat for about 5 minutes, until everything is warmed and melted. Add vanilla and stir with a whisk or a fork to combine.
Add wet ingredients to dry and stir together with a rubber spatula until the oats are evenly coated. Spread out on the parchment-lined baking tray
Bake for 20 minutes, rotate the tray 180 degrees, and bake for another 20 to 25 minutes (40 to 45 minutes total). Remove from the oven and allow to cool completely on the tray.
Once cool, you should have a crunchy sheet of granola; break it apart into chunks and store in a large jar or Tupperware for up to two weeks.
Serve with your favorite yogurt