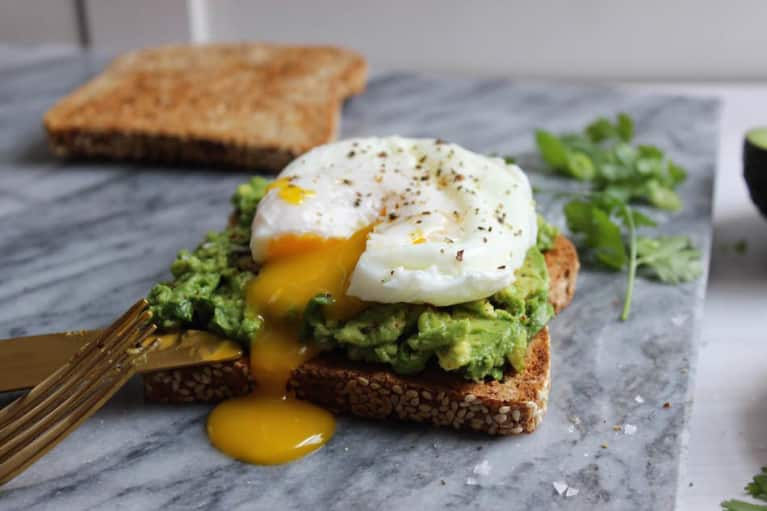 We know you're probably pretty label-savvy already, but we decided to partner with Vital Farms to share some knowledge about the animal welfare and health benefits of pasture-raised eggs. Over the next three weeks, we'll be serving up a combo of nutritional info, a few stats, and lots of delicious ways to eat pasture-raised eggs.
So, you've mastered the art of avocado toast. You've got your mashing and seasoning technique down, but you're ready to take your favorite breakfast to the next level. A poached egg is the perfect protein-packed add-on that's both convenient and quick.
To get the most nutritional benefits from your eggs, seek out the best-quality pasture-raised eggs you can find. The label "pasture-raised" is the highest standard for eggs and means that hens spend their days outside, eating the varied diet that comes along with that.
Vital Farms' chickens are given a minimum of 108 square feet per bird to roam, soak in sunshine, and eat things they love like grass, seeds, and insects. Compared to "cage-free" birds, who are given only 1 square foot each, pasture-raised in combination with Certified Humane standards is a way to ensure that the hens and their eggs are healthier and happier.
Pasture-raised eggs tend to be richer in nutrients like vitamins A, E, and B12 compared to conventional eggs. These vitamins are incredibly important for maintaining healthy energy levels; brain, nervous system, and eye health; good skin and hair; and boosting your mood.
Reap these benefits by seeking out more ways to enjoy high-quality pasture-raised eggs on the regular.
Poached eggs aren't just for Sunday brunch, and you definitely don't have to be a professional to make them yourself. They're simply eggs gently cooked in simmering water (bonus: no excess oil), resulting in just-set egg whites and a soft yolk that creates a sauce-like element to your toast.
To poach the eggs, you'll need:
A large high-sided pan or a wide pot
A slotted spoon
Boiling water
A small ramekin or bowl
Paper towels
Avocado Toast With a Poached Egg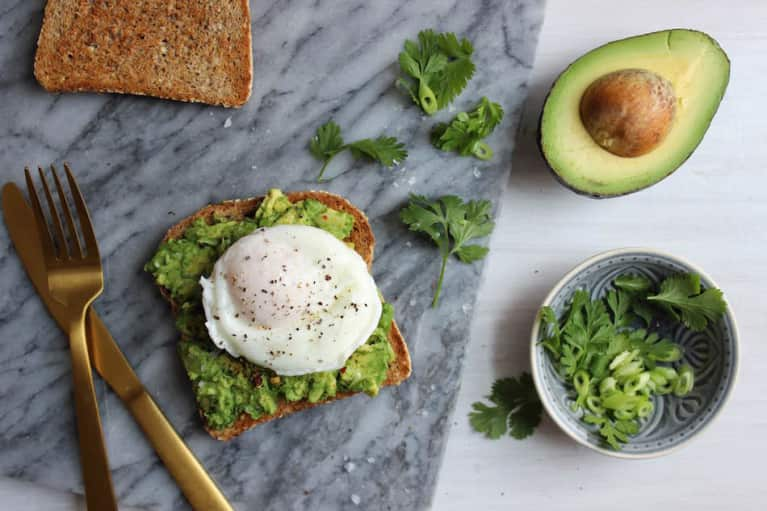 Water, at least 3 inches deep in the pan
1 tablespoon white vinegar
2 slices bread
1 avocado
Salt and pepper
Chili flakes
Preparation
1. To poach eggs, fill a large high-sided pan or a wide pot with 3 to 4 inches' worth of water. Bring to a boil and reduce to a simmer (you don't want a big rolling bubble here; you want a gentle heat).
2. Stir in vinegar. Crack 1 egg into a small ramekin or bowl. Then carefully tip the egg from the ramekin into the simmering water. The whites should start to turn bright white as soon as they hit the water. Allow to sit in the water and cook for about 4 to 5 minutes, nudging the egg slightly with the slotted spoon to make sure it doesn't stick to the bottom. When all the egg whites look set and firm, remove with a slotted spoon and move to a paper towel to remove excess water.
3. To make toast, pop the bread in the toaster. When ready, mash ¼ to ½ of an avocado onto one piece of toast. Season with salt, pepper, and chili flakes, and top with poached egg. Season egg with a little salt and pepper, and enjoy.