Move Over, Avo. This Squash Toast Will Be Your Fall Favorite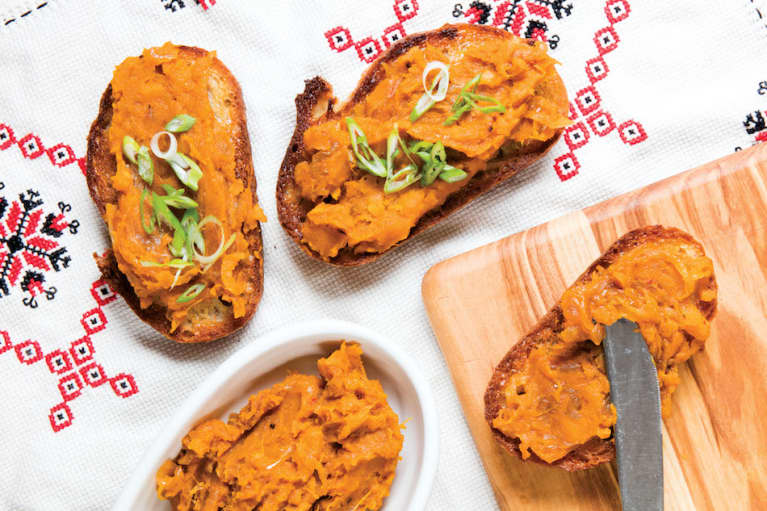 Our editors have independently chosen the products listed on this page. If you purchase something mentioned in this article, we may
earn a small commission
.
The indie food magazine Lucky Peach has made our dreams come true with their new cookbook Lucky Peach Presents Power Vegetables!: Turbocharged Recipes for Vegetables With Guts, in which the editors of the quarterly mag share all the best vegetable-focused dishes from our favorite chefs and restaurants—including the legendary ABC Kitchen's Squash Toast.
Trust us, you're definitely going to want this for your next brunch spread.
This is a squash shmoo (or spread) that has all the knobs turned up to 11: maple syrup and cider vinegar and a finishing sprinkle of hot chili make it compulsively eatable in a way that squash rarely is.
The ABC in the title of this recipe refers to ABC Carpet & Home, an exotically priced New York City emporium of mirrored chandeliers and other things I imagine are used by fancier people than I will ever know to decorate apartments they will never live in.
The store's first floor was one of the most accursed restaurant spaces in the city, a revolving door of countless dining concepts, none of which ever put down roots, until Jean-Georges Vongerichten took it over and installed (the now-departed) Dan Kluger as chef of ABC Kitchen.
Now it's so busy you can't even get in at lunch, but I remember a dinner there years ago with vegetarian friends, when there were no fewer than FOUR squash dishes on the dinner menu. We ate them ravenously and happily. Then a few nights later my friend Amanda Kludt came over with a big quart of this shmoo that she had learned how to cook from Mr. Kluger, and we ate almost all of it, with spoons and crackers.
If you'd like to serve it as they did at the restaurant, smear your toasts with a couple of tablespoons of ricotta, goat cheese, feta, or mascarpone before topping them with shmoo.
Serves 8 (about 2 cups of squash mush)
Ingredients
1 lb. peeled kabocha squash, cut into ½-inch-thick half-moons, seeds composted
6 tablespoon extra-virgin olive oil
Kosher salt
1 large onion, thinly sliced into half-moons
¼ cup apple cider vinegar
¼ cup maple syrup
¼ teaspoon chili flakes
Freshly ground black pepper
8 slices country bread, toasted
Scallions, thinly sliced
Preparation
1. Heat the oven to 450°F.
2. Put the squash in a large bowl, drizzle it with 2 tablespoons of the olive oil (more if needed to get it good and glistening), and season with a generous sprinkle of salt. Toss to coat evenly in the oil, then arrange the squash on a baking sheet or two (it should not be crowded). Roast until tender and deeply browned in spots, 20 to 30 minutes. Transfer the squash to a bowl and keep warm.
3. Meanwhile, heat the remaining 4 tablespoons olive oil in a medium skillet over medium heat. Add the onion and season with a large pinch of salt. Cook, stirring often and reducing the heat as necessary to keep the onions from taking on color too quickly.
After 15 minutes, the onions will have collapsed in the pan and begun to caramelize, which is when you will stir in the vinegar and maple syrup. Continue cooking, scraping the bottom of the pan with a silicone spatula to encourage even caramelization and to evenly distribute the deliciousness forming in the pan. The onion will transform into a thick, tight jam.
Turn off the heat and scrape it into the bowl with the squash.
4. Mash the squash and onion with a fork until you have a smooth mash with a few strings of onion throughout. Add the chili flakes and season to taste with salt and black pepper.
5. Make your toasts, and when they're ready, top each slice with ¼ cup of the squash mixture, spreading it to the edges. Finish with sliced scallions.