3 Delicious Ways To Get More Greens That You Probably Haven't Thought Of
Contributing writer
By Donna Hay
Contributing writer
Donna Hay is an Australian food stylist, author, and magazine editor. She is best known as the author of 26 bestselling cookbooks, including the new easy, the new Week Light: Super-Fast Meals to Make You Feel Good.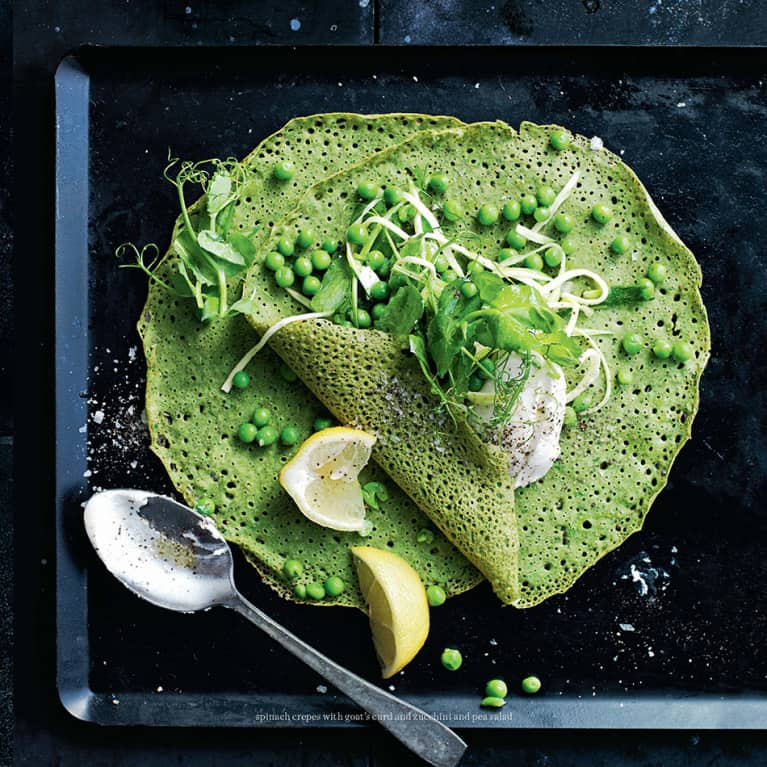 Our editors have independently chosen the products listed on this page. If you purchase something mentioned in this article, we may
earn a small commission
.
Donna Hay is Australia's food and lifestyle maven. Her latest cookbook, Life in Balance, is quickly becoming a favorite here at mbg, with its focus on everyday ingredients worthy of superfood status.
Today we're sharing three recipes that highlight good-for-you greens in inventive, healthy, and ridiculously tasty ways.
Spinach Crepes With Goat's Curd + Zucchini and Pea Salad
Serves 6
Ingredients for the Spinach Crepes
1 cup (160 grams) buckwheat flour
3 eggs
2 cups (500 mL) almond milk
3 cups (75 grams) baby spinach leaves
1 cup flat-leaf parsley leaves
sea salt and cracked black pepper
2 tablespoons extra-virgin olive oil
Ingredients for the Salad
2 medium zucchinis (courgettes) (260 grams), shredded
1 cup (120 grams) frozen peas, thawed
2 cups (25 grams) snow pea tendrils
2 tablespoons extra-virgin olive oil
2 tablespoons lemon juice
sea salt and cracked black pepper
200 grams goat's curd (or cheese)
lemon wedges, to serve
Preparation
1. To make the spinach crepes, place the flour, eggs, milk, spinach, parsley, salt, and pepper in a bowl, and, using a handheld stick blender, blend until smooth.
2. Heat a little of the oil in a 20-cm nonstick frying pan over high heat. Add 1⁄3 cup (80 mL) of the batter, swirl to coat the base of the pan, and cook for 1 to 2 minutes or until just set. Remove from the pan, set aside, and keep warm. Repeat with the remaining oil and batter.
3. Place the zucchini, peas, snow pea tendrils, oil, lemon juice, salt, and pepper in a bowl and toss to combine. Divide the crepes between serving plates and top with the goat's curd and salad.
Serve with lemon wedges.
Watercress, Broccoli + Roasted Garlic Pesto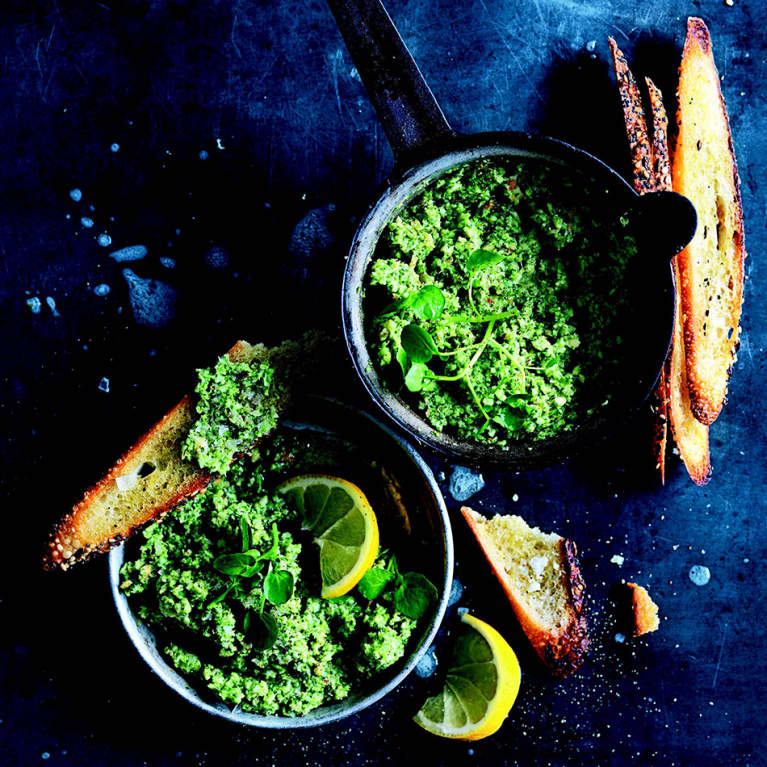 1 head garlic
1½ tablespoons extra-virgin olive oil, for drizzling
6 cups (360 grams) broccoli florets
2 cups (30 grams) watercress sprigs, plus extra to serve
½ cup (80 grams) roasted almonds
2 teaspoons finely grated lemon rind
2 tablespoons lemon juice
½ cup (40 grams) finely grated Parmesan
¾ cup (180 mL) extra-virgin olive oil, extra
char-grilled bread and lemon wedges, to serve
Preparation
1. Preheat oven to 180°C (350°F). Place the garlic on a sheet of aluminum foil, drizzle with the oil, and wrap to enclose.
2. Roast for 30 minutes or until golden and soft. Allow to cool, and squeeze the cloves from their skin into a food processor.
3. Add the broccoli, watercress, almonds, lemon rind and juice, Parmesan, and extra oil, and process to a coarse paste. Serve with bread, lemon wedges, and extra watercress.
Lime + Coconut Green Vegetable Curry
3 kaffir lime leaves, shredded
1½ tablespoons finely grated ginger
2 cloves garlic
½ cup coriander (cilantro) leaves
3 long green chilies, seeded and roughly chopped
2 green onions (scallions), roughly chopped
1 teaspoon coconut sugar
1 teaspoon finely grated lime rind
⅔ cup (50 grams) shredded coconut
¼ cup (60 mL) vegetable oil
3 cups (750 mL) coconut water
¾ cup (180 mL) coconut milk
200 grams Brussels sprouts, trimmed and halved
2 medium zucchinis (courgettes) (260 grams), sliced
1 bunch broccolini (175 grams), trimmed and halved
2 tablespoons lime juice
Thai basil leaves, to serve
Preparation
1. Place the kaffir lime leaf, ginger, garlic, coriander, chili, onion, sugar, and lime rind in a small food processor. Process to a coarse paste. Place 1 tablespoon of the paste in a bowl, add the coconut, mix to combine, and set aside.
2. Add half the oil to the remaining paste in the food processor and process until smooth. Heat the remaining oil in a large, deep-sided frying pan over high heat. Add the paste and cook, stirring, for 1 minute or until fragrant. Add the coconut water and coconut milk and bring to a boil. Reduce the heat to medium and simmer for 4 minutes or until thickened.
3. Add the Brussels sprouts, cover, and cook for 4 minutes. Add the zucchini and broccolini, cover and cook for a further 3 to 4 minutes or until the vegetables are tender.
4. Stir in the lime juice and spoon the curry into serving bowls. Sprinkle with the shredded coconut mixture and top with the basil to serve.